Did you know that peppers are male or female? Male peppers have 3 bumps on the bottom while female peppers have 4 bumps. Plus, female peppers are sweeter.
This is just one of the many interesting facts I learned during my cooking class at The Kitchen at Bed Bath and Beyond in East Hanover, NJ. Yes, you read that right! Bed Bath and Beyond in East Hanover is offering incredible cooking classes for adults, teens and kids. We were recently invited to try out one of their classes, and let me just say, I am now inspired to start cooking at home!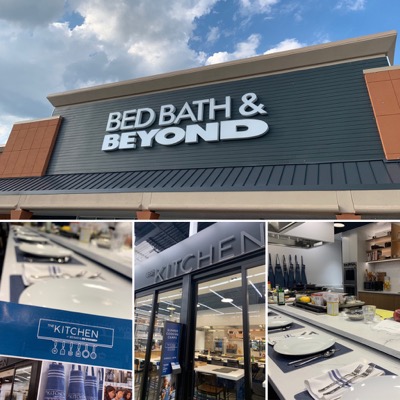 The Kitchen at Bed Bath and Beyond offers a state of the art kitchen facility that will inspire individuals of all ages to delve into the world of culinary arts. We took the Cast Iron Cooking class with Chef Suzanne Lowery. It was about 2.5 hours long which ended with an spectacular meal that all the participants helped create. The class was only for adults making it perfect for date night. Our menu included the following:
Sweet pepper cornbread
Grilled lemon and garlic zucchini with blistered tomatoes and parmesan
Glazed honey lime chicken
Rosemary and Gruyere potato-onion hash
Peach melba upside down cake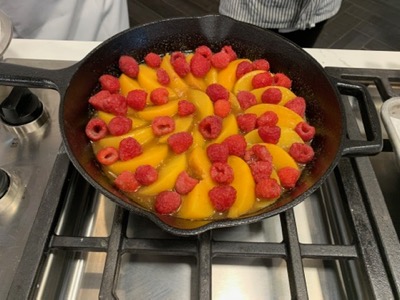 The class started with participants being offered coffee, water and light snacks. Each person was also provided an apron to wear during the class. The classes at The Kitchen are BYOB so my husband and I enjoyed a cold beer while we waited for the class to begin.
Chef Suzanne started the class with an overview of cast iron cookware including how it should be maintained. She then reviewed the menu for the class, and went over each recipe step by step. While discussing the ingredients, she shared interesting facts about vegetables along with tips and tricks for preparing the ingredients like the best way to hold a knife and the proper way to cut an onion.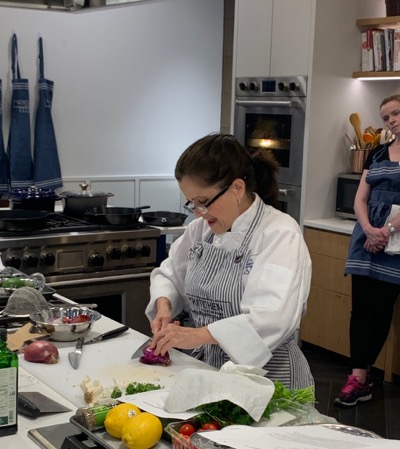 Next, the class broke into groups, and we worked at the back tables to prepare the ingredients that were neatly organized on individual trays. My husband and I were in charge of the potato hash so we chopped onions, peppers, potatoes and rosemary as well as grated cheese. I have always been afraid to use large knives but with Chef Suzanne's tips and guidance, I was able to cut the vegetables safely and easily.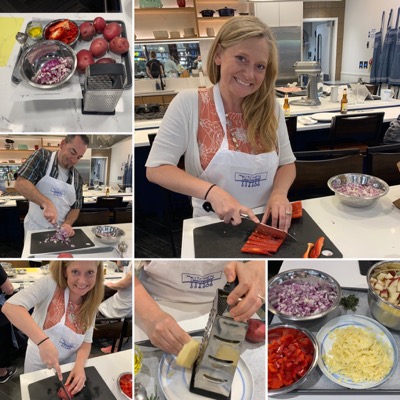 Once all the ingredients were ready, guests returned to their seats to start preparing the meal. We all took turns going behind the counter into the kitchen to put the ingredients together for our particular meal item. Everyone really enjoyed this part, and I loved that my husband and I were able to cook together.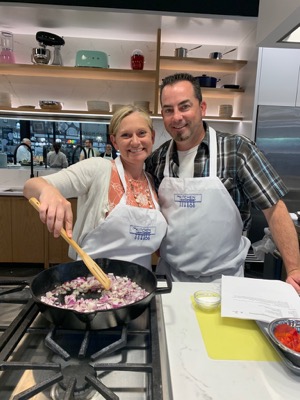 Once everything was done baking and cooking, the staff prepared our plates and we indulged on an incredibly delicious meal. The best part was feeling a sense of pride and accomplishment that we played a big role in making this culinary masterpiece.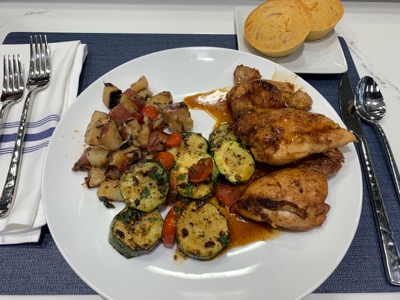 The Cast Iron Cooking class is one of the many classes offered at The Kitchen at Bed Bath and Beyond in East Hanover. Classes take place all week long, day and night, so they are perfect for anyone's schedule. The cost of each class varies. Our class was $70 but there are classes for $50 and $35 as well.
Do your kids want to learn how to cook too? The Kitchen offers classes for children and teens as well as birthday parties and scout events. This summer, The Kitchen will also be offering cooking camps for teens and children ages 7-12 years old. The younger group will enjoy camp at 10am-1pm while the teens will learn to cook 2pm-5pm. Camps cost $350/person for the week, and each week has a different theme:
July 8-12: Baking Baking and More Baking
July 15-19: Cookies Cookies and More Cookies
July 22-26: ABC's of Cooking
July 29-August 2: Cooking Around the World
August 5-9: My Travels Through Italy
August 12-16: Play with Ingredients
August 19-23: Principles of Cooking
August 26-30: Design Your Own Cooking Class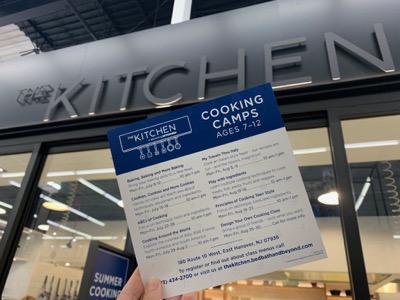 We absolutely LOVED our class at The Kitchen, and I CANNOT wait to return to learn more! We are so excited about this new learning experience that The Kitchen is letting us offer an exclusive discount code to Mommy University readers! Use the code mommyu at checkout and you will get $10 off your June class! How awesome is that?! Happy cooking!
You may also enjoy: