Every summer we pack up the kids and head to the Hersheypark Camping Resort for several days filled with fun, adventure, excitement and even some relaxation. Visiting Hershey, PA during the summer season is a MUST DO experience for individuals of all ages. Although Hershey is a great family travel destination, it is also great for couples, scout groups, reunions, weddings and more!
During the summer season (May 3 – September 29), Hershey offers a wide variety of adventures at locations scattered around the town. From water fun at The Boardwalk at Hersheypark to chocolate lab classes at The Hershey Story Museum to outdoor adventure experiences at The Hotel Hershey, there is something for everyone to enjoy! When you're done reading about all the sweet fun, make sure to enter our 4-ticket Hersheypark giveaway at the end of this post!!
Ultimate Guide to Summer Fun in Hershey, PA
Activities at Hersheypark
Reese's Cupfusion
Beginning May 25, guests of Hersheypark can enjoy the newest ride experience! It is an interactive gaming ride with 6 unique ways to play and the most targets in the world! It is perfect for the entire family!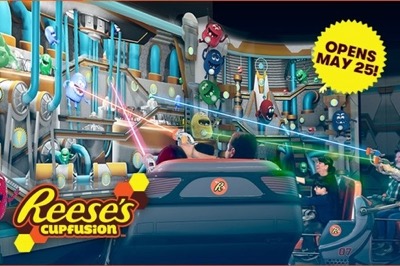 After riding Reese's Cupfusion, be on the look out for some new characters to take a picture with!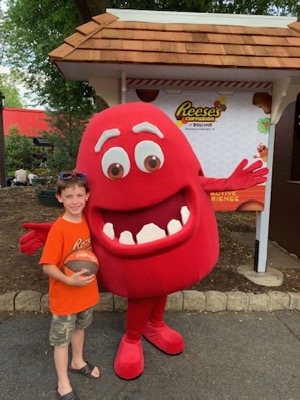 You can also enjoy delicious themed King Size Milkshakes like this one: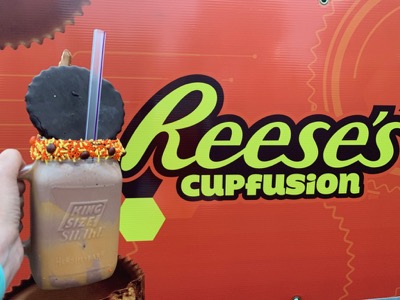 Music, Characters, Shows…Oh My!
Beginning May 25, Hersheypark guests can enjoy incredible entertainment throughout the day! Here is what you can enjoy:
The Hersheypark Band – Strolling around the park
The Soda Pops – Founders Way
Cocoa Rhythm Factory – Strolling around the park
Character Quiz Show – Strolling around the park
Character Commotion – Pioneer Frontier
Hershey's Character Party – Founders Way
Big Top Dreams – Music Box Theatre
The Waves – Pioneer Frontier (near The Boardwalk entrance)
Our Friends of the Sea
Beginning May 3, guests can also enjoy an amazing show at the Aquatheatre featuring California sea lions and Atlantic Harbor Seals. Following the show, for an additional fee, guests can feed the animals and/or take a photo with one of the animal stars.
The Boardwalk
The Boardwalk offers endless opportunities to cool off, and it is included with your ticket to the park. Kids will love exploring the East Coast Waterworks while parents will enjoy floating around the Intercoastal Waterway. There are even spaces dedicated to little ones like Sandcastle Cove and Shoreline Sprayground.
If you're a thrill seeker, then make sure you check out Breakers Edge Water Coaster, the first hydroMAGNETIC coaster with flying saucer turns. Rafts fit 4 riders making it a perfect experience for family and friends. You can also speed down Whitecap Racer, the longest mat racing slide in the world. Riders will race through turns and tunnels and choose between 6 colorful racing lanes.
Food Truck Mania
Hersheypark offers some unique dining experiences this summer! Throughout the park, guests can enjoy delicious food truck options that everyone can enjoy. We especially love the NEW Chick-Fil-A truck!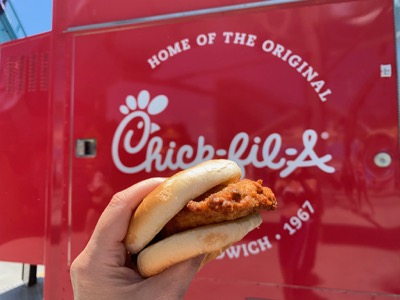 Hersheypark will be open every Friday, Saturday and Sunday May 3 through May 19. Starting May 23, the Park will be open daily through Labor Day. It will be open on weekends through Sept. 29. The Boardwalk will be open Memorial Day Weekend through Labor Day Weekend.
Activities at ZooAmerica
Zoo Camp
Beginning June 10, children in Kindergarten through 12thgrade can enjoy a one-of-a-kind camp experience at ZooAmerica! Campers will enjoy animal encounters, crafts, themed activities, guided zoo tours and more. Your future zoologist will LOVE Zoo Camp. To register, visit the ZooAmerica website.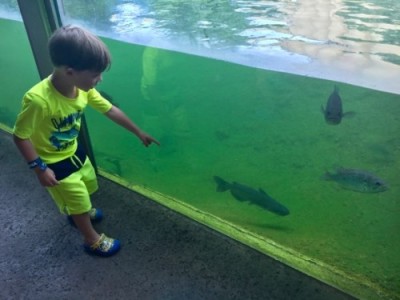 The Ed-ZOO-Cation Team
Starting May 25, guests of ZooAmerica can enjoy educational animal themed shows at various times throughout the day. Each show offers an eco-friendly message using comedy and entertainment.
Activities at Hershey Story Museum
Tastings: Chocolates from around the World
For a nominal fee, visitors at the Hershey Story Museum can enjoy warm drinking chocolates from around the world. Each one offers its own unique flavor. Tastings offer a wonderful multi-sensory learning experience.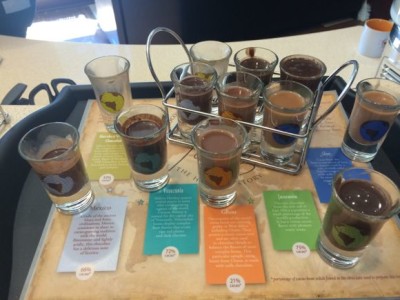 Chocolate Lab Classes
Individuals ages 4 and up can enjoy a fun 45 minutes class at The Hershey Story Museum. For each class, participants will make a delicious treat to take home. Each budding chef will also learn facts about chocolate and gain important cooking skills. Tickets must be purchased in advance and classes take place throughout the day.
Activities at Hershey Gardens
Marvelous Mondays
Every Monday July 1 – August 12 10am-12pm, kids can enjoy fun crafts and entertainment like story time and puppet shows. Activities are included with admission to the Hershey Gardens.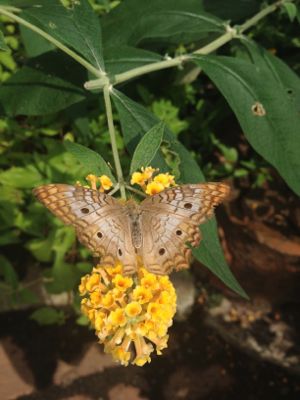 Summer Camp
The Hershey Gardens offers a wonderful summer camp for children age 4 through 8thgrade. Science Explorers offers 3 one week sessions with half and full day options available. Each week offers a new and exciting theme that allows kids to learn through hands-on activities and experiences. Then July 15-26, Hershey Gardens partners with Hershey Area Playhouse to offer Alice's Adventures in Wonderland and Through the Looking Glass camp. This unique half-day camp for children in grades 4-8 teaches kids all about acting and ends with a full production!
Activities at Chocolate World
In addition to its traditional experiences like the Chocolate Tour, Create Your Own Candy Bar, 4D Chocolate Movie and Chocolate Tastings, Hershey's Chocolate World offers exciting seasonal activities as well!
Hershey's Unwrapped
NEW this summer is the interactive chocolate tasting experience, Hershey's Unwrapped! Guests will learn all about using their 5 senses to understand the differences between chocolates as well as how to determine which of the 6 flavor families you can taste in each bite. It is a fun, theatrical experience the entire family will LOVE!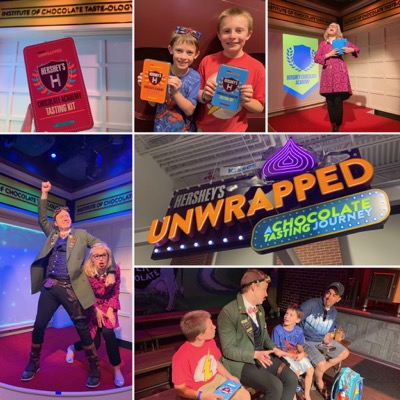 Birthday Celebrations
On June 30, help celebrate Hershey's Chocolate World's birthday! It will be fun ALL DAY celebration. Then, on July 1, celebrate Kisses' birthday too!
S'Mores Week
Celebrate summer with a week dedicated to s'mores. On August 3-11, guests of Hershey's Chocolate World can enjoy these gooey treats and special desserts!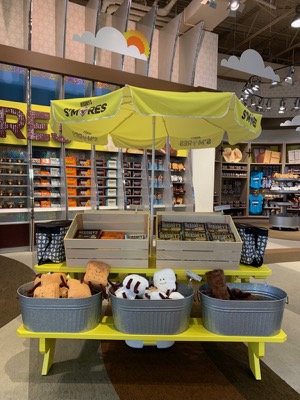 Summer Trolley Rides
Summer Trolley Rides are available Memorial Day to Labor Day. Departing from Hershey's Chocolate World, the trolley takes guests through the town of Hershey while explaining its rich history. This is a family-friendly, interactive experience that everyone will LOVE. Plus, each rider will receive some sweet treats!
Hershey Entertainment
Hershey, PA offers incredible entertainment all summer long! From concerts to shows to theatrical performances, there is something for everyone in your family to enjoy. Here is a list of this summer's events:
Giant Center:
5/18 – Alan Jackson
6/1 – Trevor Noah
6/13 – Carrie Underwood
6/21 – Josh Groban
6/22 – Adam Sandler
7/26 – Kidz Bop
8/28-9/1 – Cirque Du Soleil
Hershey Theatre:
5/19 – Apollo Awards 2019
8/20-25 – Cats
9/10-15 – Roald Dahl's Charlie and the Chocolate Factory
Hersheypark Stadium (outdoor venue):
6/6 – Luke Bryan
7/6 – Mix Tape Tour
7/20 – Thomas Rhett
7/27 – Breaking Benjamin
8/17 – Florida Georgia Line
8/18 – Backstreet Boys
8/21 – Kiss
8/29 – Zac Brown Band
8/30 – Hootie and the Blowfish AND Barenaked Ladies
8/31 – Jonas Brothers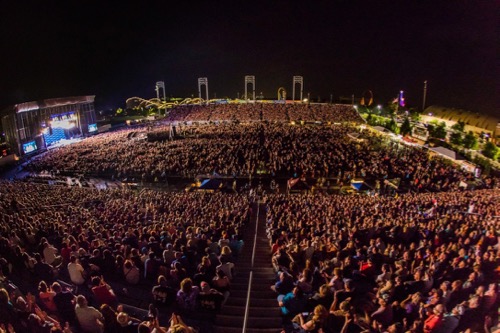 Activities at the Resorts
Hersheypark Camping Resort:
Hersheypark Camping Resort offers cabins, tent sites and RV sites. With 2 pools, playgrounds, family games and activities, horseshoes, movie nights and more, it is the ultimate camping experience!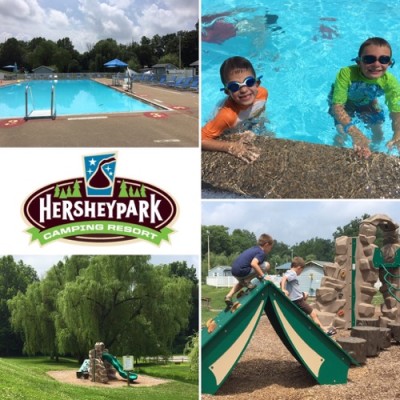 Outdoor Movie Nights
On select nights during summer stays, guests can enjoy a FREE outdoor movie which is presented on the side of the main building. Guests are welcome to bring chairs and blankets.
Arts and Crafts
Fun themed craft activities are available throughout the day for camping resort guests. The crafts are FREE and make for a great break from the sun and heat.
Special Events
Make sure to check the activity schedule when you check-in to the Hersheypark Camping Resort because they offer fun special events throughout your stay. Some experiences include magic shows, character meet and greets, ZooAmerica shows, ice cream socials and more!
Hotel Hershey: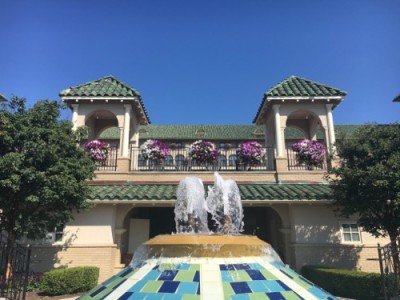 Hiking
Get out and enjoy the summer air by exploring the hiking paths around The Hotel Hershey. The paved paths range from ¼ mile to 3 miles.
Falconry Experience
From May 27 – September 2, guests can book an incredible Falconry Experience for $65/adult and $25/child (under 12). Non-resort guests can also book an experience for a slightly higher adult rate. Participants will see flight and a simulated hunt demonstration as well as have the opportunity to have a falcon land on their hand!
Tours
From April through November, guests of The Hotel Hershey can enjoy an incredible segway tour around the resort. While exploring the grounds, guests will learn about the hotel's rich history and its importance to the town of Hershey. Historical tours cost $69/person while off-road tours are $79/person. The Hotel Hershey also offers guests a FREE walking tour that is available year round. The Historic Tour of the Hotel takes place on select mornings and is run by knowledgeable hotel staff.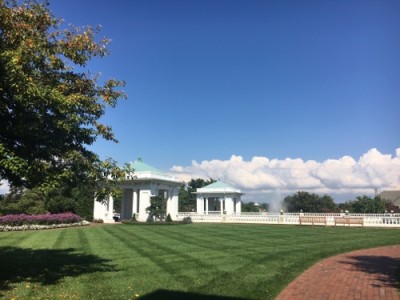 Hershey Outfitters
If you love the outdoors, then you have to check out the amazing adventures offered by Hershey Outfitters. Located right on the grounds of The Hotel Hershey are unforgettable outdoor experiences like a ropes course, zipline, segway tours and trail geocaching. Other adventures include kayaking, fly fishing, archery tag and trapshooting.
Hershey Lodge:
Splash Around at Hershey Water Works
Before, in between and/or after all that Hersheypark fun, take some time to swim, splash and play at Hershey Water Works, a unique indoor water play area at the Hershey Lodge. It is only available for resort guests so make sure to book your stay now!
Roast Marshmallows
Located right in front of the resort is a large fire pit perfect for roasting marshmallows on a nice summer night. Families can purchase s'mores kits at the Cocoa Beanery or bring their own.
Mini Golf
Did you know that there is a mini golf course right on property at the Hershey Lodge ? During the warm summer months, save some time to enjoy a round of golf with your family and friends. It's FREE for resort guests!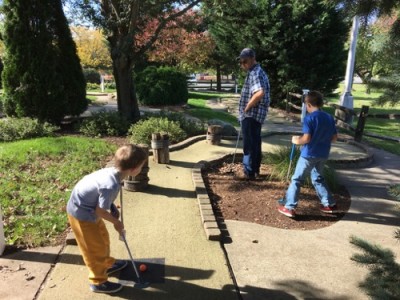 I bet you had no idea there were so many amazing summer activities available in Hershey, PA! Now you can see why we visit every year! To learn more and to book your summer adventure, visit the Hersheypark website!
You may also enjoy: