At Mommy University, we heard whispers that Lowe's was bringing back their Build & Grow workshops which were popular with my family for several years. We were thrilled to learn that the Lowe's Build & Grow has returned but under a new name, Lowe's DIY Kids' Workshop!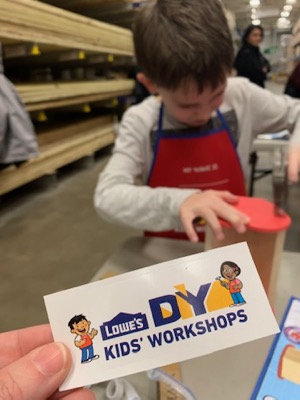 The DIY Kids' Workshops are FREE monthly themed projects for children to build a project. Families arrive on a Saturday morning at 9am with their confirmation sheet (yes, you do have to pre-register and it usually fills up quickly).  In turn, they receive a wrapped project with all the pieces needed for their final product. Stations are set up for children on tables with a kid-sized hammer, patch, and an apron if they need one. Children need to follow instructions to finish their project and usually the final touches is adding the included stickers. The projects take anywhere from 15-30 minutes to complete.
We loved these projects so much we would drive over a half hour to the Lowe's store on Saturday morning. As my son hammered away to build his Toothless or Sully toys, my daughter watched from the stroller until she too was making her own Christmas train. My children have gained immense skills from these workshops at a young age which is why we want to review the developmental benefits with our readers.

 Benefits of Lowe's DIY Kids' Workshops
Encourages Kids to Follow Directions
With each monthly project are the instructions that lead to success or success with corrections along the way. The directions include written instructions alongside graphics to help better understand the details (and helps those who can't read yet). As the adult helping their child, the directions have helped me as well! Children begin to associate projects as not just the whole but rather the pieces and steps needed to put a larger concept together.
Increases Independence
When we began the Build & Grow workshops, I was reading every step and explaining to my children; however, over time they began taking ownership of each project. With each boost in confidence, they set up their workspace, then they began identifying the pieces in the instructions, hammering independently, and now handling the whole project by themselves. Despite their independence, children will ALWAYS need your guidance so never leave them unattended during a workshop.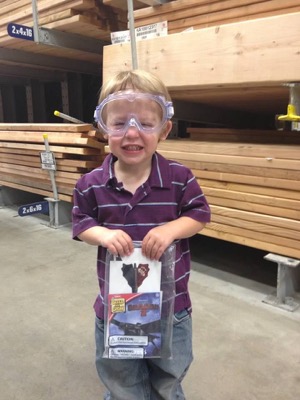 Enhances Fine Motor Skills
Fine motor skills are critical in building projects. Placing the nails in the right space and then hammering the nails in all requires fine motor skills. We have noticed an improvement in our children's fine motor skills partially due to their continual participation in building projects. For them, they are thinking about completing the final project so they are not thinking about the challenges of holding the hammer and nails.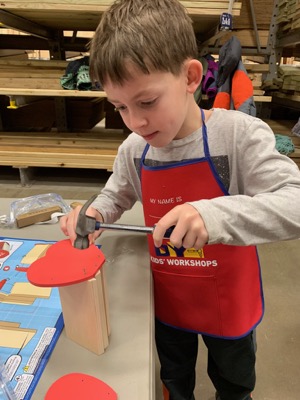 Encourages Social Interactions
The Build & Grow workshops were always very popular which meant a long line ready to build (but don't worry once the workshop begins it's quick moving).  Your children can be sharing a space with friends or strangers.  In the beginning our workshops were about family having a relaxing fun time on Saturday morning and in time it grew to include friends.  As well, it is the opportunity to talk and banter with individuals who are working on the same project.  We have found ourselves laughing with strangers when hitting a rough spot in the project or attempting to problem solve.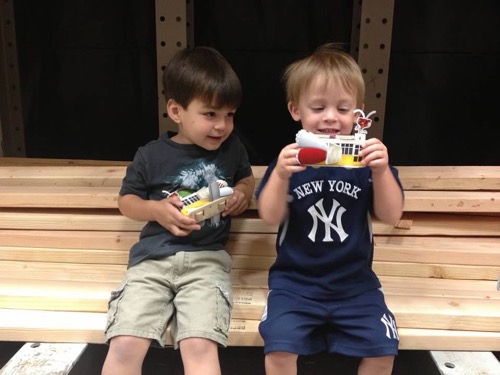 Promotes Problem Solving Skills
If Lowe's DIY workshops, provide instructions nothing can go wrong, right? There is always an opportunity to misread the instructions so the focus often needs shifts towards problem solving. Is the error noticeable, easily fixable or do we need to start from scratch? These are all questions that need to be asked and discussed. Take a deep breath and talk with your child about the solution.
Builds Focus and Attention
In the beginning, you may find children struggle to stay focused on the project; however, over time they develop the ability to follow the instructions and apply the necessary attention to complete the project. Don't worry, if your child fidgets in the beginning or loses momentum, because honestly that happened with my kids. With each completed project, they gain confidence and their desire to complete the project independently grows.
Visit the Lowe's DIY Workshop website for more information and to register for the next workshop!
You may also enjoy: