Are you looking for a vacation that offers gorgeous views, endless adventures, cozy accommodations, opportunities to relax and memories to last a lifetime? Of course you are!! 
Yogi Bear's Jellystone Park Camp-Resort in Gardiner, NY is the perfect family destination! Nestled amongst a winding river and gorgeous mountains across 100 acres of land, this family camping resort offers everything you could ever want in a vacation. I am always looking for new places to visit and Yogi Bear's Jellystone Camp-Resort just went to the top of my list! We love vacations that allow us to explore, play and learn but also relax and enjoy the moment. Sometimes it's hard to find a vacation destination that everyone can enjoy, but Yogi Bear's Jellystone Park Camp-Resort offers something each person in my family will love even our dog!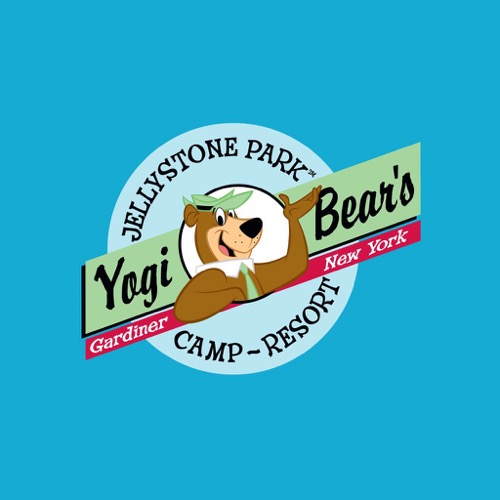 5 Reasons to Visit Yogi Bear's Jellystone Park
Camp-Resort in Gardiner, NY
Amazing Accommodations
Yogi Bear's Jellystone Park Camp Resort in Gardiner, NY offers a wide variety of accommodations so there is something for every kind of traveler. For those that love sleeping amongst the stars, there are two tent site options to choose from: Deluxe Tent/Pop-Up Site and Rustic Tent Campsite. Both are river front sites that include a fire ring and picnic table. The Rustic Campsites also have a charcoal grill while the Deluxe Tent Site has cable hook-up and electric.
Have an RV? Then hook it up at Yogi Bear's Camp-Resort because there are plenty of options to choose from. Seven to be exact! All sites offer electric and cable TV, and sewer and water hookups are available on most sites as well a picnic table.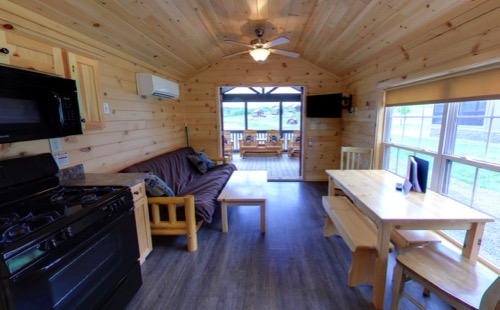 Want a camping experience but with all the comforts of home? Then you have to check out the cabins! My family loves cabin camping and the ones offered at Yogi Bear's Jellystone Park Camp-Resort are some of the best I have seen. There are 5 cabin options to choose from as well as bungalows, 3 different kinds of cottages and 3 houses that can be rented. Whether you are traveling with 2 or 16, there is an option for you! What I love the most is that almost every option offers a full bathroom and either a full kitchen or a kitchenette, and EVERY option has AC/Heat! By staying in a cabin, families will get the rustic feel of camping while still having all the comforts of home.
Pet Friendly
Ever plan that perfect family vacation then realize you have no one to watch the dog? Well, you don't have to worry about that when you plan your family adventure at Yogi Bear's Jellystone Park Camp-Resort in Gardiner, NY because they offer pet friendly cabins and RV sites. To make the trip even more exciting for your dog, they even have a Bark Park where your dog can run around and have fun with other pups. It is a fenced in area with places for dogs to relax, socialize and explore obstacles.
Beautiful Scenery
Yogi Bear's Jellystone Park Camp-Resort in Gardiner, NY offers the incredible backdrop of the Shawangunk Ridge, a mountain range that runs from the northernmost point in New Jersey to the Catskills Mountains. Guests can also enjoy the beauty of Wallkill River which is only a short walk from many of the campsites. Guests can enjoy the day fishing, tubing, kayaking or just taking in the view of this winding river.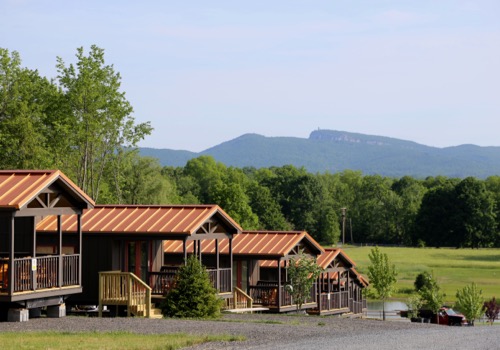 Themed Events All Season Long
I love themed events and Yogi Bear's Jellystone Park Camp-Resort offers so many it's hard to decide which one to attend! Every weekend this spring and summer, guests at the resort can enjoy themed weekends filled with activities like crafts, games, special meals, live music, scavenger hunts and so much more. Some weekends are also  filled with exciting experiences for the entire family including Bingo, campfires, crafts, story time, hayrides, a dance party and lazer tag. For a list of themed weekends and events, visit the camp-resort's website.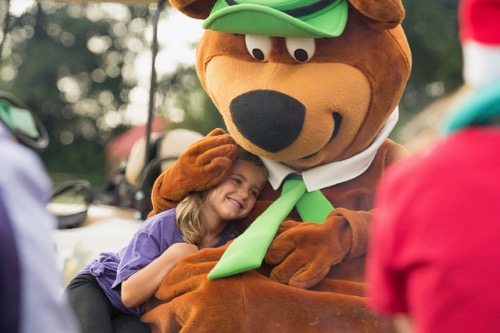 Endless Amenities and Activities
I have 2 very active boys so when we go on vacation we need a place that offers a variety of activities for the boys to enjoy. At Yogi Bear's Jellystone Park Camp-Resort, guests can have endless fun enjoying the amenities that are included with their stay. Kids will LOVE climbing, swinging and sliding on the 3 playgrounds located on-site. Families can also spend the day fishing on the on-site pond that is stocked with catfish, large-mouth bass and bluegill. Hiking trails, outdoor sports and river adventures are also available as well as a mini golf course, jumping pillow and jump pad. There are some additional activities available for a nominal fee. These include the arcade, lazer tag, gem mining and arts and crafts.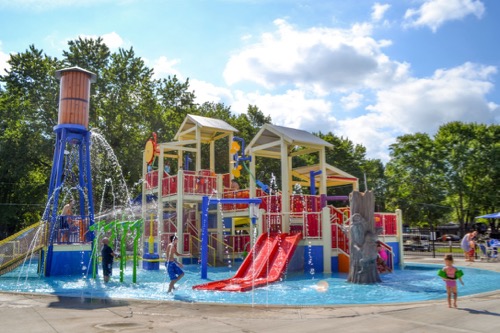 There are also amazing ways to beat the heat! Yogi Bear's Water Zone offers endless water fun! It has a 40,000 square foot interactive water playground that all ages can enjoy. It boasts two 100-foot waterslides, water cannons, kiddie slides, 750-gallon hydrostorm, a fort and more! The Water Zone also has 2 swimming pools (one is heated).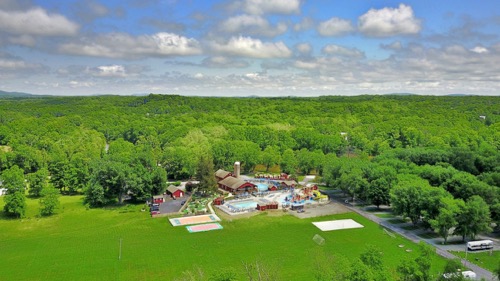 Yogi Bear's Jellystone Park Camp-Resort is a MUST DO family experience this summer! To learn more and make your reservation, visit their website!
*All photos were provided by Yogi Bear's Jellystone Park Camp-Resort in Gardiner, NY.
You may also enjoy: