My boys started taking ski lessons at age 3. They are not experts but have some of the basics down. This year, however, they decided they both wanted to try snowboarding. I was a little apprehensive at first but gave in pretty quickly because I know it's better for them to learn while they are young. Luckily, Mountain Creek offered a great opportunity for my boys to be introduced to this amazing sport and now they are hooked.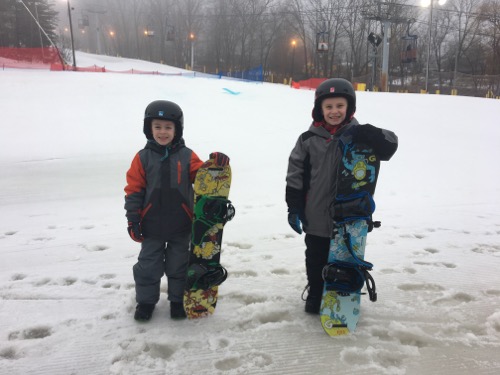 Mountain Creek, located in gorgeous Vernon, NJ, offers winter fun for all ages and abilities. They have 8 lifts with 46 trails ranging from beginner to expert. They also offer private and group lessons for kids and adults. Since we live nearby in Sussex County, Mountain Creek was the perfect choice to kick off my boys' love of snowboarding!
We arrived early on Sunday morning and checked in easily at the Snow Sports School building which is located at the entrance of Mountain Creek. It was drizzling so parking was not an issue and the mountain was fairly quiet making for a perfect day to learn. We were brought to the main lodge to obtain our rentals which included boots, snowboard and helmet. My boys were so excited and ready to learn!
They had a 2-hour private lesson with just the two of them which was perfect! The instructor was incredible from start to finish. He was animated, enthusiastic and knowledgeable and my boys loved him. He knew exactly how to get them excited about snowboarding.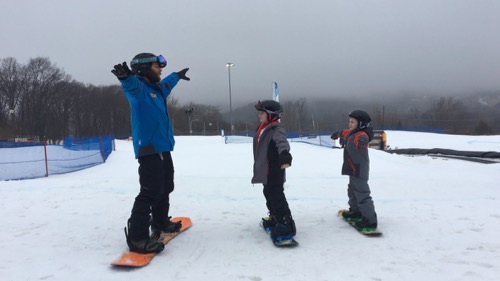 They first learned how to strap themselves into the board safely and independently. They then learned how to understand how their body movements could control the board. I was amazed with how quickly they caught on. They even learned how to get on and off the magic carpet safely. I could see their confidence build with every trip down the learning slope.
For those that don't know, Mountain Creek uses a Terrain Based Learning method which uses specifically shaped snow features to enhance learning. The area where my boys had their private lesson offered a wonderful learn to ski space with varying levels. My boys started at Level 3 and eventually ended up at Level 5. Their progression was incredible to watch as they went from learning to just balance themselves while standing to jumping over obstacles. You can see their progression here:
There are so many amazing reasons for kids to learn how to snowboard. During lessons, kids enhance their focus, attention and ability to follow directions. They also enhance gross motor skills, build confidence and develop problem solving skills. Mountain Creek offers incredible programs that allow kids to build these important skills all while having fun!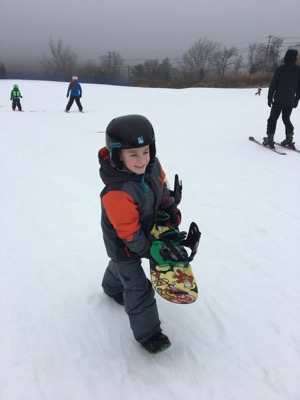 Mountain Creek is open daily but times vary so make sure to check the website before heading out. If you are planning on enjoying Mountain Creek just for the day, you can purchase an all day or twilight pass. Season passes and Triple Play Cards are also available for those who wish to visit more frequently throughout the season. Private and group lessons are available as well as rentals. To learn more, please visit the Mountain Creek website.
You may also enjoy: