Sprinkle some fun and learning with American Girl this year!
In 2019, American Girl is inviting everyone to spend time with the most important people in our lives, family and friends! Blaire Wilson was recently announced as the Girl of the Year, and we could not be more excited about this choice as she will introduce young girls to a whole new world they may not have thought about prior to now. Blaire works with her family at the Pleasant View Farm where she can be found cooking with her mom and developing new recipes to post on the blog. She also loves designing new ideas for the renovated barn and wrangling a goat and sheep that are inseparable. Blaire is a breath of fresh air as she serves farm to table food in a restaurant attached to a Bed & Breakfast located in upstate New York.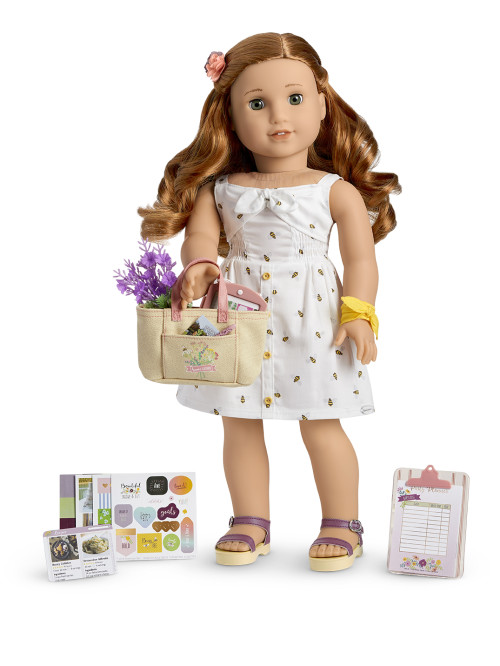 If it seems as though Blaire has a lot on her plate, well, she does. People gravitate towards her enthusiastic and kind disposition which makes her a popular resource to those around her. Blaire, however, was recently diagnosed with a food allergy that is not just impacting how she cooks and what she eats, but also her self-esteem. It is very likely that your child knows someone with a food allergy so reading Blaire's struggles will increase their ability to empathize. If your child has a food allergy, there is now a doll that is sharing with the world the struggles individuals face when they are attending a birthday party or social event.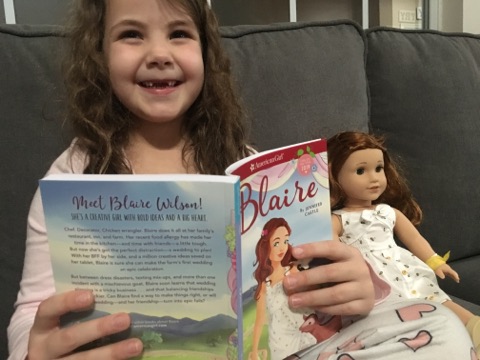 Blaire's story doesn't focus on the food allergy but how she regains her confidence after the diagnosis. There are times when Blaire retreats too much into her grandfather's phone or her tablet instead of being with her family and friends. Her story has several layers that transform into wonderful conversations with your child about resilience.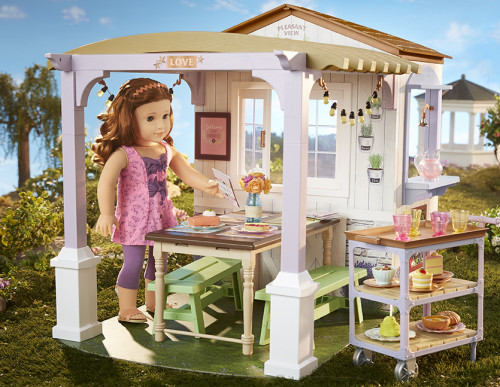 The 18" Blaire has auburn hair styled in a waterfall braid with bright green eyes wearing a summer dress and purple sandals. The Blaire book series, published by Scholastic, has two books that were written by Jennifer Castle. Additional accessories that can be purchased include the Family's Farm Restaurant, her piglet and plenty of outfits to choose from. Blaire's story intersects with many stories that young girls need to explore and understand from developing empathy towards individuals with food allergies to maintaining a healthy balance between the digital and physical world.
American Girl inspires children to understand the complex world that surrounds them, and teaches them that every obstacle can be overcome with courage and kindness. Established in 1986, American Girl has quickly become the premier location to get the doll for your child. Well-known for their historical dolls from different eras and various backgrounds, American Girl later expanded to include dolls from modern times like Blaire.  Accompanying these dolls is their own unique stories expressed over several books which promotes raising readers and developing positive personality traits. The extensive collection is available at americangirl.com and at all American Girl retail locations.
Want to win your own American Girl doll? We are so excited to partner with American Girl to give one lucky winner their own Blaire doll!
Here are the rules and conditions for this amazing giveaway:
Participants MUST live in the United States.
The winner will be chosen by Rafflecopter.
The contest will run from February 5 through 12am on February 15.
The winner will be contacted on February 16.
The winner will receive the prize directly from American Girl.
The winners must respond within 1 day or another winner will be chosen.
To enter, participants can earn entries by: visiting the Mommy University Facebook page (likes are appreciated but not required), following Mommy University on Twitter, sharing the contest with friends, subscribing to the MU newsletter, providing your email address, sharing additional American Girl posts and commenting on this blog post by answering the required question.
No purchase is necessary to win.
Your chances of winning are dependent on the number of entries received.
Enter here: a Rafflecopter giveaway

If you like this post, you might like: