As we were preparing to leave for our trip to see Monster Jam, I quickly scanned YouTube videos and read reviews to have a better idea what to expect. While each of them provided some insight, none of them fully communicated the absolute fun that entails highly trained drivers manipulating 12,000 tons of monster truck to do what could be described as vehicular gymnastics. It is sheer and absolute fun that is a unique family experience.
Monster Jam Triple Threat offers 8 vehicles competing in several competitions to earn the title of winner for that overall show and earn points to compete in the World Finals. Each monster truck has a driver and a supporting team but most are easily identified by visible trademarks. Grave Digger is one of the most iconic machines due to its unwavering reputation and imagery on its black truck.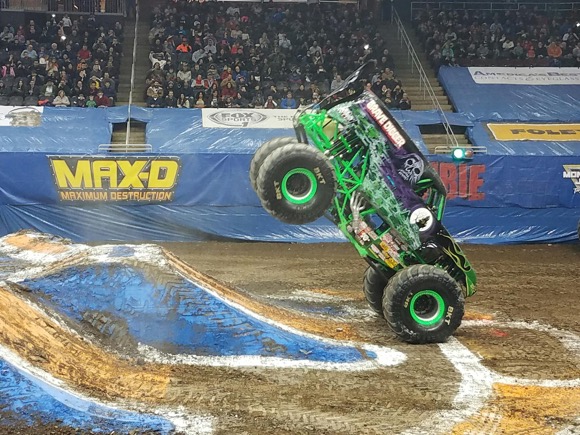 As this was our first time attending and completely lacking an understanding of the rules, we quickly caught up with videos being projected prior to the start of the show detailing the rules. Every truck and driver was introduced to the crowd. Within a few minutes, my children were cheering for their favorite trucks and that was the moment we realized that a new family tradition was born.

What to Expect at Monster Jam
Expect  to be Surprised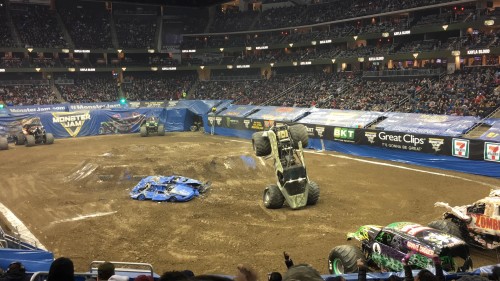 While I was familiar with Grave Digger, other trucks also dominated parts of the competition. I was consistently surprised by who won each event and the stunts they performed to win. In one show, it feels like a soap opera filled with ups and downs. During the ATV race, Ami Houde, who drove the Zombie truck, had an accident when the bike flipped on her so the race was paused to treat her for injuries. It was reassuring to watch the safety precautions taken, and the show quickly revved up as the race continued. Soldier of Fortune was thoroughly competitive, and when it came to the Freestyle contest, she absolutely stole the show as her truck began the 60 second demonstration by flying through the air. Expect to be surprised during each competition and every show!
Expect a Multi-Sensory Experience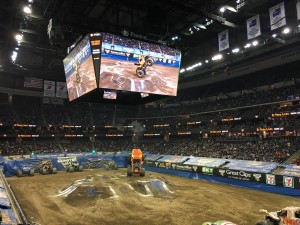 From the screams from the audience to the roar of the machines, Monster Jam is loud. If you or your child are sensitive to the noise, I recommend bringing noise cancellation headphones or ear plugs. In addition, fumes from the trucks may provide a strong smell especially for enclosed venues. Luckily, the Prudential Center offered a great ventilation system that helped dim the smell. With all this said, Monster Jam delivers jaw dropping stunts that make you forget where you are sitting in the stadium. As vehicles are propelled to ride on the two front wheels backwards, you believe you are much closer than you are!
Expect Family Fun
The design and set up of the show makes it easy for young and old members to follow along. The trucks have their own personality which allows children to instantly find their favorite truck. The drivers consistently share positive messages after each win. Since the competitions are brief, it is easy to keep everyone engaged. All of these qualities make Monster Jam a fun experience for the whole family.
Monster Jam also invites the audience to vote using the JudgesZone.com website by entering the special event code. After each performance, we had 20 seconds to contribute what we felt the drivers earned. My children were debating the scores we gave as they cheered for their favorites.
Expect to Become a Fan
We left the Prudential Center fans of Monster Jam. Two hours of jam-packed adrenaline convinced us that this is a family friendly experience that promotes getting together and having a good time. As my son held onto the Megalodon truck he purchased and my daughter raved about the women drivers, we knew this is a wonderful opportunity for us as a family to have a roaring good time.
You may also enjoy: