Updated for 2020!
February is often synonymous with love, roses and, my favorite, chocolate! With Valentine's Day on the horizon, many people are thinking of ways to show their loved ones they care. Whether it's with a card, roses or giant box of chocolates, celebrating Valentine's Day has become an important tradition for many. This February, instead of picking just one day to spread the love, why not celebrate ALL MONTH LONG?!
Hershey, PA is offering a month full of sweet experiences that individuals of all ages will LOVE! Chocolate Covered February takes place throughout the entire month of February with over 90 chocolate-inspired events to choose from. Doesn't that sound AMAZING?! To help you plan your chocolate adventure, I have put together a list of some of the most amazing experiences you can enjoy this February in Hershey!
ZooAmerica
During Chocolate Covered February, ZooAmerica will be offering 2 wonderful opportunities. Every Friday, admission is only $6 for EVERYONE! Make it a date night or a fun night out as a family. Either way, it will be a wonderful learning experience. Also, on select days in February, guests of ZooAmerica can watch zookeepers feed the animals chocolate themed treats. What a fun way to learn a little more about what the animals like to eat!
The Hershey Story
The Hershey Story is a MUST DO every time we visit Hershey. There are always fun learning adventures the entire family can enjoy. During Chocolate Covered February, guests can enjoy a variety of activities:
Themed Chocolate Lab Classes – We absolutely LOVE the Chocolate Lab Class! Each class is 45 minutes long and is offered to individuals 4 years old and up. For each class, participants will make a delicious treat to take home. Each budding chef will also learn facts about chocolate and gain important cooking skills. Tickets must be purchased in advance and classes take place throughout the day. Chocolate Covered February classes include: The Heart of Chocolate, Try It With Truffles, "Berry" Lovely Bar and Truffles for Couples. Check out our YouTube video of the Chocolate Lab class we did over the holidays:
Preschool Story Time – Children ages 3-5 years old (with a caregiver) can enjoy fun story times this February! Each week will have a different theme, and participation is FREE! Story Time will take place 2/6, 2/13, 2/20 and 2/27.
Hershey's Candies and Curiosities – On February 14-17, kids will have a blast learning all about the art of making Hershey's Kisses. There will be interactive activities, a scavenger hunt and sweet treats. This event is included with admission to the museum.
Hershey's Chocolate World
There really is no better place to celebrate Chocolate-Covered February than at Hershey's Chocolate World! There are so many fun events and programs along with special tasty treats that all celebrate chocolate! The highlight is the Chocolate Sculpture that will be unveiled on February 1 at 11am!
Chocolate Inspired Tasting – For only $15/person, chocolate connoisseurs can taste 6 chocolate inspired drinks and foods all around Chocolate World. The event takes place every Saturday and Sunday February 8-March 1. This experience is recommended for ages 14 and older.
Hershey's Character Parade – Hersheypark may be closed for the winter but that doesn't mean you can't experience the Hersheypark Band and Hershey's Characters! Every Saturday and Sunday February 1-March 1 (as well as President's Day), guests at Hershey's Chocolate World can enjoy a fun performance and parade at 11am and 2pm. It is a FREE show that all can enjoy!
The Hotel Hershey
The Hotel Hershey is known for its incredible cuisine and amazing culinary experiences. Chocolate-Covered February is no exception as The Hotel Hershey offers wonderful chocolate themed events that will engage all the senses. Most of these events are geared towards adults but families can enjoy some of them as well.
Chocolate Dinner Extraordinaire – Kick off Chocolate Covered February on January 31 with a 5-course meal in the Castilian Room. Reservations are required and seating is limited.
Hershey's Chocolate Dessert Buffet – Families and couples can enjoy an incredible buffet filled with chocolatey treats located within the gorgeous Fountain Lobby. The Dessert Buffet takes place every Saturday in February 7pm-9pm, and reservations are required.
Chocolate Tea – Couples and families can enjoy delicious finger sandwiches, chocolate desserts and a variety of hot and cold teas in The Fountain Lobby. Reservations are required. This event takes place 2/1, 2/8, 2/15 and 2/22.
Wine and Chocolate Pairing – Guests 21 and older can enjoy delicious flavor combinations with wonderful wine and chocolate pairings. Events take place every Saturday in February at 4pm and reservations are required.
Chef Demonstration – Learn from the best as you watch a chef from The Hotel Hershey prepare an exquisite chocolate infused savory meal or dessert. This event is FREE and takes place every Saturday at 11am.
The Hershey Lodge
We LOVE staying at The Hershey Lodge. It is the perfect family friendly resort for a quick weekend getaway or long winter retreat. It offers an arcade, pool complex, activity room and more allowing families to have fun all day long. During Chocolate-Covered February, The Hershey Lodge offers programs for both families and couples!
Chocolate Martini Mixology Class – No trip to Hershey is complete without having a chocolate martini, and during Chocolate-Covered February, guests 21 and older can learn how to make this signature cocktail. Each guest will also get to take home their own Hershey Lodge martini glass. This event takes place 2/1 and 2/15 and reservations are required.
Chocolate and Spirits Pairing Class with Chef Demonstration – Learn all about bourbons, scotches, cognacs and more while finding each drink's perfect chocolate match. Attendees will also learn how to make some delicious menu items during chef demonstrations. This event takes place 2/8 and 2/22 and reservations are required.
Character Breakfast – This event is fun for the entire family! On February 8 7am-11am, Fire and Grain will host a sweet buffet breakfast with some very special guests. In addition to being greeted by your favorite characters, guests will also be entertained by the Hersheypark Band!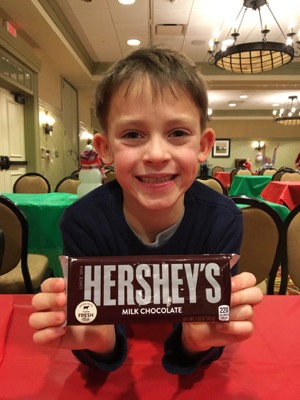 Spa Day
There are 2 AMAZING spas in Hershey, PA: MeltSpa and The Spa at Hotel Hershey. Each offers a unique experience filled with relaxation and pampering. This February, both spas are celebrating Chocolate Covered February with special chocolate themed treatments such as chocolate wraps, cocoa facials and a dark chocolate scrub.
For even more events and experiences including specials at local restaurants and shows, check out the Hershey, PA website!
Which chocolate themed event are you most excited about?
*Photo used in top graphic was provided by HE&R
You may also enjoy: