Since Trolls exploded on the scene with its bold colors, bright music and uplifting messages, my daughter has been a massive fan. Of course, it became the theme of her fourth birthday party as she sported a Poppy styled dress. While some can resist the glitter, they can't avoid the hook of the upbeat soundtrack. Now, for my kids and plenty of Trolls fans, you can travel to their homeland currently located in New York City by Columbus Circle to attend Princess Poppy's Best Party Ever!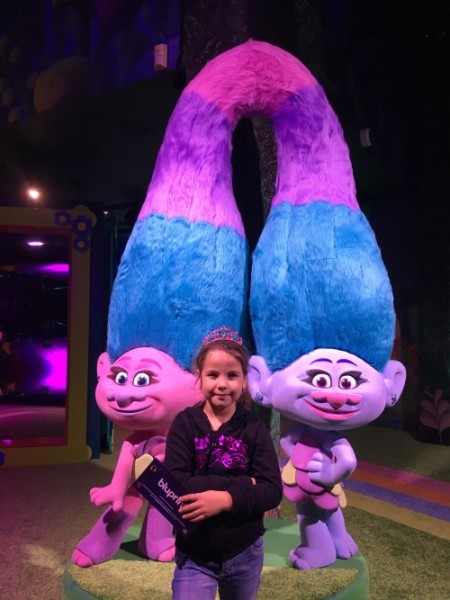 When you purchase tickets to the Trolls Experience, you select a reservation time. You will have a host who guides you to the different stations which are all cleverly inspired from the Trolls movie. It takes around 60-90 minutes to tour the entire location. Trolls Experience is designed so that all guests have an opportunity to enjoy each of the sections. As with most locations, it is more crowded on the weekends so if you can visit on a weekday I highly recommend it.
Children are invited guests to Princess Poppy's party. The first stop is to receive a Troll makeover. Remember, big hair don't care! To get the full makeover with makeup and Trolls hair, it is an additional cost. If not, children will receive a paper headband resembling the iconic hair.  They will also get tattoos at this stop.
The next stop was one of my favorite moments which was the music room. There are several characters in the room that each possess a small circular light. When it is lit, you can press it so that they contribute a sound to the song being played. We ran around for several minutes and laughing at each stop. It demonstrates how music is a collaborative process.
We took a special bus ride after this where visitors are asked to collect as much confetti as they can! Have your cameras ready to take photos because it is a great visual and a lot of fun for everyone.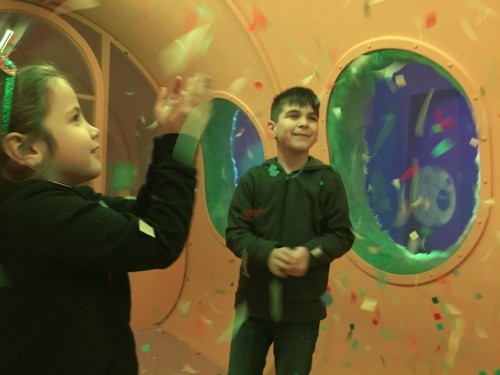 Following this was my son's favorite location which contained several interactive screen games in a space that looks like a slice of the forest. My children were torn between climbing tree branches and jumping on an interactive floor pad that looked like a pond. However, what rose to the top in this space was a floor to ceiling screen where you had to tap the different creatures.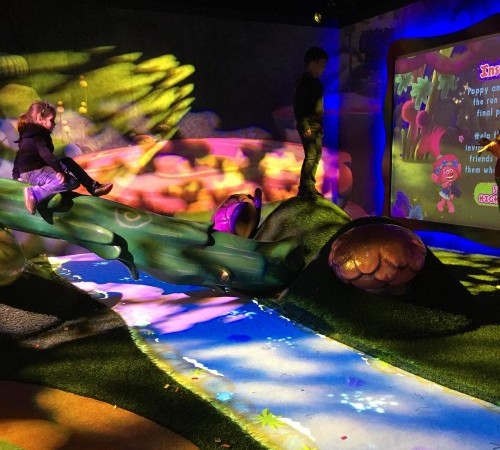 With all this jumping around we were ready to dance at the party. Equipped with our 3D glasses, not only did everyone show off their favorite moves, but it was a visual delight as all sorts of creatures from the Troll world popped up in front of us.
The last destination for the Trolls Experience was of course scrapbooking our own page of what we did. Throughout our adventures we collected several special stickers that are used to decorate pages of our Trolls Experience. Just like Poppy, we scrapbooked our memory of the fun including a special photo taken at the photo booth.
When we exited the Trolls Experience, we met Poppy herself before entering to the gift shop which serves ice cream and slushies. The Trolls Experience is definitely unique in what it offers families. It is engaging and true to the movie. For more information to order tickets or hours check out their website.
You can also check out our video for a closer look at some of the stations we described.
The Trolls Experience is located at 218 W 57th St, New York, NY 10019
You may also enjoy these other Feld Entertainment events: