Updated for 2021!

One of my absolute favorite places to explore in NJ is Liberty Science Center (LSC). No matter how many times we visit there is always something new and exciting to experience. This winter is no exception. LSC has an incredible line up of exhibits, events and experiences the entire family will LOVE!
In addition to their already amazing exhibits and hands-on learning experiences, this winter LSC has even more brain boosting fun. With 4 floors (300,000 square-feet) jam-packed with opportunities to learn through play, LSC is the perfect winter day trip destination. In this post, I am going to highlight the new exhibits along with additional must do experiences.
Must Do Experiences at LSC This Winter
DC Superheroes: Discover Your Superpower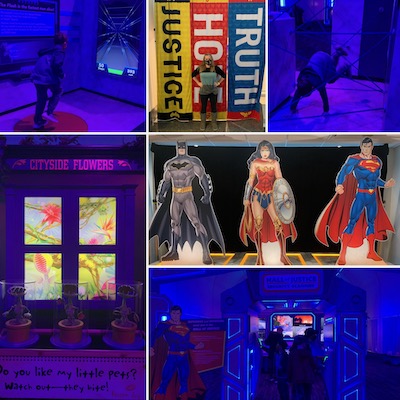 Calling all superheroes! LSC has an exhibit you will LOVE. From the moment you enter the exhibit, you will be testing your superhero skills and instincts. From the Hall of Justice to the streets of Gotham City to even the Museum of Ancient History, guests will have to use their superhero powers to fight the villains. There are so many hands-on learning activities like a laser maze, lasso of truth simulator, super speed tests, an obstacle course, and more. Kids will love learning how to beat the bad guys like Wonder Woman, Batman, Superman, and the Flash. This exhibit is included with general admission.
Daniel Tiger's Neighborhood
Beginning January 16, families can step inside Daniel Tiger's Neighborhood for some hands-on learning fun. This truly immersive experience will encourage little ones to use their imaginations while also building important problem solving skills. Kids can play instruments, receive packages and letters at the Post Office, create stories using props, step inside the Clock Factory, read a book, and so much more. This exhibit is included with general admission.
Black Holes: The Other Side of Infinity Planetarium Show
Did you know that LSC houses the largest planetarium in the Western Hemisphere? The Jennifer Chalsty Planetarium's dome has a diameter of 89 feet with 588 perforated panels that are seamlessly joined together. It has 8K resolution (which is six times more crisp than what you see at the movie theatre) with 88 million pixels as well as a speaker system that boasts 30,000 watts. In addition, while our eyes can only detect 10 million colors, the Jennifer Chalsty Planetarium has the power to produce over 281 individual trillion colors which enables us to understand outer space through stunning visual representation.
This winter make sure to check out one of the amazing planetarium shows. I highly recommend getting tickets for the incredible show Black Holes: The Other Side of Infinity. This spectacular show starts with a live presentation about the night sky leading into an introduction of Black Holes. The film then takes guests on an out of this world journey into the depths of the galaxy where black holes exist and thrive. It is a spectacular learning experience you will not soon forget! You may also really enjoy the NEW show, Planets Tonight.
Microbes and Mammoths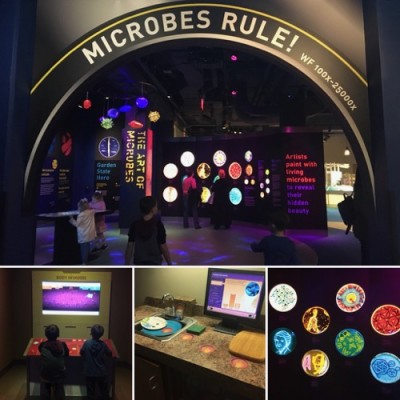 Microbes Rule! is an eye-opening exhibit that uses art, technology and music to teach guests the importance of these often misunderstood microorganisms. My boys loved playing the microbes video game while I enjoyed admiring the art work made from microbes. Who knew they could be so beautiful? Towards the back of the exhibit is a timeline showing past and present scientific discoveries involving microbes that have changed the world. Did you know that a Jersey native discovered that the Streptomyces griseus microbe which produces an antibiotic that later became the first effective cure for tuberculosis? This discovery saved millions of lives all over the world!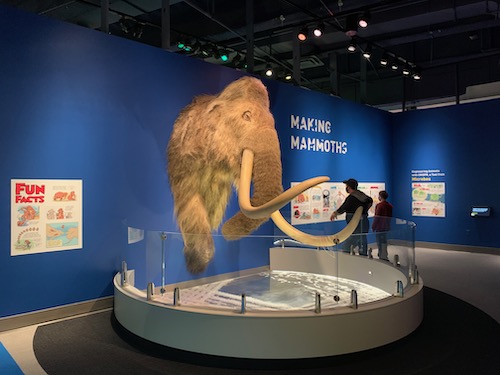 Another awesome NEW exhibit is Making Mammoths. Get up close to a Mammoth replica that took 6 months to make. Located on the 3rd floor, next to Microbes Rule, this exhibit teaches guests all about mammoths. You will also learn how George Church, geneticist, is working to transform modern Asian elephants into "mammophants."
Beyond Rubik's Cube
Located on the 4th floor, this fun and innovative exhibit takes guests into the world of the Rubik's Cube and beyond! With tons of hands-on learning activities, guests will test their problem solving, visual motor, and visual perceptual skills all while having fun. In addition, to puzzles and brain teasers to solve, a Rubik's Cube to build, and robots to code, there is also a display of classic Rubik's cubes that you can't miss. Guests can also control a 10 foot tall giant Rubik's Cube! This exhibit is an additional fee.
Sock Skating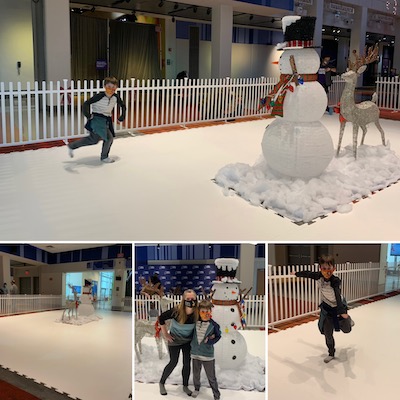 I am so excited LSC decided to extend the sock skating through the winter. We experienced this awesome activity during Holiday Adventure, and we cannot wait to go back and do it again. Located on the 2nd floor is a Sock Skating Rink that can be enjoyed by guests of all ages. Just slide and glide across the synthetic ice in your socks (or shoe nets provided by LSC) for endless fun. Skating is included with admission and there is no time limit. We went back several times during our stay and had a blast. Not only was it fun, but it was also a great workout!
Build, Climb and Play
There is so much to see, do and explore at Liberty Science Center! We love every exhibit but there are some activities the boys HAVE to do every visit. Here are some MUST DO experiences inspired by my kids (ages 9 and 11).
Infinity Climber (Located on the 3rd Floor)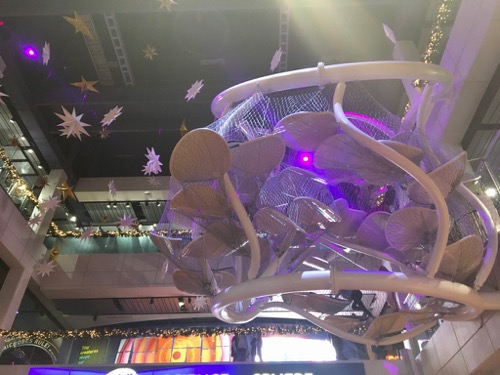 Touch Tank (Located at Our Hudson Home)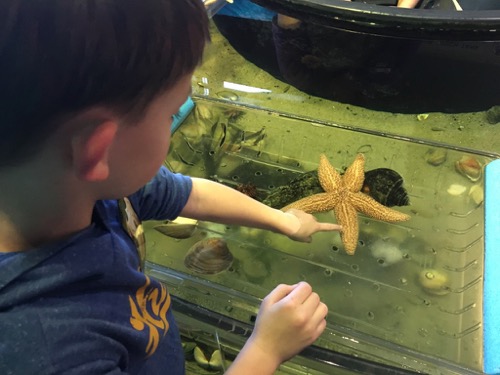 Test Your Strength (Wonder Why on the 3rd Floor)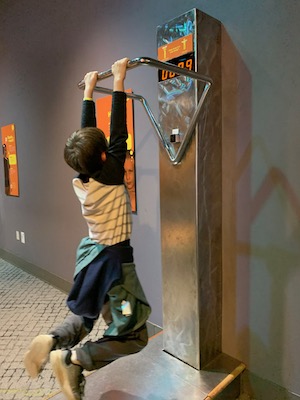 Liberty Science Center is located in Jersey City, NJ with a gorgeous backdrop of the NYC skyline and the Statue of Liberty. It is open Tuesday-Sunday with varying hours. Please visit their website to learn more.
What experience are you excited about the most? Answer in the comments section below!
You may also enjoy: