There are so many exciting and festive events during the holidays but, in the eyes of a child, the most exciting experience is seeing Santa! Seeing the wonder and pure joy when a child sees Santa, or even better, gets to meet him is contagious. You just can't help but be happy!
That is why I am excited to share that Hershey, PA offers some amazing places to see and even meet Santa this holiday season! Over the past several years, we have kicked off our holidays by visiting Hershey. Each year, we try a new experience which usually involves meeting Santa! To help you plan out your holiday trip to Hershey, I put together a list of all the amazing places you can see Santa!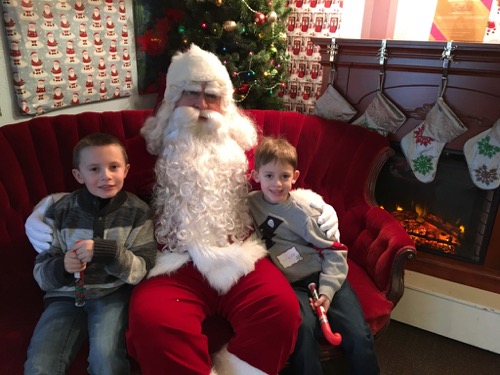 Amazing Places to See Santa in Hershey, PA
Hersheypark
There is not just one but 3 places you can see Santa at Hersheypark! Each one offers a unique holiday experience the entire family can enjoy!
Breakfast or Lunch with Santa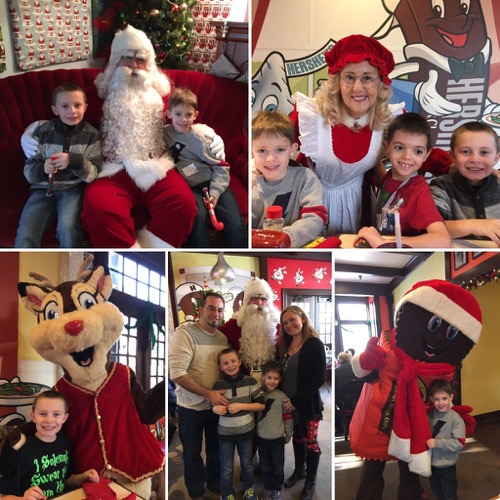 Hersheypark Place, located near the entrance to Hersheypark, offers fun and interactive Breakfast and Lunch with Santa experiences. While enjoying delicious meals, families will be entertained by some amazing performers such as jugglers and musicians. Guests will also get to meet and take pictures with their favorite Hershey characters as well as Santa and Mrs. Claus! Children ages 12 and under will get a special treat from Santa at the end too! Here is a video of our experience at Breakfast with Santa which we absolutely LOVED!!!
Up on the Rooftop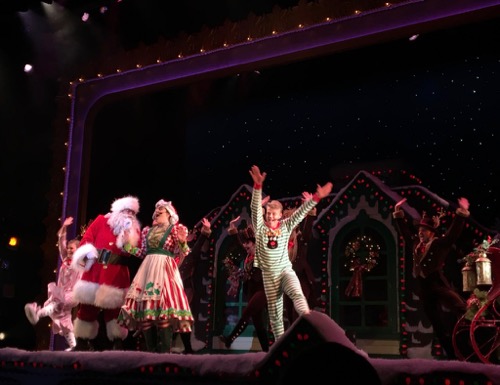 Hersheypark offers a wonderful show full of holiday cheer! Up on the Rooftop is a story about 2 young children who are trying to catch Santa. They encounter many adventures along the way which are shown through song and dance. At the end of show, Santa arrives on stage which is highlight for all the kids (and kids at heart). You don't get to meet Santa but seeing him appear ignites just as much joy and happiness!
Meet and Greet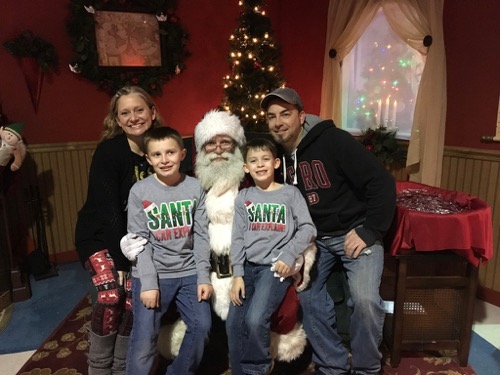 Make sure you save room in your schedule to meet and take a photo with Santa at Hersheypark! His workshop is located near the Kissing Tower. Guests can purchase pictures or just take their own but either way, it will be a photo opportunity you can't miss. My boys loved meeting Santa and telling him what they wanted for Christmas. He was very warm and inviting which is wonderful for children who tend be a little frightened or shy.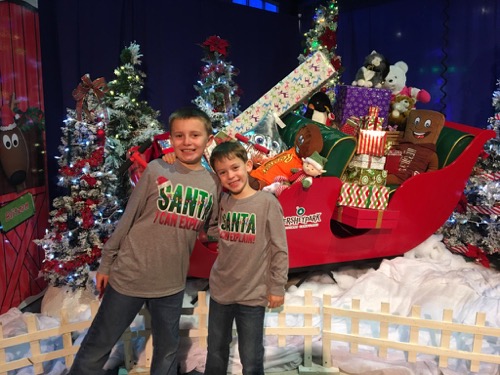 During your journey through the workshop, there are other amazing places to take pictures as well. From Santa's sleigh to Christmas Trees with Hershey Kiss toppers to festive backdrops, there are so many opportunities for great family holiday pictures!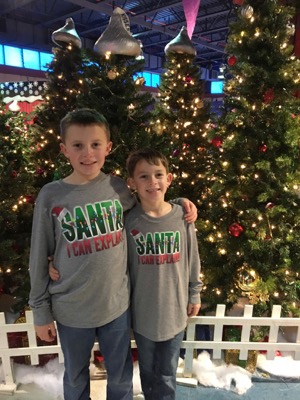 Bonus: Meet Santa's Reindeer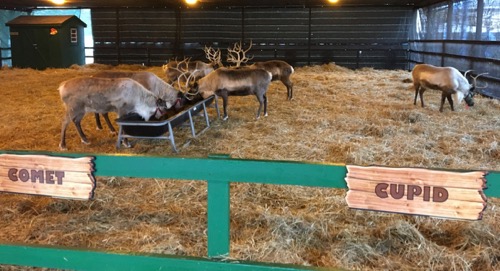 This experience may not include Santa himself, but who wouldn't want to see his reindeer too? A MUST DO experience every holiday at Hersheypark is getting up close and personal with all 9 of Santa's reindeer! Not only can families admire their beauty, but guests can also ask questions about the reindeer and learn all about these incredible animals. You may even have the opportunity to touch real antlers. It is an experience you will not soon forget!
The Hershey Story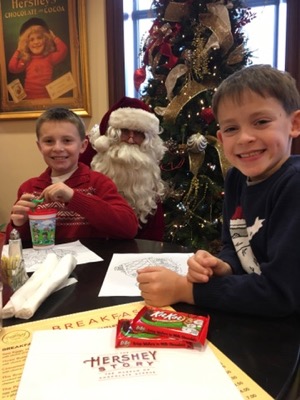 The Pantry Cafe in The Hershey Story offers a unique Breakfast with Santa experience. Reservations are not required and an additional fee is not needed to take a picture with the man of the hour so make sure to bring your camera! Upon arrival, kids are provided coloring sheets, crayons and their own menu/activity sheet. Traditional breakfast items are available along with delicious specials. Make sure to try the hot chocolate as well as the new Nitro Cold Brew Coffee which is on tap! The event takes place December 1, 8, 15 and 22 8:30am-11:30am.
The Hershey Lodge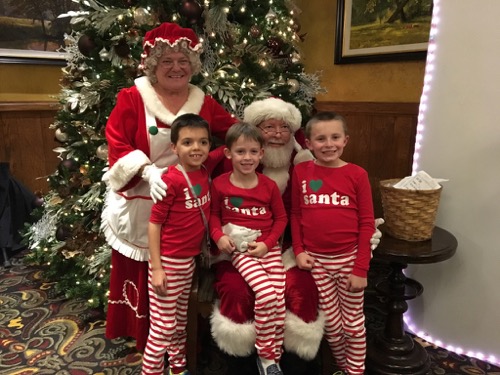 If you are planning a stay at The Hershey Lodge this holiday season, make sure to book the Breakfast with Santa package. Available for Friday and Saturday night stays through December 23, the Breakfast with Santa package includes a breakfast buffet with Santa and Mrs. Claus for each guest. The Hershey Lodge is beautifully decorated for the holidays with a gorgeous Hershey themed Christmas Tree making it the perfect holiday getaway. The fireplace in the center of the lobby is the perfect space to relax and unwind this holiday season.

The Hotel Hershey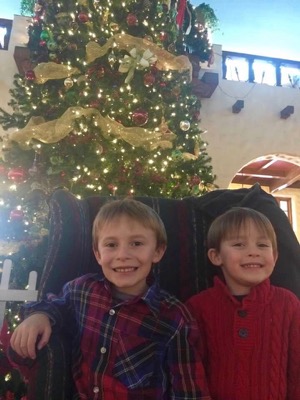 The Hotel Hershey is an absolutely breathtaking resort that becomes even more spectacular during the holiday season. Now through December 22, hotel guests can take advantage of the Breakfast or Lunch with Santa packages. While dining on a delicious buffet meal, guests will get to meet Mr. and Mrs. Claus!
Chocolate World
Throughout the holiday season, families can see Santa at Hershey's Chocolate World. Santa is located in front of the Chocolate House which is a MUST SEE when you visit Hershey. Santa is available to meet families daily through December 24. Make sure to check his schedule though because he takes some breaks to feed the reindeer!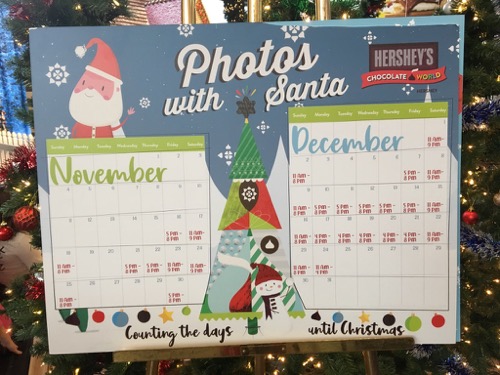 There are so many amazing places to see Santa this holiday season in Hershey, PA so make sure to book your family vacation today!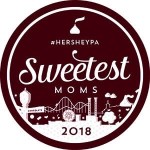 As a sweetest mom, I am provided passes to incredible Hershey events, programs and activities in order to share their sweet learning adventures!
You may also enjoy: