It has been over 15 years since I visited the infamous Six Flags Great Adventure. Located in Jackson, NJ. Great Adventure holds a special place in the hearts of many New Jersey natives like myself. I remember my very first trip when I rode Batman for the first time, and I will never forget what it felt like to take the drop on Freefall. I have incredible memories with friends and family, and I was so excited to be able to create new memories with my children!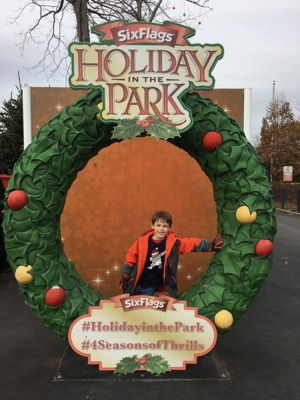 Since Holiday in the Park is only in its 4thseason, it is an experience I had never enjoyed as a child or young adult. That is why I was filled with anticipation and excitement for our visit. It was surreal walking through the gates of Great Adventure again. So much had changed yet so much had remained the same. Although I was surrounded by new rides and attractions, there was the same sense of excitement and pure happiness that was enhanced even more by all the holiday lights and decorations!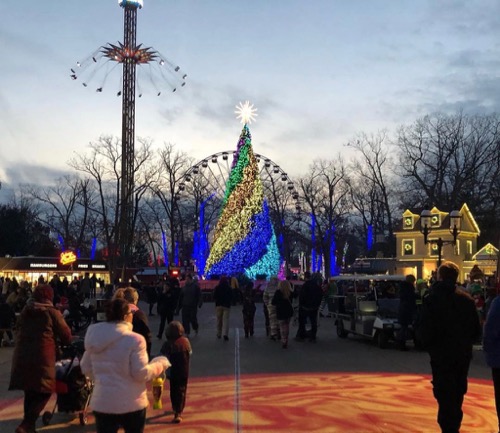 For those that don't know, Holiday in the Park is when Six Flags Great Adventure transforms into a spectacular winter wonderland. With 13 themed areas, breathtaking shows, delicious treats and over 30 rides to choose from, there is something for everyone in your family to enjoy. We were recently invited for a media day event and had a blast exploring all the holiday wonder Great Adventure had to offer! Here are some of our favorite activities that you cannot miss!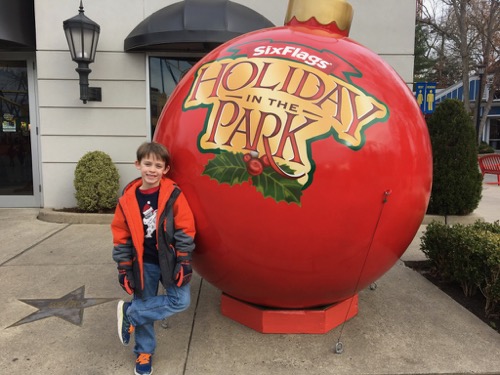 Must Do Experiences at Holiday in the Park
Holiday Magic: A Celebration of the Season
In the heart of Holiday in the Park, is a 52-foot tall Christmas Tree glistening and sparkling with pure beauty. During the day, it is the perfect spot for family photos but at night is when it really comes alive. Beginning at 5pm, the tree turns into a spectacular holiday light show that will take your breath away. Every 30 minutes, guests can stand around the tree and admire its brilliance with the lights perfectly choreographed to music and lyrics. It is an experience you CANNOT miss!
Wonder: A Cirque Spectacular Show
Holiday in the Park offers 4 festive shows but, in my opinion, the one that you absolutely cannot miss is Wonder: A Cirque Spectacular. This theatrical production features a variety of performances that will have you smiling and dancing in your seat the entire time. From dancing to singing to high flying acrobats to magic, there is something for everyone to enjoy. At times, you will even find yourself at the edge of your seat in excitement. Wonder takes place at the Showcase Theatre which is located across from Justice League Battle for Metropolis (another MUST DO experience).
Enjoy a Drink and a Sweet Treat by the Fire
Take a break from all the action, and relax by the fire with a warm beverage. There are fire pits located throughout the park, but a great spot to hangout is at Merry Market Place located near The Joker. Surrounded by twinkling lights, families can sit at a picnic table or stand around a fire and enjoy each other's company. Guests 21 and older can also head to Holiday Spirits for unique drinks like seasonal beer, spiked hot chocolate and spiked eggnog. Don't worry, traditional hot chocolate and coffee are also available along with sweet treats. Guests can also purchase s'mores kits at the Market Place. You will definitely want to visit this location a few times!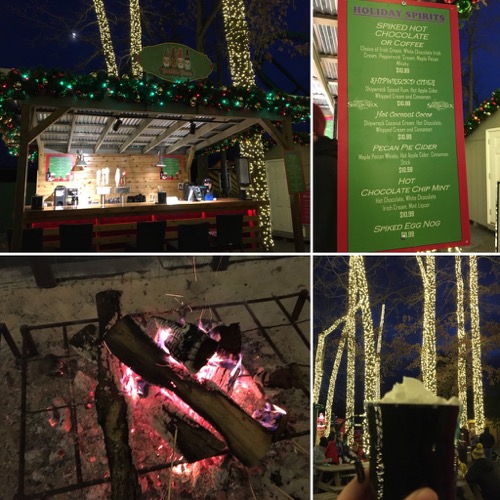 Take a Photo
Holiday in the Park offers so many festive photo opportunities that I did not even get to them all during my trip. From beautifully decorated trees to festive characters to giant sized ornaments, there are amazing places to pose for a picture. They make for wonderful mementos and are perfect for your Christmas card! Here are some locations you will LOVE: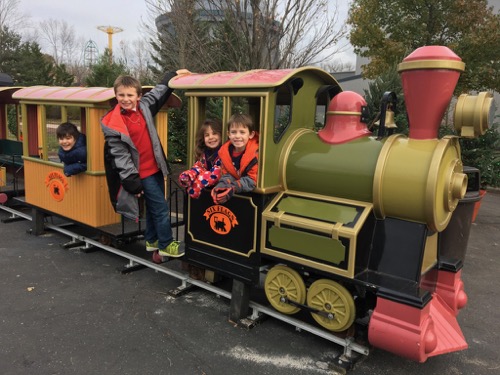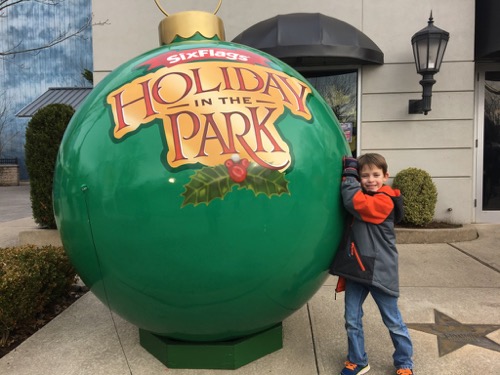 In addition to great locations, there are also several characters the children can take pictures with. From toy soldiers on stilts to the Poinsettia and Peppermint Princesses to reindeer to even the big man himself, Santa, there are so many wonderful options for holiday meet and greets. Here are some we enjoyed: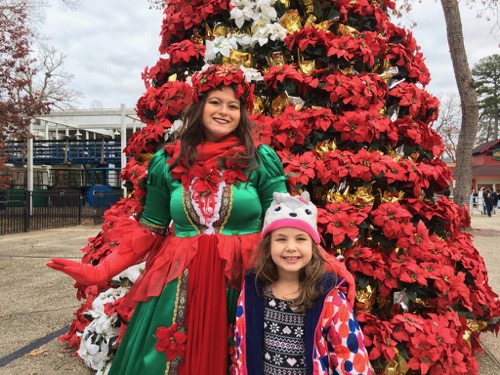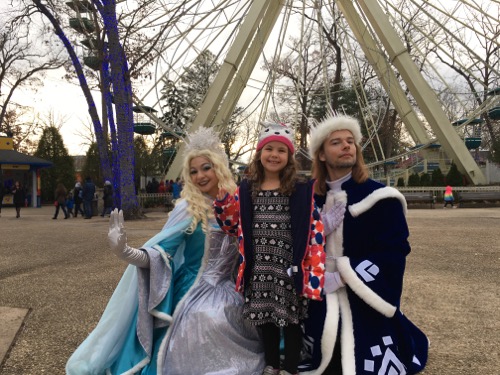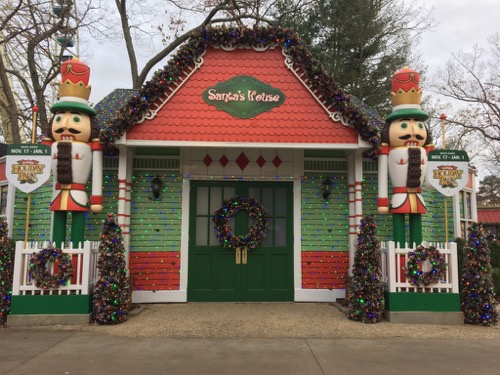 Enjoy a Holiday Feast
All that exploring can make anyone hungry so make sure to enjoy a Holiday Feast during your visit to Great Adventure. Located in Poinsettia Peak, the Holiday Feast offers a wide variety of delicious comfort food. I really enjoyed the turkey and stuffing while my husband loved the pot roast and mashed potatoes. My kids, of course, loved the chicken tenders and macaroni and cheese. We ALL thoroughly enjoyed the desserts which included cookies and holiday beignets!
Try Something New
Whether it is your first time or 31sttime visiting Great Adventure, there is always something new to try! New this year for Holiday in the Park at Great Adventure is Holiday Craze Mirror Maze. For an additional nominal fee, guests can "get lost" in a maze of mirrors. This experience will have the entire family laughing and having fun together! Also new this year is Deck the Halls, a space that offers oversized ornaments and presents that are perfect for taking photos! If you are like me and have not been to Great Adventure in a long time, then make sure to try a new ride too. I LOVED Battle for Metropolis while my son really enjoyed The Dark Knight Coaster and Harley Quinn Crazy Train.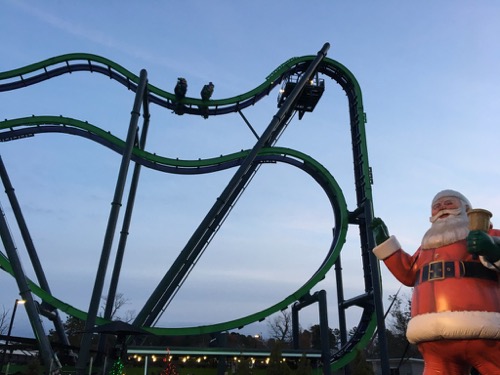 Holiday in the Park is a magical holiday experience full of wonder, excitement and thrills. It is a MUST DO holiday adventure this season! Holiday in the Park is open every weekend as well as December 26 – January 1. For more information and to purchase tickets, please visit the Great Adventure website.
You may also enjoy: