Can you name a story that brings Mother Goose, Bo Peep and Tweedle Dee and Dum together? While our minds evoke memories of a fairy tale, they all come together with a slew of other unique characters in the iconic show Babes in Toyland. Originally, it was an operetta composed by Victor Herbert that brought all these favorites in one Christmas-themed musical. It was later adapted into a 1934 film with Laurel and Hardy. It has been re-imagined several times including the 1986 film with Drew Barrymore and Keanu Reeves. Most recently, The Growing Stage has added a festive adaptation to their 2018-19 season.
The story takes place in Toyland where Mother Goose is losing her home to the conniving Silas Barnaby. Her adored daughter, Bo Peep, has caught the attention of Barnaby who proposes that in exchange for her hand in marriage he would be able to cancel the liens on her mortgage. This, however will not make Bo Peep happy as she and Tom-Tom have realized how much they like each other.  So, who is going to save the day in this story that may result in beloved characters becoming homeless? While the passionate, good-natured and quirky Tweedle Dee and Tweedle Dum are determined to help Mother Goose and Bo Peep, their plans don't always work.
The Growing Stage always compiles a powerhouse of local talent to feature on stage. The antics of Tweedle Dee, performed by Danny Campos, and Tweedle Dum, played by Donald Danford, will remind parents of the comic stylings of Laurel and Hardy but is uniquely their own brand. Slapstick humor has withstood the test of time and these characters will introduce young children to the pleasure of this silly humor while parents enjoy the jokes as well. Sarah Daniels who makes her Growing Stage debut has perfect timing and a graceful presence on stage while David Spellman's sinister Barnaby will grab your attention with his ruthless portrayal. It is not just the main title characters but also Bo-Peep's sheep, Nursery Children and the Toy Soldiers who round out the cast and provide an enjoyable production.
Kids will not only be attracted to the various personalities unfolding before their eyes, but also the stunning stage designs and beautiful costumes. Each detail of the show is well thought out and meticulous. The music is upbeat as the audience can easily catch the tune and tap their feet along. Towards the end of the show, my daughter was so excited she had to stand to watch the final scenes. That is the reaction you want a child to have which is engaged, curious and happy to witness the next scene.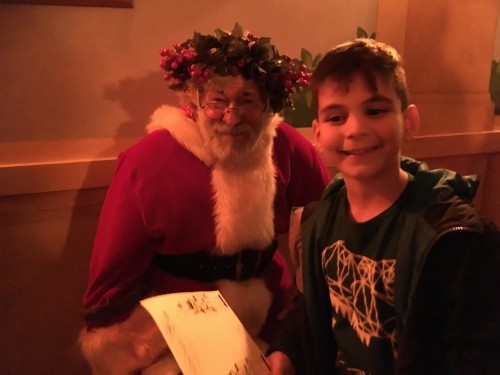 Babes in Toyland has all the hallmarks of The Growing Stage which is a strong cast, striking set design and costumes, great music and the cast meet and greet. My children are always thrilled with watching The Growing Stage productions as much as meeting the cast afterwards. At the end of each show, guests can meet, talk, and take pictures with the cast which is a wonderful invitation for young children to become fully engaged with the performing arts. Since children receive a special playbill which includes activities like mazes and word puzzles as well as an autograph section, my daughter ran out the door to meet everyone and get their signature. It is a nice touch that stands out for them and reinforces that every show has a slice of magic included.
Babes in Toyland runs through December 16 at The Growing Stage so don't miss your chance to see this amazing production! To learn more and purchase tickets, please visit their website.
Check out the entire season here: