Dreams of sugar plum fairies appeared …
The soundtrack of Christmas includes carols to hymns; however, the music of Tchaikovsky's The Nutcracker has assumed an impressive status since it emerged over 100 years ago. The ballet is inspired by a story adapted by Alexandre Dumas that when combined with Tchaikovsky's music emerges into a surreal display of graceful dancing.  The performance will mesmerize young and old as each song introduces new characters, scenes and costumes that impress the audience with visual delight.
The New Jersey Performing Arts Center welcomes the National Ballet Theatre of Odessa to perform this classic holiday show. With 55 expert performers trained in the traditional high standards of Russian ballet, The Nutcracker transforms into a sensory feast. Receiving critical acclaim throughout Europe, India, Africa and the United States, their performances on December 14, 2019 at 2 and 7pm is one not to be missed.
The Story of the Nutcracker centers around Clara, a young girl who has been gifted with a Nutcracker by her godfather, Drosselmeir, on Christmas Eve. After her brother, Fritz breaks the wooden Nutcracker, the entire family retires to sleep. During the night, young Clara has a visitor transport her to another world where she meets the human Nutcracker that battles the Mouse King.
While I introduced my daughter to an adaptation of The Nutcracker when she was two years old, she is now significantly older and prepared for the ballet! What appeals to her is the delicate and quintessential dancing of the Sugar Plum Fairie as well as the Waltz of the Snowflakes. The Nutcracker offers so many different aspects such as the battle scene between the Mouse King and the Nutcracker as well as the wide variety of characters that appear. Each year in December, The Nutcracker makes an appearance at NJPAC and with good reason. It holds a special place in our hearts and pop culture while holding firm to its origins as a ballet, and we LOVE that.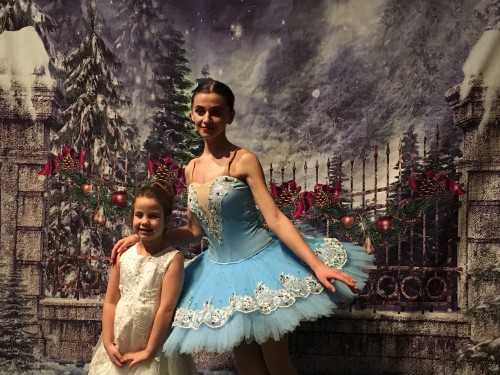 Last year, when we attended my daughter was thrilled to take a photo with one of the ballerinas and stroll through the marketplace.  It was certainly a magical moment!  When we arrived at our home she hung an ornament that she picked up that night and hung on our Christmas tree.
Now your family can do more than just dream about dancing sugar plums, rather the Sugar Plum Fairie and can now go see this enchanting performance. Tickets to see the National Ballet Theatre of Odessa: The Nutcracker are available at  NJPAC.org or 888.GO.NJPAC (888.466.5722) or by visiting the NJPAC Box Office.
NJPAC is located at One Center Street, Newark, New Jersey 07102.
If you like this, you might like: