Since the air has already taken on that crisp feel and snow has landed on our yard, we are indoors getting ready for the holidays. Preparing for the holidays usually entails shopping, cooking, parties and get togethers, but we also try to incorporate holiday crafts into the mix. From snow globes to ornaments, these are now treasured decorations in our home that are taken out each year. Here are some suggestions of holiday crafts which include kits and our own creations.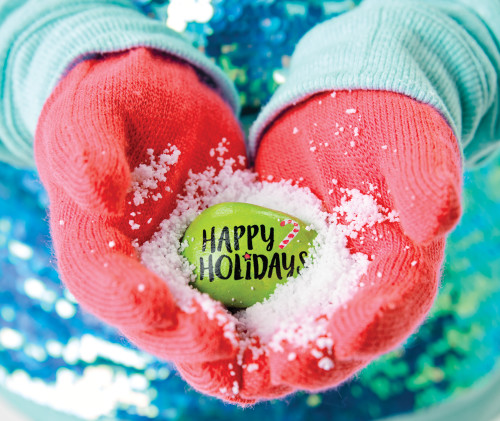 Make Your Own Holiday Snow Globes (Creativity for Kids)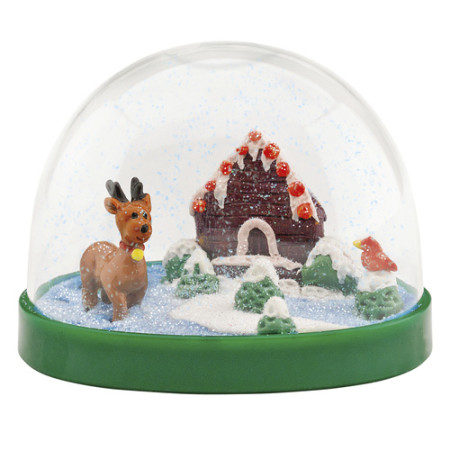 Snow globes remind us of the holidays, and Creativity for Kids offers a kit where your kids can make three different snow globes with everything included: one figurine for each globe, three globes, clay to make additional decorations and glitter. The best part is that these snow globes become beautiful reminders of the holidays as you pull them out each year. Our snow globes made in 2015 lasted several years and have been treasured by our kids (check it out here). Priced under $20 on Amazon, these are a cool alternative to the gingerbread house or a craft party for friends.
Christmas Decoration Kit (Buttonbag)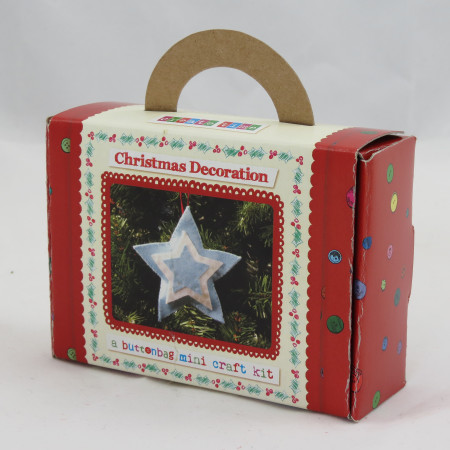 Growing up my mom made fabric ornaments to hang on the tree which I still adorn my tree with. The Christmas Decoration Kit invites children to make an ornament using their own hands which can be appreciated for years to come. Each mini kit makes one ornament; however, there are many different options from sewing to cross-stitch, and each set has all the necessary supplies. What appeals to me about this set is that it makes for a fun craft night with friends or can be made to be given as a gift to a loved one in the child's life.
Cookie Cutter Ornaments (Mommy University)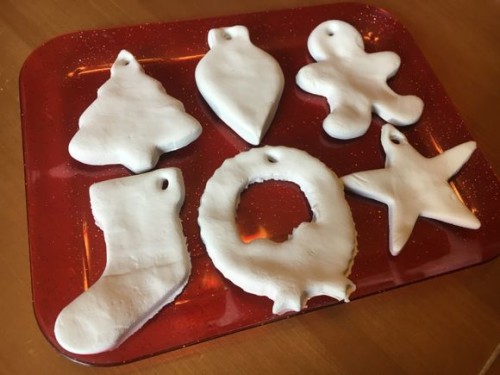 A fun project we enjoyed making was ornaments using Model Magic and the Air Marker Sprayer from Crayola as well as holiday cookie cutters. You can modify the design used in this post or just follow the instructions to make similar ones to decorate your tree. Let your imagination run with this project but the most important aspect will be everyone working together. Don't be surprised if the ornaments reflect the personality of the individuals making them! Check out our post on how to make them here.
Sweater Ornaments (Creativity for Kids)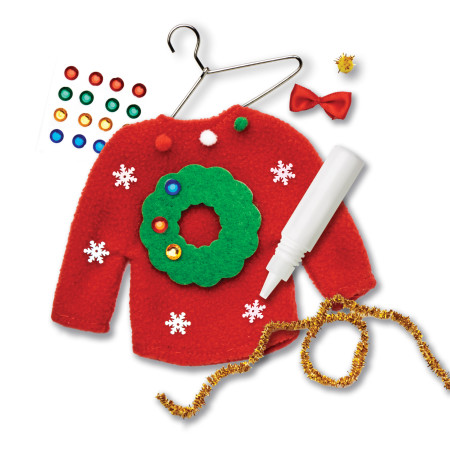 Making ornaments to decorate your tree is a fun family tradition, and Creativity for Kids has put together a fun set.  Included are all the supplies needed to decorate three holiday sweaters. The hangers they sit on become the hooks you can attach to the tree. Measuring 5" x 4" you might even be inspired to make your own classic ugly sweater! No matter what you do, this will be a great collaborative project. Priced at under $15 on Amazon, it is recommended for children 6 and older.
Hide and Seek Rock Painting (Creativity for Kids)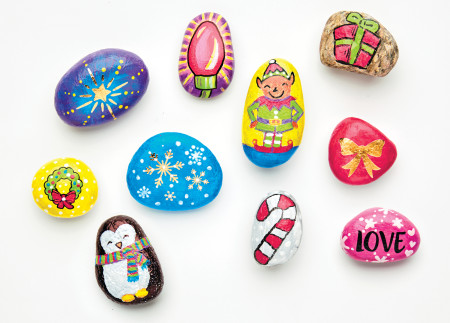 Hiding painted rocks with positive messages has been a popular activity for the past two years, and Creativity for Kids knows how to extend this fun activity into the winter months. This particular rock painting set is holiday themed to bring out a special messages of love and hope. Priced at under $15 on Amazon, the set includes ALL the supplies you need to paint the ten included rocks (yes, they give you the rocks). Our last set had plenty of leftover crafts that we used to paint additional rocks. This is a wonderful way to spread holiday cheer this season!
DIY I Spy Ornaments (Mommy University)
Looking for a unique holiday gift idea? Then these are for you! Families can work together to make adorable I Spy ornaments for teachers, coaches, grandparents and anyone else on your holiday list. All you need to make these ornaments are clear plastic ornaments, small bead filler and your choice of decorations such as mini candy canes, lights, nativity set, presents, bells and bows. We purchased all our products at Michaels but you can also find them at other craft stores and on Amazon. To make the ornaments, just fill the ornament with the beads and decorations then seal it closed with clear tape or glue. It's that easy!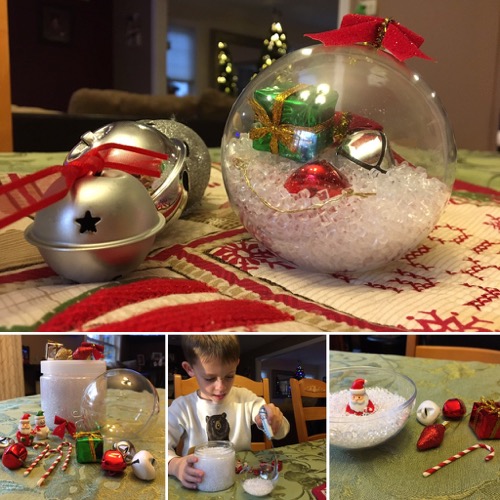 If you like this, you might like: