We are so excited to bring you this year's Play and Learn Stocking Stuffer Guide. We are thrilled to partner with some amazing and award-winning companies who provided some of the brain boosting toys on this list so we can share them with you this holiday season.
Ever since I was a little girl, my favorite part of Christmas morning was digging through my stocking to see what treasures Santa had left me. Don't get me wrong, I loved opening the presents under the tree too, but there was just something exciting about looking through a stocking. In fact, I still look forward to looking in my stocking to see what my husband has left me.
This season, fill your kids stocking with toys that are not only fun but also educational. As I stated in our Play and Learn Holiday Gift Guide, toys should serve a purpose and encourage growth and development. What you put in your child's stocking should be no exception! Here are some suggestions for brain boosting stocking stuffers!
2018 Play and Learn Stocking Stuffer Guide
Shopkins Lil' Secrets (Moose Toys)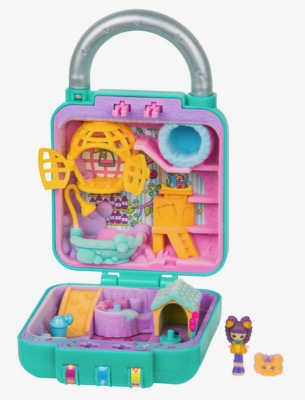 Kids can unlock a world of fun with Shopkins Lil' Secrets this holiday season. These bite sized toys might be small but they are packed with opportunities to encourage pretend and imaginary play. In order to open the locket, the child must crack the code. Then once open, the fun begins! With a wide variety of Shopville shop options and new Teeny Shoppies to collect, the play possibilities are endless. Shopkins Lil' Secrets are perfect for your child's stocking or even as a holiday party favor. They are affordable too with prices starting below $10 on Amazon! They can also be found at Walmart and Target.
Mighty Beanz (Moose Toys)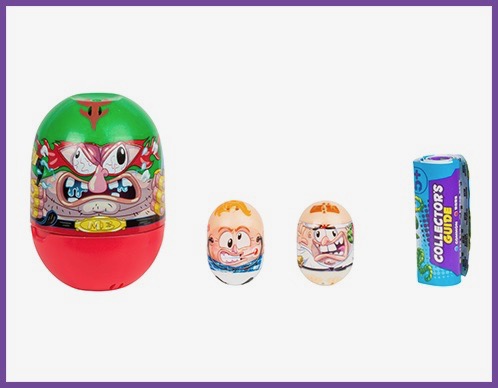 When I was a kid, I loved playing with jumping beans and I am so excited that they are making a comeback. Mighty Beanz is a fun twist on a classic toy. There are over 140 designs to collect, and kids will have blast rolling, flipping and twirling them. The pretend play opportunities are endless as kids can also create their own games, make trick shots and even race their beanz. Mighty Beanz will be a perfect addition to your holiday gift list especially since prices start as low as $2.99 at Walmart and Target! You can also find gift sets on Amazon.
Chat and Count Emoji Phone (LeapFrog)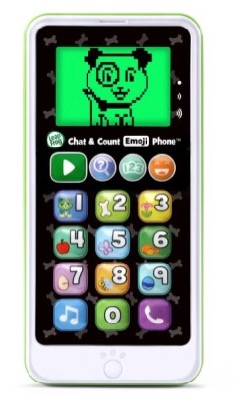 Let's face it, kids today LOVE playing with technology especially our cell phones. That's why LeapFrog created Chat and Count Emoji Phone for children ages 18 months and up. Now, they have their very own "phone" that helps enhancing learning! Little ones will enhance receptive and expressive language skills as they talk to Scout and engage in pretend conversations. While playing, children will also learn numbers and basic math concepts. This adorable Emoji Phone is under $15 on Amazon!
Hudson Glow Rattle (PlayMonster)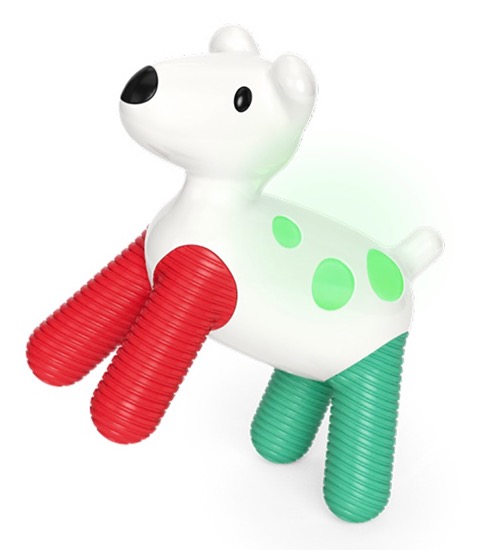 Engage all your baby's senses with the adorable Hudson Glow Rattle. He is a motion activated rattle so he also helps your baby learn cause and effect beginning at a young age. He glows both red and green depending on the direction he is moved. Hudson has textured legs making him perfect for teething too! Hudson is a perfect gift for a baby shower and baby's first Christmas. He can be found on Amazon for under $25.
Mini Sequin Pets (Creativity for Kids)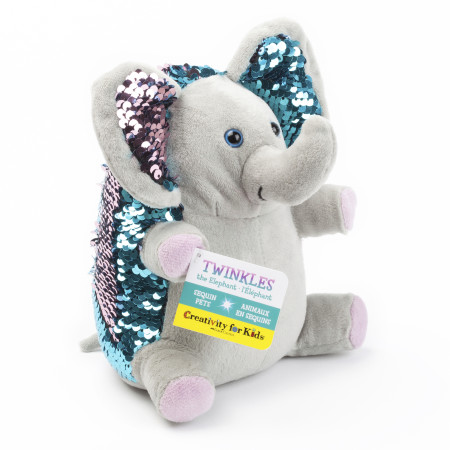 We are big fans of the Sequin Pets from Creativity for Kids which launched with Happy the Hedgehog and Sparkle the Unicorn so when they released the Mini Sequin Pets there was a cheer at Mommy University. There are several options such as Twinkles the Elephant, Dazzle the Dinosaur and Hope the Hippo which are smaller in size but still offer all the sensory fun that kids enjoy like movable sequins, soft texture and weighted bottom. Priced under $10 on Amazon, these fit in the stocking but because of their surprising weight we recommend placing on the hook to anchor the stocking.
Dolce Plush Teether (Magformers)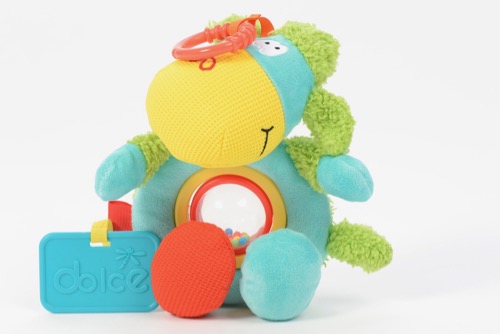 Engage all your baby's senses with the adorable Dolce Plush Teethers made by Magformers. This holiday, your little ones can snuggle with and chew on Santa, a Reindeer, Snowman and Penguin. They will also love other styles like the pony and aardvark. These bright and colorful toys help kids self-regulate while they learn through play. Prices vary based on design but most are under $20!
Circuit Mania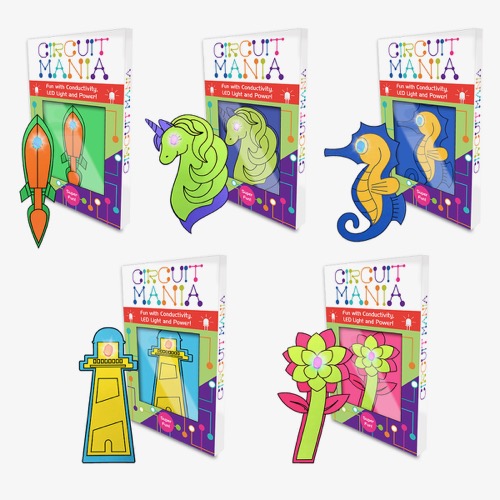 Encourage a love of science with the Circuit Mania sets. This STEAM based playset helps children build an understanding of conductivity, circuitry and LED technology. It also encourages creativity while enhancing problem solving and critical thinking skills. Each set comes with everything your will child need to create their own light-up circuit. They are available in a variety of styles such as a lighthouse, flower, rocket, seahorse and unicorn. Each set is under $10 on Amazon.
Harry Potter Die-Cast Collectible Wands (Jakks Pacific)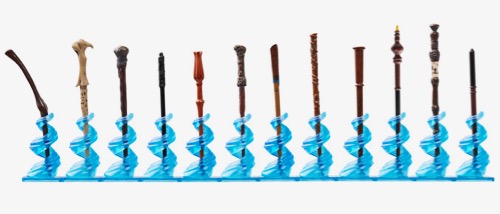 These mini wands are the PERFECT addition to any Harry Potter fan's stocking! My boys absolutely LOVE their wands and have them displayed in their Harry Potter themed bedroom. Each blind box comes with one wand and a stand. The wand is only 4 inches long but is full of beauty and detail. There are 12 wands in all that can be collected including Newt Scamander from Fantastic Beasts! Each box is under $10 and can be purchased at a variety of retailers as well as Amazon.
Gear Club Unlimited 2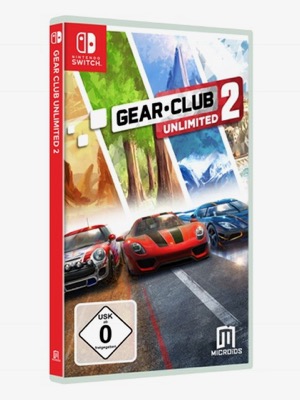 If your child loves playing with the Nintendo Switch, then are definitely going to want this new game this holiday season! Gear Club Unlimited 2, released December 4, brings even more action, excitement and adventure for players who love to race. With over 1800 miles to drive on and more than 250 races across 4 diverse and challenging environments, players will enjoy hours of racing fun! Gear Club Unlimited 2 also offers over 50 spectacular cars like Porsche, Viper, Lotus and McLaren (to name a few). Whether you are racing, engaging in story mode, personalizing your garage or customizing your own race car, players can engage in never-ending pretend play individually or with friends. Gear Club Unlimited 2 can be purchased on Amazon for under $50.
5 Surprise (ZURU)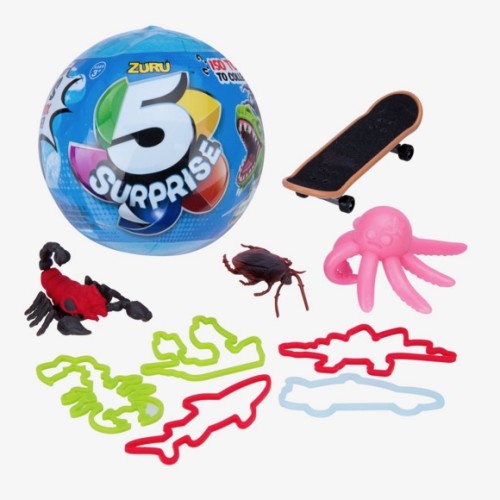 5 Surprise is the ULTIMATE blind bag! Kids don't just get ONE toy inside, they get FIVE! 5 Surprise comes in pink and blue offering options for boys and girls. The ball opens into 5 sections with each section holding a surprise toy. Toys range from little dinosaurs to slime to sticky ninjas to combs to characters. There are 300 toys with 100 new toys released every 6 months so there is something for everyone to enjoy! ZURU 5 Surprise can be found on Amazon in 2 and 4 pack sets for under $20.
Star Wars Science Xcavation Creature Crate (Basic Fun)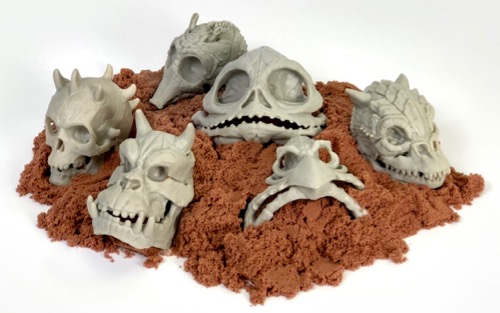 Palenontologists and Star Wars fans will unite this holiday season with these amazing Xcavation Creature Crates from the Star Wars Science line. Each crate comes with the skeleton of a Star Wars creature. Kids (or kids at heart) have to dig through the dirt to find all the bones, then put them together to find out which creature they have. Series 1 has 6 skulls (creatures) and more are coming soon! This kit is perfect for any Star Wars fan's stocking as it is small and affordable (under $5 at Walmart).
Eco-Friendly Teether (Lanco)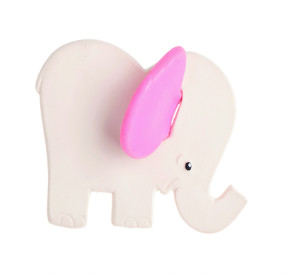 Teethers fit perfectly in the stocking and are a wonderful gift for little ones. It's even better when you have an assortment of handcrafted teethers that are eco-friendly painted with food grade dyes. Lanco has been making adorable teethers that range from crowns to rubber ducks to sheep. Available on Amazon, the prices vary but all are less than $15 and make a functional toy.
Putty Scents (MindWare)
While some are embracing slime, we still love putty! MindWare has released a new collection called Putty Scents which arrives in tins and has different scents. As a sensory tool, this helps kids build their hand strength and offers sensory input, and now it is scented as well. There are several options which can include three different scented tins (Holiday Memories, Tropical, Sweet Treats, Winter Cheer or Fall Favorites) and the mash-ups which allow kids to mash two different scents such as PBJ (Peanut Butter and Jelly). The trio of scented tins are $11 while the mash-ups are $10 on the MindWare website.
Treasure X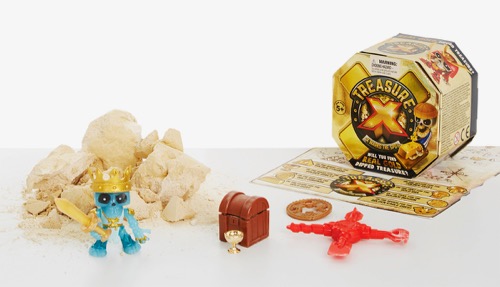 This summer, my kids fell in love with Treasure X so of course it is on their holiday wish list! Treasure X is the ultimate blind box experience as it offers an interactive adventure with 10 levels of fun! Kids will use the included digging tool to make their way through the rock to find the bones and weapon for their treasure hunter along with a treasure chest. Once all the elements are found, kids can put their skeleton together then conduct a fun science experiment to reveal their treasure. You may even find an ultra rare gold dipped treasure! Treasure X helps enhance fine motor skills while encouraging a love of history and science. Kits can be found at Target, Walmart and other stores as well as Amazon for under $10!
Relevant Play Mad Mattr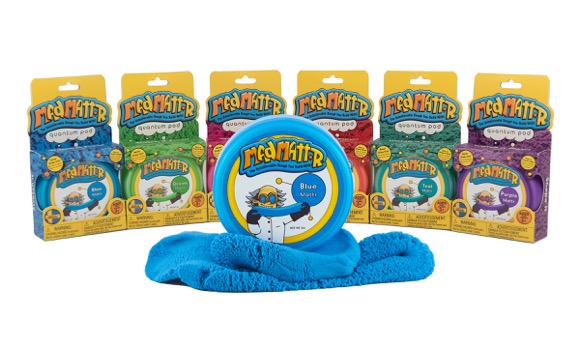 We were so excited to be introduced to Mad Mattr, a sensory toy that offers MESS FREE sensory play and learning. Mad Mattr is really soft, non-toxic, gluten-free, wheat-free and NEVER dries out! It comes in a variety of package sizes and colors. You can also purchase additional tools to make even more designs. Kids can play for hours molding their own creations which helps build fine motor skills and enhance creativity! To learn more and purchase Mad Mattr, visit the Relevant Play website or Amazon.
Tangle (ZURU)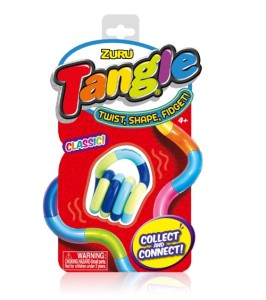 We love sensory toys and fidgets at Mommy University, and we especially love Tangle from ZURU. This fidget allows kids to move their fingers which, in turn, can increase their focus and attention. It can also be used to help calm a child (or adult) when upset or overwhelmed. Tangle comes in a wide variety of colors, patterns and designs making it appealing to all children. It is the perfect stocking stuffer for your sensory seeking or overly active child! You can find a variety of Tangle toys on Amazon.
Smashers (ZURU)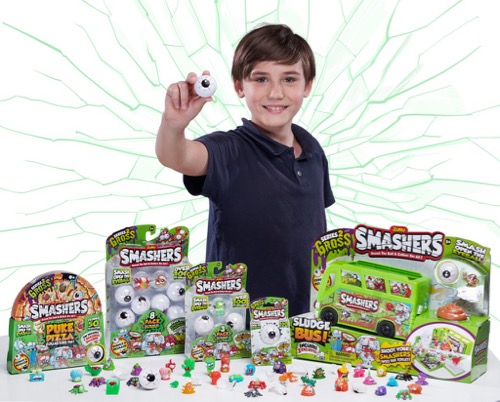 Smashers is a new collectable from ZURU that has over 100 characters to collect. Each character is housed inside a smashball. To get to their new toy, kids must smash the ball for it to open. Add to the learning fun by having the kids try to rebuild the SMASHBALL which helps build fine and visual motor skills. Smashers Series 1 is sports themed while Series 2 is called Gross Smashers where the SMASHBALL looks like an eyeball. Gross Smashers reveal freaky characters. You may even find one covered in slime! Both series lead to endless opportunities for pretend play. Smashers come in packs of 1, 3, 8 and 12. You can also purchase tins and buses for even more fun! These sets can be purchased at local stores as well as Amazon.
Happy stuffing!
Make sure to check out our Play and Learn Gift Guide as well!