Updated for 2020!
It is that time of year again! The time I look forward to most every year. It is when Hershey, PA transforms into a holiday wonderland filled with lights, music and magic. Families can experience holiday fun all over town. From Christmas Candylane at Hersheypark to special holiday events at Hershey Story Museum to Christmas Tree displays at the Hershey Gardens, there is something for all ages to enjoy but what I love the most are all the exciting hands-on experiences for kids (and kids at heart).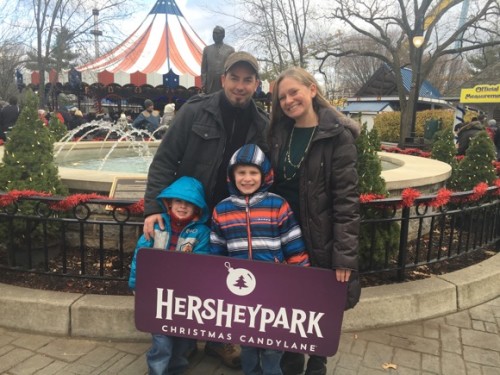 Each year we kick off our holiday season at Hershey, PA. We have stayed at the Hershey Lodge and The Hotel Hershey, both offering incredible holiday experiences. Families can also stay in a 2-bedroom deluxe cabin at Hersheypark Camping Resort. There are some traditions we enjoy every year like making chocolate ornaments but we also like trying something new each trip like Breakfast with Santa or ice skating. To make planning your holiday trip easier, I have put together a list of amazing holiday activities that will keep your little ones busy having fun while also learning!
Activities at Hersheypark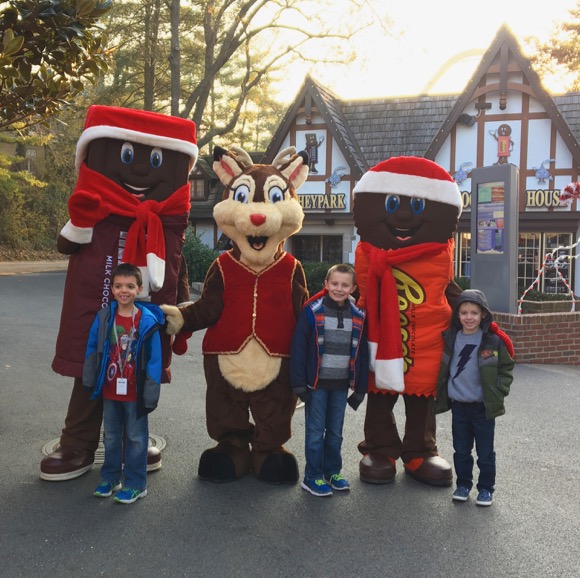 Cookie Decorating Kits
Hersheypark offers adorable cookie decorating kits! Available for purchase at Simply Chocolate, each kit will come with a cookie, sprinkles and icing in a cute holiday box. Kids can decorate their cookies at the park, back at the resort or at home. The choice is yours! What a fun way to inspire a love of baking and enhance creativity.
Rudolph's Skating Pond
Did you know that you can go ice skating at Hersheypark? It is a unique skating experience the entire family will LOVE! For a nominal fee, guests can rent skates and enjoy some time on the "ice." (Personal skates are not allowed.) My boys absolutely loved skating around the rink with their dad and cannot wait to skate again this year.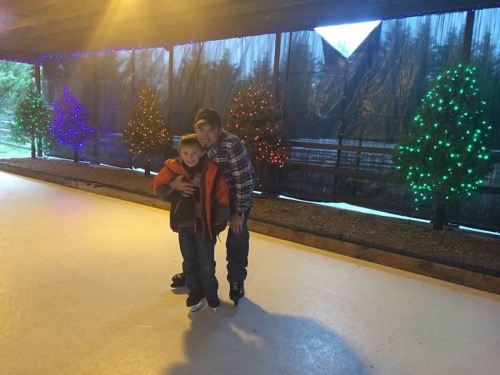 Wild Winter at ZooAmerica
Did you know that admission to ZooAmerica is included with your Hersheypark ticket? This holiday season make sure to save some time to explore this wonderful zoo and experience their winter activities. On select days in December, guests can partake in Wild Winter Treats where they can watch animals enjoy a yummy treat. Wild Winter Adventure, another wonderful family experience, teaches guests how animals survive the cold winter months. Participants will experience live animal encounters, enjoy a snack and explore the zoo.
Meet Santa's Reindeer
A MUST DO experience every holiday at Hersheypark is getting up close and personal with all 9 of Santa's reindeer! Not only can families admire their beauty, but guests can also ask questions about the reindeer and learn all about these incredible animals. You may even have the opportunity to touch real antlers. It is an experience you will not soon forget!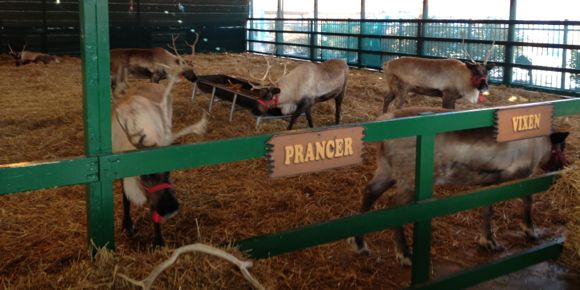 N.O.E.L
Every night at Hersheypark beginning at 5pm and taking place every 30 minutes, families will enjoy a breathtaking and magnificent holiday light show like they have never seen before. Visitors will be in awe of the over 200,000 lights beautifully choreographed to your favorite holiday songs. Although you can just sit or stand and watch the show, kids will also love dancing and singing along. It is a show you will want to experience over and over again!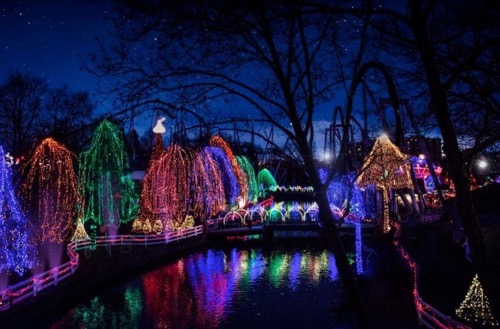 Take a Picture with Santa (and Other Characters)
You don't have to travel to the North Pole to see Santa because he can be found right at Hersheypark Christmas Candylane! Families can take pictures with the man of the hour which is a wonderful way to celebrate the season. Guests can also take pictures with their favorite Hershey characters.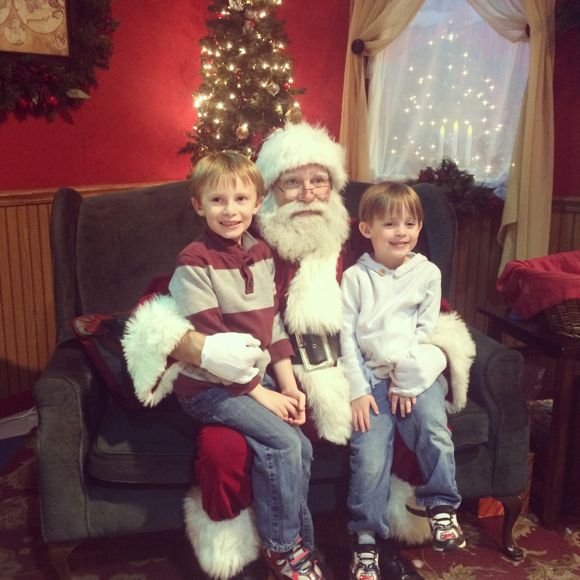 Activities at Hershey Story Museum

TO BE UPDATED SOON!
Little Elves Workshop
One of our favorite holiday activities when we visit Hershey is the Little Elves Workshop. On select days at The Hershey Story Museum, kids (and adults) can make ornaments out of chocolate dough. Participants are able to choose their ornament shape, decorate it with icing and then design their ornament box. We have made ornaments every year for the past 5 years and cannot wait to make them again. It costs only $5/ornament! Sensory Friendly Little Elves Workshops are also available on select dates!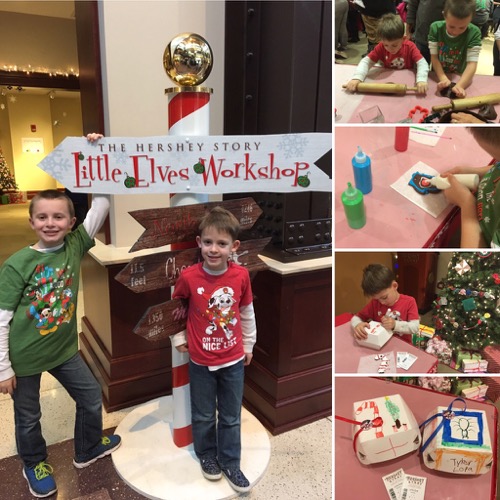 Snowball Saturdays
Another fun event at The Hershey Story Museum is Snowball Saturdays. During select times on Saturdays in December, dozens of fake snowballs are dropped into the lobby from the second floor. Kids will have a blast playing various games run by the friendly museum staff. It is a wonderful multi-sensory experience that kids of all ages can enjoy! This is a FREE event.
Holiday Themed Chocolate Lab Classes
One event that we have yet to try but have on our To Do List is a Holiday Themed Chocolate Lab class at The Hershey Story Museum. Each class is 45 minutes long and is offered to individuals 4 years old and up. For each class, participants will make a delicious holiday treat to take home. Each budding chef will also learn facts about chocolate and gain important cooking skills. Tickets must be purchased in advance and classes take place throughout the day.
Activities at Hershey Gardens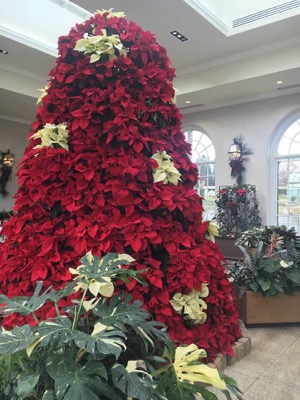 **TO BE UPDATED SOON!
Christmas Tree Showcase
We love visiting the Hershey Gardens. It's a wonderful multi-sensory experience that the entire family can enjoy. This holiday season the Gardens offers an incredible Christmas Tree Showcase. Beginning November 23 (and open daily through January 1), families can visit the Educational Wing in the Milton & Catherine Hershey Conservatory to admire exquisitely decorated trees.
Crafty Christmas Creations 
Every weekend beginning November 23 through December 24 as well as December 26-31, families can enjoy a fun holiday crafting experience at the Education Center. Participants will make ornaments using items from nature. We loved making reindeer out of pine cones during our last crafting experience! This event is included with admission and is FREE for members. On December 7 and 14 11am-2pm, kids can also visit with Santa!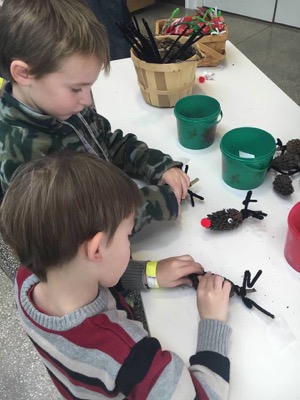 Activities at Chocolate World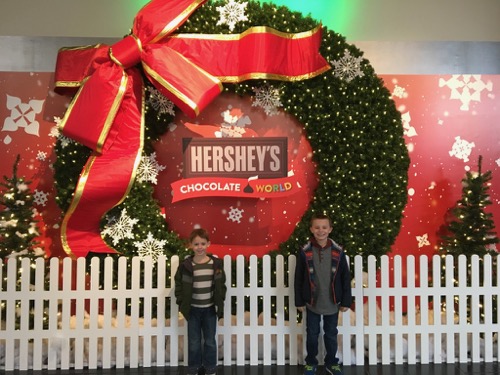 Holiday Trolley Ride
The Sweet Lights Trolley is a unique way to experience the Hershey Sweet Lights (see description below). Departing from Hershey's Chocolate World, the trolley takes guests through the light show while entertaining them with carols. Guests will also enjoy chocolate! If you like trolley rides, then you may also enjoy Holly Jolly Trolley that takes guests through the town of Hershey while explaining its rich history. There will be caroling (of course) and a visit from a special guest! Each rider will also receive a special holiday gift.
Hershey's Chocolate House
Each holiday season we CANNOT wait to see the Chocolate House at Chocolate World. Each year, artists create a new and unique house made of Hershey's candy. Not only is it a great spot to take pictures as a family, but it is also a wonderful conversation starter. We love looking at the house as a family and pointing out all the different candy we see. We also try to guess how many pieces were used to make the house. The house is available to see November-January 1.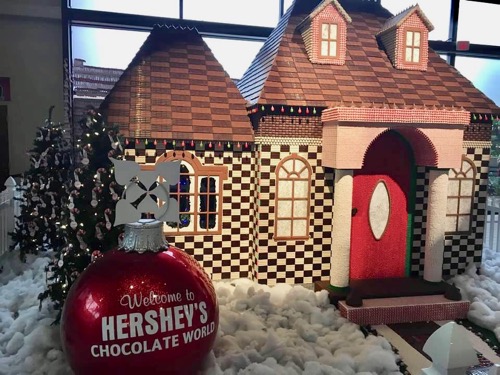 Breakfast with Santa
This holiday season, enjoy a unique breakfast with Santa experience at Chocolate World. The event takes place every Saturday and Sunday 7am-9am, November 14-December 20. The event includes buffet breakfast, portrait with Santa, holiday cookie kit, gift from Santa, and tickets to the 4D show. Tickets are $35/ages 13+ and $27/ages 3-12. Children under the age of 3 are FREE. Tickets can be purchased online.
Photos with Santa
Families can take pictures with Santa in front of the gorgeous Holiday Chocolate House. Children are also encouraged to bring their letters to Santa. Face coverings are required.
Activities at the Resorts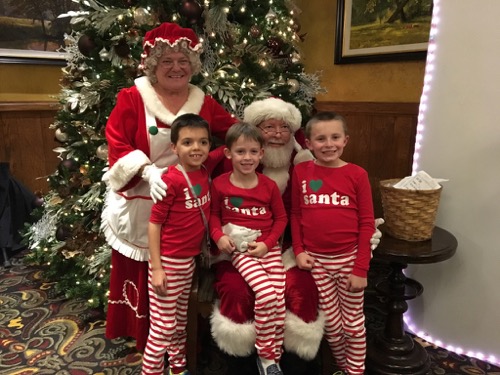 Gingerbread House Making
When my son was only 1.5 years old, we took him to the Hershey Lodge for the first time. He had so much fun making his own gingerbread house, and he had even more fun when he made it again 7 years later! On select days at the Hershey Lodge, guests can enjoy a unique gingerbread house making experience. Each builder is provided a Hershey Lodge apron and a kit to design their own house using graham crackers, icing and candy. Sweet treats are also available to enjoy while building. This is fun event to do as a family and with friends!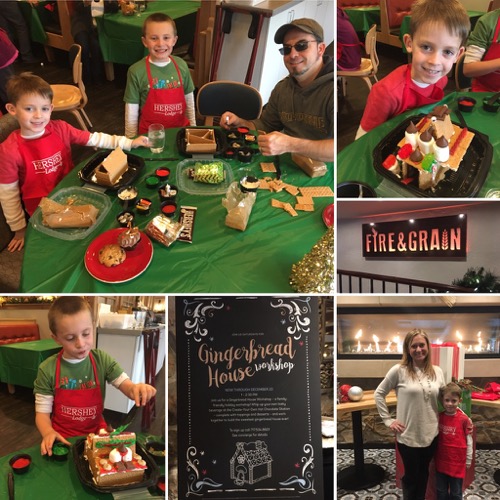 Hershey Sweet Lights
Located near The Hotel Hershey, Hershey Sweet Lights offers families a unique and inspiring holiday light show experience. Guests can sit in their warm car in their pajamas with a cup of hot chocolate as they drive through 2.3 miles of magnificent beauty. With several themed areas such as Enchanted Forest, Victorian Village and Favorite Fairy Tales, kids (and adults) will love seeing new and old characters come to life in lights.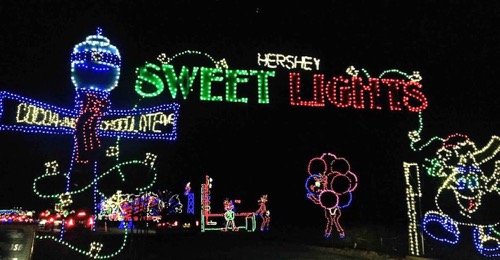 Although this is a relaxing experience, it can also be turned into an interactive adventure. In addition to singing Christmas carols, families can point out each of the 12 Days of Christmas and search for their favorite holiday characters. Families will also love playing the Rudolph Scavenger Hunt. Throughout the show there are Rudolphs hidden along the trail. See who can find them first! Hershey Sweet Lights costs $20/car.
Bonus:
Splash Around at Hershey Water Works
It may not be holiday themed but it is definitely an activity the kids will LOVE! Before, in between and/or after all that holiday fun, take some time to swim, splash and play at Hershey Water Works, a unique indoor water play area at the Hershey Lodge. It is only available for resort guests so make sure to book your stay now!
I bet you had no idea there were so many amazing holiday activities available in Hershey, PA! Now you can see why we visit every year. Families can stay at one of the 3 Hershey resorts. Check out their sweet packages here: https://bit.ly/2zmjiaq.
You may also enjoy: