"Those little eyes will be the windows she uses to learn almost everything about her new world." ~ InfantSEE
As parents, we are always diligent about our baby's well visits and check ups, and we take them right to the doctor with any sign of discomfort or illness. But how many of you can say that you thought about eye care as often as you thought about your child's growth in height and weight? I have to admit that I am guilty of this myself. Recently, however, thanks to InfantSEE, my eyes have literally been opened to the importance of eye care for little ones.
Healthy development begins when children engage all their senses especially their sense of sight. Babies take in the world around them by processing what they see, hear, touch, smell and taste. That's why it is so important to ensure healthy vision development! With the help of our friends at InfantSEE, we have put together a list of ways parents can help encourage and ensure the healthy development of their children's eyes.
5 Ways to Encourage Healthy Vision Development
Stay Informed
The first step in encouraging healthy vision development is to get informed. Knowing the stages of vision development and ways to stimulate growth will help make sure your child will develop appropriate visual skills. A great place to get informed is the InfantSEE website. InfantSEE is an incredible public health program that is managed by Optometry Cares – The American Optometric Association (AOA) Foundation. As stated on their website, InfantSEE wants to "ensure that eye and vision care become an essential part of infant wellness care to improve a child's quality of life." Their mission is to "educate the public about the importance of comprehensive eye care beginning at six months of age."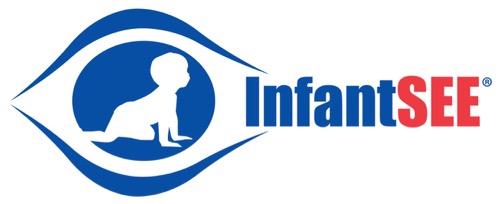 The InfantSEE website if full of amazing information for parents and caregivers. The Parent Center offers wonderful tips, facts and advice such as:
How to prepare for a visit to the optometrist
Knowing what an optometrist will be looking for and doing during an exam
Steps in eye development
Common terms in eye health
Encourage Learning Through Play
Beginning at birth, babies should have access to toys that encourage learning through play. Stimulating a baby's vision is a great way develop various visual skills like tracking, scanning and depth perception. Infants later use play to enhance eye-hand coordination, spatial awareness and visual perception. Play can be inspired by toys such as crib mobiles, reach and touch toys, crib gyms and blocks. Games like Patty Cake and Peek-a-Boo and singing songs like Itsy Bitsy Spider while making the hand motions are also wonderful for enhancing vision.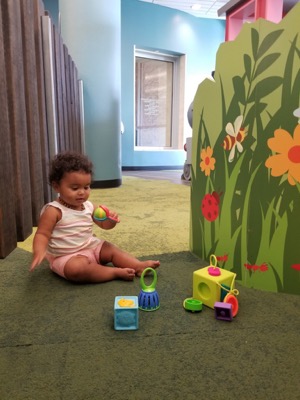 Encourage Crawling
Many people think crawling is just a precursor to walking but it is actually so much more. Crawling offers incredible benefits for children. Besides enhancing gross and fine motor development, crawling also helps children build important visual skills. While crawling, babies and infants learn spatial awareness, visual perception and visual scanning. They also learn to shift their vision from seeing near then far and back again. This helps strengthen their eyes and improves vision.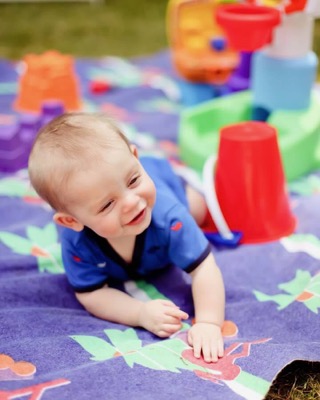 Know the Signs of Vision Problems
Although the presence of vision problems in infants is rare, it is still important for parents to be aware of some signs and symptoms that may indicate eye and vision issues. For instance, my son had a blocked tear duct when he was a baby which caused excessive tearing and discharge. He was monitored by the doctor but eventually required surgery around age 1. Understanding and knowing the symptoms, helped me, as a parent, to monitor my son's eye health as well during that time. For more information on symptoms, visit the American Optometric Association's website.
Make an Appointment
Did you know that American Optometric Association recommends your baby get his first eye assessment as early as six months old?! Why? Early detection of vision difficulties is key to healthy eye development. During the exam, the optometrist will look for:
eye health
eye movement ability
excessive or unequal amounts of nearsightedness, farsightedness, or astigmatism
As a parent, we carefully choose our children's doctors. We ask our friends, do our own research, ask questions in public forums and more. The same is true when searching for an optometrist. To make this search easier for already overwhelmed parents, InfantSEE has put together a list of optometrists your family will LOVE! The list is easily accessible on their website or by calling 888-396-EYES (3937).
Developed in 2005 by the AOA and Johnson and Johnson Vision, InfantSEE encourages eye health beginning at infancy. That is why under this program, children ages 6-12 months old can receive a comprehensive eye assessment at no cost when parents use one of their participating optometrists. Parents can search the website and find an optometrist in their community and kick start a lifetime of eye health!
I hope this post has opened your eyes to the importance of eye health and vision development as well as the importance of scheduling an eye assessment for your baby during infancy. Thanks to InfantSEE, I have definitely learned a great deal about eye health, and I will continue to spread their message of the importance of early vision care!