There's no place like The Growing Stage!
Each and every show at The Growing Stage takes audience members on a magical journey to another time, land or even world. Although each production is unique in its theme, design and story, one thing always remains the same, it is full of heart! Not only does each show teach families important life lessons about empathy and compassion, audience members can also see and feel the love and passion for the arts that exudes from each actor on the stage. It is an experience you will never forget!
The Growing Stage is entering into its 37th season but the theatre itself is celebrating 100 years of magic, mystery and wonder. What better way to kick off this season than with one of the most well-known and beloved stories of all time, The Wizard of Oz?! I wonder if L. Frank Baum knew back in 1900 the he had written a story that would entertain and delight families for generations to come!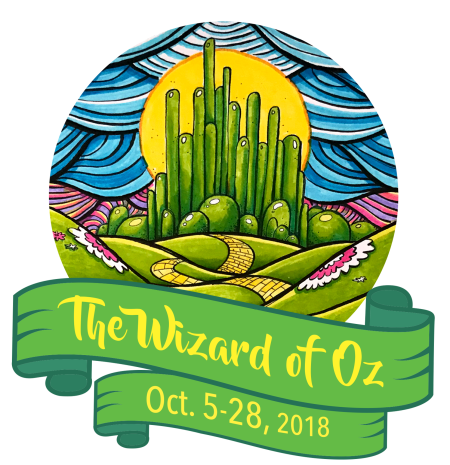 First debuting on stage in 1902 and later on Broadway in 1903, The Wizard of Oz quickly became a beloved story, but it was the 1939 movie starring Judy Garland that really captured the hearts of families all over the world. The Growing Stage threw their ruby slippers in the ring in 1984 with their first production of The Wizard of Oz, and since then, have produced it six more times with the last production being in 2011. This season, they are presenting their 8th production of this incredible show which has been no exception to the absolute joy and wonder this show has given families for over 100 years!
For those that don't know, The Wizard of Oz is a heartwarming story about family, love and friendship. It is about believing in who we are and being grateful for the things we have. It all begins with a young girl named Dorothy who lives on a farm with her Aunt and Uncle in Kansas. She dreams of escaping over the rainbow to a new and exciting life. She decides to run away from home with her dog Toto, but after an encounter with a fortune-teller Professor Marvel, she makes the decision to return home just as a tornado blows into town. During the storm, her entire house is lifted in the air, and when Dorothy awakens after being knocked unconscious, she finds she is no longer in Kansas!
Dorothy and Toto have been whisked away to a magical place called the Land of Oz. The town of munchkins celebrate Dorothy's arrival because her house landed on and killed the Wicked Witch of the East. The celebration does not last long because the Wicked Witch of the West arrives to retrieve her sister's ruby slippers. Glinda, the Good With of the North, however, saves the day and gives Dorothy the magical slippers instead.
Despite loving the beauty and wonder of Oz, Dorothy longs to return home. She is told to see the Wizard of Oz who will help her get home. As she follows the yellow brick road, she meets some new friends along the way who are also in search of things they have lost. As Dorothy, Toto, Scarecrow, Tin Woodsman and Cowardly Lion embark on their adventure to find what's lost, they find something even more important, friendship! Will Dorothy make it home to Kansas? You will have to see the show to find out!
I absolutely LOVED The Growing Stage's interpretation of this classic story. With the use of clever staging, choreography and props, this incredible group of performers were able to take us on a journey full of adventure, suspense, comedy and love. There were several moments that really stood out to me during the show that I would like to highlight.
Tornado Scene
With a relatively small stage, I was wondering how The Growing Stage would play out the tornado scene. I was truly impressed with the creativity and imagination used to create this scene. I loved the use of dance to mimic a tornado as well as the strategic use of props and lighting to simulate debris twirling within the storm. It was a fun and whimsical way to tell this part of the story. Not only did I love it, but my kids did too as they were on the edge of their seats with smiles on their faces for the entire scene!
Transformation of Toto
I really loved how The Growing Stage decided to use a young child to play the part of Toto after they arrived in the Land of Oz. I could not keep my eyes off of Jagger Nelson, the actor who portrayed Toto, throughout most of the show as his performance offered both innocence and humor. It really added a new depth to this beloved character.
Use of Puppets
The Growing Stage always uses unique and innovative ways to tell a story and The Wizard of Oz was no exception. Their use of puppets especially during the Scarecrow's song brought so much fun to the scene. It added a lightheartedness that appealed to adults and children in the audience. I was thoroughly impressed with Perry Arthur Kroeger's work with Puppet Design as well as the incredible talent of the ensemble who manipulated the puppets.
The Wizard of Oz, directed by Stephen L. Fredericks and choreographed by Jillian Petrie, was a fabulous interpretation of this inspiring story. Jeorgi Smith brought so much heart and soul to her character of Dorothy while Nikole Rizzo brought wit to Aunt Em and grace to Glinda. I loved Davis Cameron Lemley's performance as Scarecrow as he always brings charisma, charm and energy to every role he takes on. Brandon Wiener provided a believable and memorable performance as Tin Woodsman, and Almira Gulch really owned her performance as the Wicked Witch. One of my favorite performers was newcomer to The Growing Stage, Joey Sanzaro. He brought so much heart and humor to his part as the Cowardly Lion. I hope to see more of this talented actor in future productions!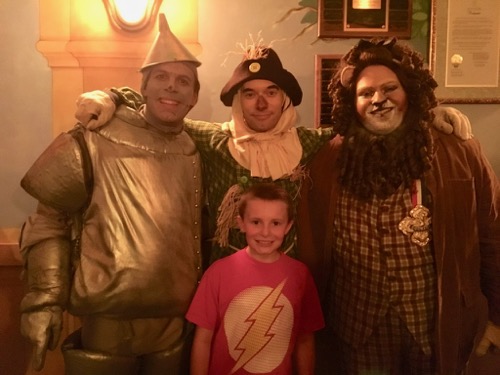 Don't miss your chance to see The Wizard of Oz at The Growing Stage. The show takes place every Saturday and Sunday at 4pm through October 28. To learn more and to purchase tickets, visit their website.
You may also enjoy: