Did you know that Hersheypark is open in the fall? While the water rides might be taking a hiatus, the rest of the park is full of fun and excitement, SPOOKTACULAR fun to be exact! Hersheypark in the Dark takes place on select dates in October through early November and offers fun for the entire family!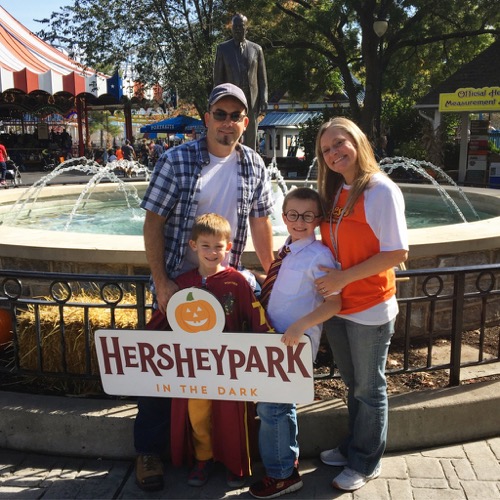 We LOVE visiting Hersheypark anytime of year but Hersheypark in the fall offers a special experience. Surrounded by the amazing autumn sights, sounds and smells, guests can wander around the park in the nice, comfortable weather while creating wonderful family memories. Whether you go for the day or the entire weekend, there is so much spooktacular fun to be had!
Spooktacular Family Fun at Hersheypark in the Dark
Get Dressed Up
Kids (and kids at heart) are invited to wear their costumes to Hersheypark during Hersheypark in the Dark. My boys loved parading around as little Harry Potters and seeing what other kids were wearing. There are plenty of great places to take pictures too! My boys love smiling for the camera so we got some great shots during our last Halloween visit.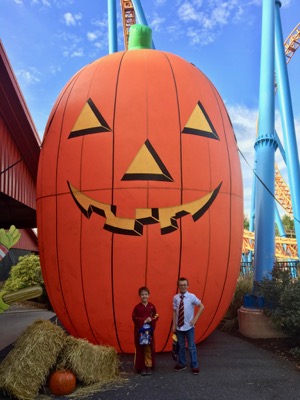 *There is a costume policy at Hersheypark. Adults are not allowed to paint or conceal their faces which includes wearing masks or any kind. Hersheypark thrives itself on being a family friendly environment so revealing and offensive clothing are not permitted.
Trick or Treating
Kids ages 12 and under are invited to Trick or Treat around Hersheypark, ZooAmerica and Chocolate World. In all, there are 13 stops offering delicious Hershey candy. Each child is provided a bag to collect the candy making it easier to carry all that loot around the park. Yes, it is ALL Hershey candy (and YES, I did take some from my kids' bags when they weren't looking)! You can also pick up a Bucket List card so you can check off each treat spot as you find them. Admission to Hersheypark is required to access the trail in the park and ZooAmerica, but no ticket is needed to enter Chocolate World.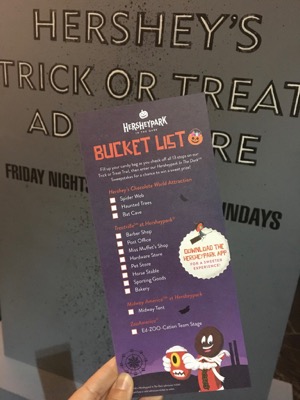 Creatures of the Night
During Hersheypark in the Dark, guests can also explore ZooAmerica. Admission is included with your park ticket. Guests can bring their flashlights and see what animals are lurking around in the night. You may even get to meet a few spooktacluar creatures!
Rides, Rides and More Rides
Whenever I visit during the fall, my friends ask, "But are the rides open?" My answer is always "Yes!" Not only are the kid themed rides open but so are 13 coasters. That's right, 13 of Hersheypark's thrilling coasters will be open to enjoy during the day AND at night. You can even enjoy Laff Trakk, Wildcat, Comet and Lightning Racer with the lights out! How spooky is that?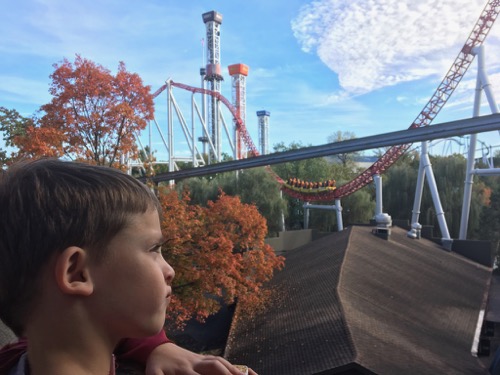 Meet Spooktacular Characters
During Hersheypark in the Dark, guests have the chance to meet their favorite Hershey characters but this time they are all dressed up! My boys loved high-fiving and taking pictures with Kit-Kat, Reese's and more. Guests can also enjoy a Character Dance Party that takes place Fridays, Saturdays and Sundays at 7:30pm.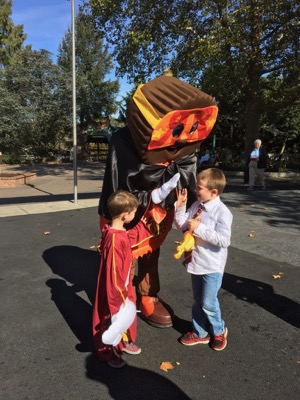 Spooktacular Game Prizes
My kids LOVE playing games at Hersheypark. There are so many to choose from so there is something for everyone in my family to play! What I love about Hersheypark in the Dark is that there are Halloween themed prizes. This adds to the fun and excitement of playing AND winning!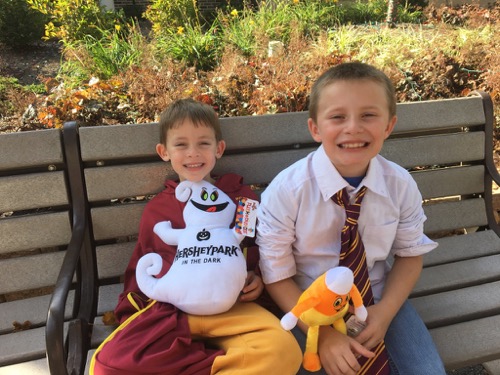 Sweet Halloween Entertainment
During Hersheypark in the Dark, guests can enjoy unique entertainment that the entire family will love. During the day, families can enjoy an educational show about seals at the Aquatheatre, then at night, guests can listen to spooktacular tunes performed by the Screaming Mummies. We watched this incredible rock band perform last year and LOVED them! My son even got up and started dancing!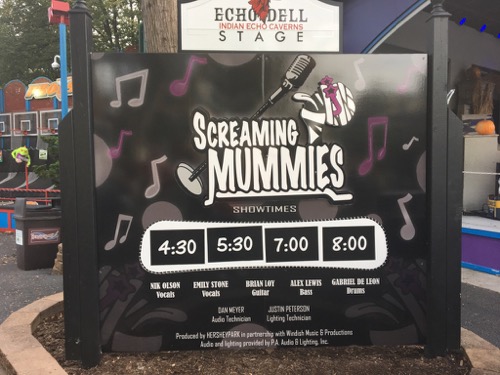 We cannot wait to visit Hersheypark this fall to experience all the Halloween fun! Hersheypark in the Dark is open every weekend from October 2 – November 1. To learn more and to purchase tickets, please visit their website!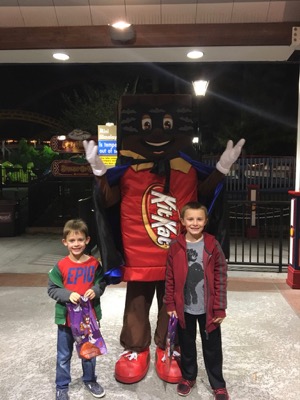 I am so unbelievably excited to be chosen as one of Hershey, PA's Sweetest Moms. Through this program I am able to bring you all the sweet adventures Hershey has to offer this year. I have been provided passes, tickets and/or compensation for my reviews but all opinions are my own as I have always been a big fan of Hershey!
You may also enjoy: