We absolutely LOVE visiting the Academy of Natural Sciences in Philadelphia. We have explored the exhibits on our own, attended special events and even stayed overnight. Last summer, however, we enjoyed a new experience, Dinos After Dark. I have been wanting to attend one of these events for a while but it never seemed to fit my schedule, but after enjoying the one in August, I am going to make sure I attend again and again!
For those that don't know, Dinos After Dark is a special event at the Academy of Natural Sciences that takes place once a month 4pm-8pm. Admission is pay-what-you-wish and FREE for museum members. This unique event takes place inside AND outside the museum, and it is open to ALL ages.
There are so many reasons to attend this event. It is fun for all ages, offers hands-on learning activities, offers a chance to relax and unwind and, of course, encourages a love of science. In this post, I want to highlight some fun ways to enjoy this amazing event!
Fun Ways to Enjoy Dinos After Dark
Go With Friends
When planning a trip to Dinos After Dark, make sure to invite some friends to come along. Because it is pay-what-you-wish, it is an affordable night out with friends and family. Dinos After Dark also makes for a perfect scout activity! For our experience, we attended with my friend and her 2 sons (we had 4 boys in total). The kids had so much fun playing games, making crafts and exploring together. My friend and I also enjoyed relaxing with a cocktail.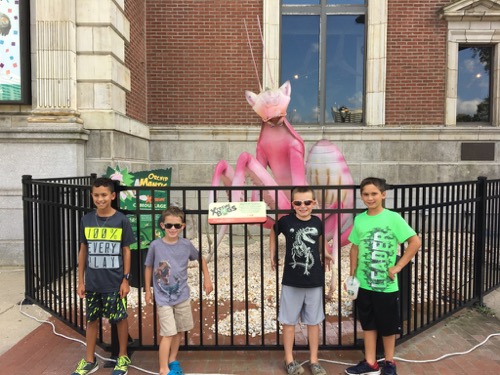 Have a Drink
Dinos After Dark offers a Beer Garden right outside the Academy's entrance in the summer and inside Dinosaur Hall during the colder months. In the summer, it is open until 10pm so the fun can continue even when the museum closes. A different beer company is featured at each event offering unique brews. Guests 21 and over can also enjoy specialty cocktails. I recommend getting the souvenir cup which also allows for discounted refills!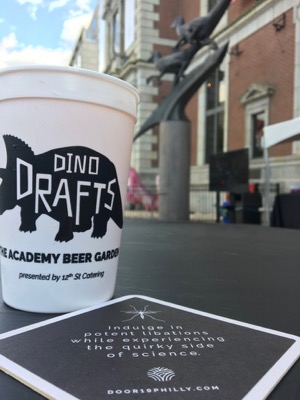 Play a Game
Also located outside the Academy's entrance during the warmer months are tables offering a variety classic games such as Jenga and Connect 4. We arrived at the event early so we easily found a spot to sit and the kids enjoyed playing games for at least 45 minutes. It was amazing how well-behaved the boys were when they ditched the devices and got back to basics!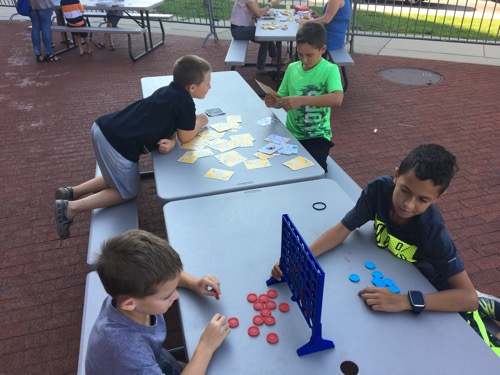 Explore the Exhibits
During Dinos After Dark, the museum is open for exploration. This is a wonderful opportunity to see everything the Academy has to offer. Special exhibits are also open to guests as well as the butterfly house. Guests can also enjoy live animal encounters and hands-on activities.
Watch a Live Animal Show
At each Dinos After Dark event, the Academy offers fun LIVE animal shows. At our event, we learned about incredible bugs like beetles and tarantulas. Other shows may also offer story times, audience participation, additional animals and more!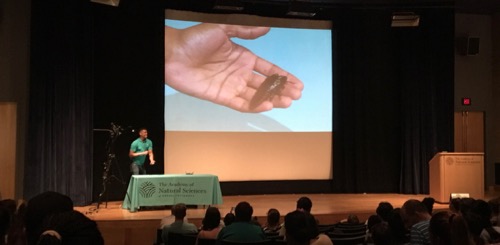 Make a Craft
My kids LOVE making crafts. At each special event at the Academy of Natural Sciences, there is always a unique themed craft for the kids to enjoy. For this event, the boys made fly traps out of paper plates. These fun crafts are a great way to help kids learn about various animals and bugs while also improving fine motor skills!
Dinos After Dark is a unique and fun experience that the entire family will LOVE and want to attend over and over again! To learn more and pre-register to attend, visit the Academy website.
You may also enjoy: