During a recent trip to Ocean City, Maryland, a friend suggested we climb aboard a Viking ship. Now that's not something you hear every day so of course I was in. As part of its East Coast Tour 2018, the Draken Harald Hårfagre was docked in Ocean City for guests to admire and explore. It was a truly unique experience, and it may be coming to port near you!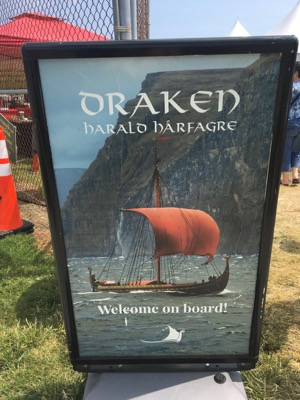 Built in Norway, the Draken Harald Hårfagre is the largest Viking ship built in modern times. Since the Vikings left almost no records on how they built their incredible ships, the Draken Harald Hårfagre was recreated using boatbuilding traditions, Viking legends and archaeological knowledge of found ships. The ship is 115 feet long and 26 feet wide with a mast made from Douglas fir that is 79 feet tall. It is also boasts a 260 square meter silk scale.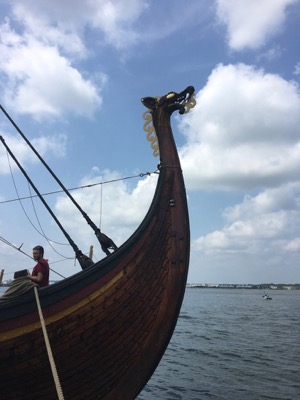 The craftsmanship used to design and build this ship is incredible and inspiring. A traditional dragon's head and tail can be found on the Draken Harald Hårfagre which are breathtaking. The dragon's head is said to protect the ship and crew during their journey Aboard the ship you will also find beautifully carved ravens.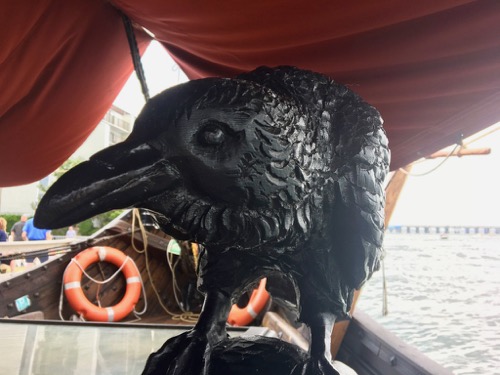 Viking ships typically held around 100 men during their journeys. The men would row the ship requiring incredible teamwork. The Draken Harald Hårgagre can hold 100 men and is equipped with 25 pairs of rows; however, its voyage from Norway to America had a crew of 32 individuals.
Drakan Harald Hårgagre embarked on Expedition America in 2016. Through rough weather and numerous icebergs, the ship made it safely to Canada the weekend of June 17th. She then made several stops in Canada before sailing to Ohio, Michigan, Illinois, Wisconsin, New York and Connecticut. Due to its enormous success, the East Coast Tour 2018 was planned!
Expedition America: East Coast Tour 2018 started in Mystic Seaport and has stopped in Maine, Massachusetts, Rhode Island, New York and Maryland. Next, she will dock in the following places:
Philadelphia (Penn's Landing) August 31-September 6
Norfolk, VA September 13-16
North Carolina (city TBA) September 20-24
TBA soon September 28-October 1
Washington D.C. October 5-15
Mystic Seaport October Arrival
What to expect:
At each port, guest can admire the beauty and wonder of this Great Ship! It is a unique experience the entire family can enjoy. As stated on their website, "By sharing this magnificent story, the Draken will inspire, educate and entertain local communities, offering an enriching experience, appealing to families and modern-day explorers alike."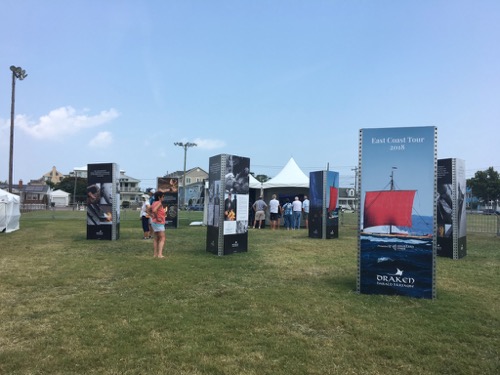 When you first arrive, guests can explore the Draken Village which is FREE to enter. Within this space, guests can find Draken photos and videos, official merchandise to purchase and local vendors. You can also purchase your tickets to climb aboard the ship. Aboard the ship, guests will learn some Viking history, how the ship was built and about their journey to America. The crew members are all incredibly knowledgeable and willing to answer any questions you have about the ship.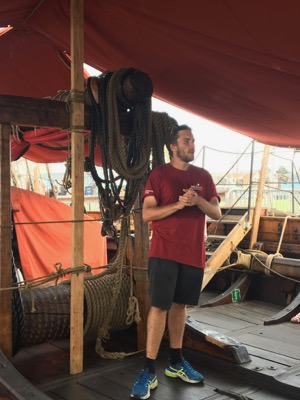 Walking onto a real Viking ship was a surreal experience. It was like stepping back in time. I loved seeing all the details on the ship and learning how the crew lives aboard it. My boys were fascinated to see where they slept and cooked their meals. Each tour group is small but can still be cramped so it was hard to imagine how 100 men could fit on a Viking ship allowing me to develop a greater appreciation for their hard work and dedication!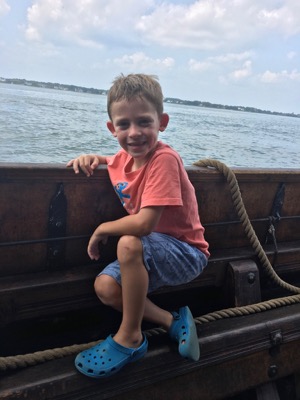 To learn more about Drake Harald Hårfagre and to purchase tickets, please visit their website!
You may also enjoy: