Each visit to New Orleans brings new experiences and adventures. Whether it is a fun tour, delicious cuisine or a new museum, there is something unique and interesting to experience. Ever since our first trip, I have wanted to explore the National WWII Museum located in the heart of New Orleans. Voted the #2 Museum in the USA and the World by Tripadvisor, the National WWII Museum is a MUST DO experience during your next visit to New Orleans!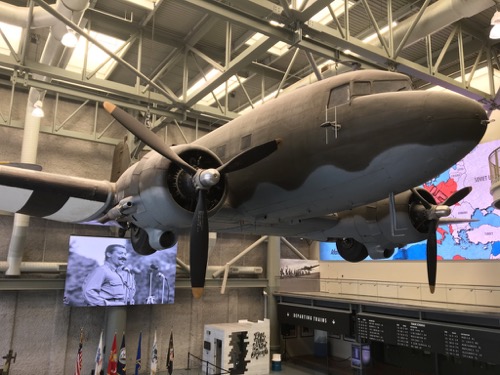 Located on Magazine Street, the National WWII Museum is an expansive site currently consisting of 5 buildings with incredible exhibits and multimedia experiences that will take guests back in time to a war that changed our country forever. With personal accounts, artifacts, movies and more, the National WWII Museum offers an immersive learning experience. Although the museum is open to all ages, it is quite comprehensive with some content being graphic and in-depth. I took my 6 and 9 year olds, and some of the information was over their head; however, it did spark some wonderful conversations about history. We spent about 5 hours exploring the museum and still did not see everything so I recommend giving yourself more than one day to explore.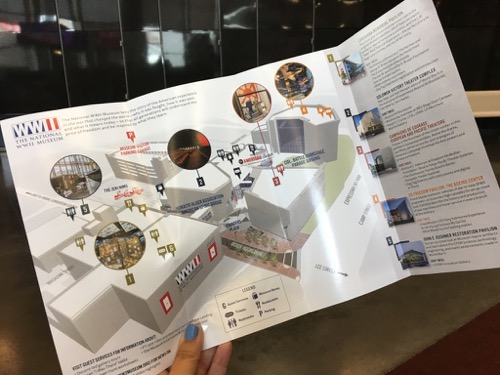 There is so much to see, do and learn about that it would be impossible for me to create a list of things you MUST DO because I truly believe you should experience EVERYTHING in order to really grasp the significance of this war. I was in awe of each and every exhibit and experience during our visit, and learned so many facts I did not know prior to exploring each area. Instead, I put together a list of some tips to help you make the most of our experience at the museum.
Tips for Visiting the National WWII Museum
Watch Beyond All Boundaries First
If possible, I highly recommend seeing the incredible 4D experience Beyond All Boundaries when you first arrive at the museum. Produced and narrated by Tom Hanks, this incredible multi-sensory production takes guests on a breathtaking and eye-opening journey through WWII. The film is shown in The Solomon Victory Theater on a 120-foot wide screen. It uses 9 digital cinema projectors, a surround custom audio system with 27 speakers and special effects to tell an incredible story. With a mix of archival photographs and film clips, original CGI art and 3D models, Beyond All Boundaries is a state-of-the-art cinematic experience.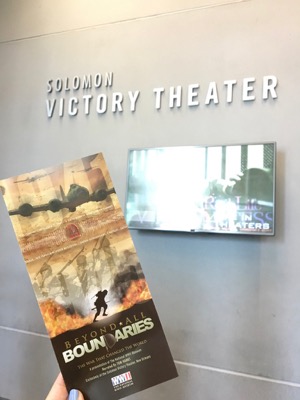 So why see it first? My entire family felt it was the perfect way to start our journey at the National WWII Museum. It gave us insight on the entire war so we had a better understanding of the exhibits we explored. It was a true multi-sensory experience that helped enhance our learning as well as develop our feelings of empathy and understanding which we carried with us as we walked through each building and learned first-hand accounts of various soldiers.
Participate in the Dog Tag Experience
The Dog Tag Experience was a wonderful way to make the journey more personal. It is FREE and easy to do. You can register your dog tag at a kiosk but I recommend registering at the L.W. "Pete" Kent Train Car Experience. Guests enter a recreated 1940s train station and climb aboard the train to begin their journey through history. You can register your dog tag on the train which allows you to follow a real life story as you explore the museum. Registering also allows you to access your Dog Tag Experience from home!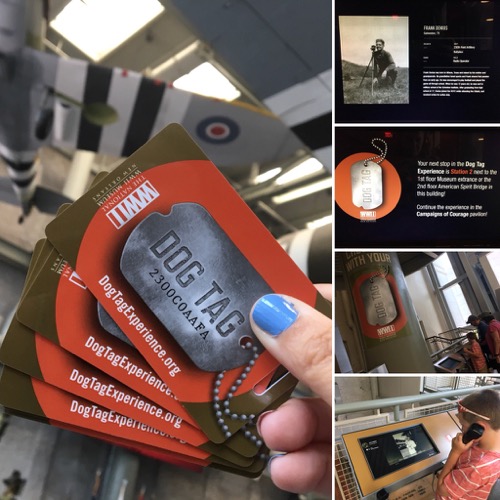 Dog Tag Stations are located on the train, in the Atrium, in the museum store and throughout the Campaigns of Courage pavilion. At each kiosk, you can scan your dog tag to learn about your person's journey through the war. You can also collect artifacts along the way which my kids really enjoyed. It is a wonderful experience that adds to the learning adventure.
Enjoy a Bite to Eat at the Museum
Although you may be tempted to leave to get a bite to eat, I highly recommend eating inside the museum. There are 2 dining options in the museum: The American Sector Restaurant and Bar and Jeri Nims Soda Shop. If you are looking for a sit-down meal with a drink, then I recommend The American Sector. My family, however, enjoyed a quick lunch at the Soda Shop and LOVED it! Located next to the gift shop, it is the perfect location to grab a quick and delicious bite to eat. Plus, you can get old-fashioned shakes, floats and malts!
Experience the Final Mission: USS Tang Submarine Experience
Located in the US Freedom Pavilion: The Boeing Center, Final Mission is an interactive experience for all ages that allows guests to understand the infamous sinking of the USS Tang. I recommend enjoying this experience in the middle of your visit. Since the exhibits are so in-depth and comprehensive, there is a lot to take in so Final Mission is a nice break from walking around exhibits. It is also a great option if you bring kids with you.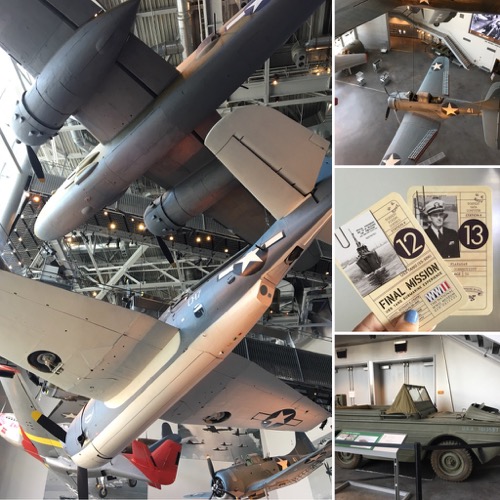 Take Your Time
There is so much to see, hear and read while walking around each exhibit. My best advice is to take your time and really look at each artifact, notice each detail and read each story. There is so much I did not know or understand until I explored the National WWII Museum. For me, the most incredible self-guided exhibits were Road to Tokyo and Road to Berlin. I gained a new understanding and appreciation for what each soldier went through and what it took for our country to fight for the freedoms we enjoy each day!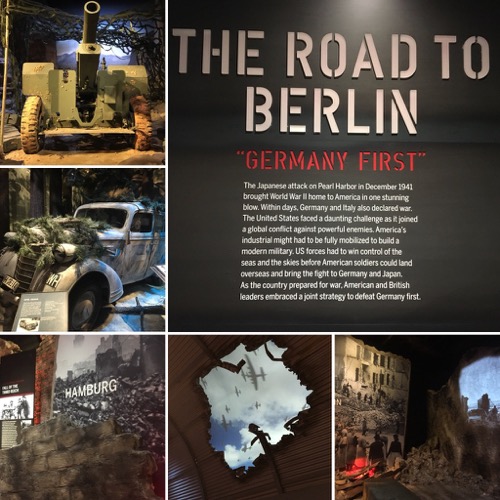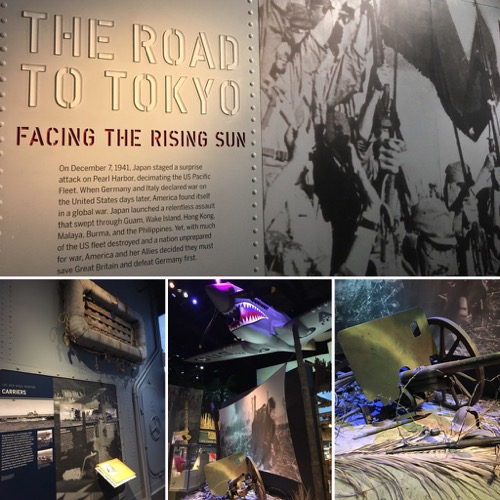 Since there is so much to learn about and explore, I also recommend taking  at least 2 days to explore the museum. Tickets for the museum are $28/adult, $24/senior and $18/child and military but you can buy second day passes for only $7. WWII veterans are always FREE! Beyond All Boundaries and Final Mission are an additional fee of $7 each but you can purchase packages to save some money. I wish I had more time to explore as it was truly a fascinating experience!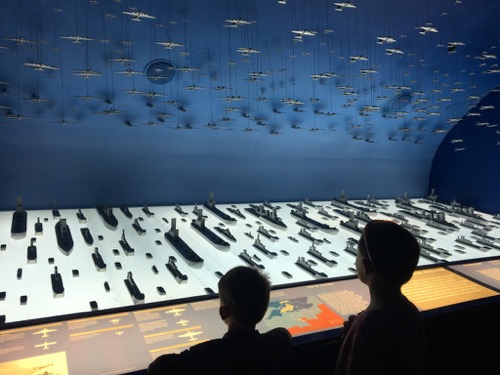 "The National WWII Museum tells the story of the American experience in the war that changed the world—why it was fought, how it was won, and what it means today—so that all generations will understand the price of freedom and be inspired by what they learn." ~ Museum Mission Statement
The National WWII Museum is a true inspiration for all that visit. To learn more, please visit their website.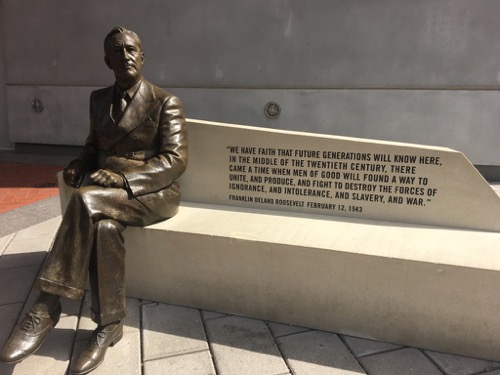 You may also enjoy: