Play by the Bay in the Best Ways at Hyatt Regency Chesapeake Bay!

Fours hours from New Jersey, the Chesapeake Bay is a hidden treasure for family vacations. While we overhear other area names commonly mentioned when you say "Maryland," this area should be higher on the list. As guests of the Hyatt Regency Chesapeake Bay we discovered this gem of a location. If the words oysters and crabs don't grab your attention, then the expansive swimming pools, outdoor activities and tranquil ambience of this hotel should. It is the trifecta of family vacation perfection, since you can go out and explore the budding culture of Dorchester County, expand your knowledge of American history or just sit by the pool listening to birds flying overhead with the waves of the Choptank River as your soundtrack.
The Hyatt Regency Chesapeake Bay Golf, Resort, Spa and Marina is located on 342 acres of landscape splendor. The hotel boasts of 400 rooms recently updated in a tastefully modern design with a nautical theme. If you blink, you may not notice the compasses in the floor, the outline of ships on the fireplace or, my favorite, the sculptures of Blue Herons throughout the space. This is a family friendly resort which extends to the four-legged canine variety if you choose the pet-friendly spaces. The River Marsh Golf Course runs along the Choptank River while the Marina has 150 slips and amenities for those guests as well.
Throughout our experiences at the Hyatt Chesapeake Bay, we encountered guests who return on a routine basis to enjoy during the winter and summer. It is easy to understand why families make this a family destination to relax and recharge. The focus at this resort is on quality time and we took advantage of that promise. Here are some of the activities we enjoyed!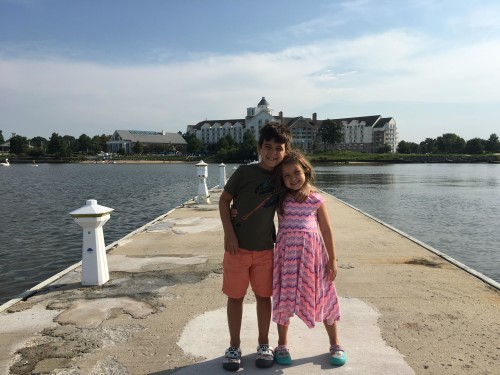 Family Travel at Hyatt Regency Chesapeake Bay
Water Fun
My children are water babies, so if there is a pool the chances are high they will spend the day swimming. The Hyatt Regency Chesapeake Bay doesn't just have one phenomenal pool, they have three amazing pools for splashtastic fun. The first and most popular one with our family was the outdoor activities pool which has a water slide. We spent three days swimming in this pool! Surrounding the inside of the pool is seating so parents can sit back and relax while watching their kids.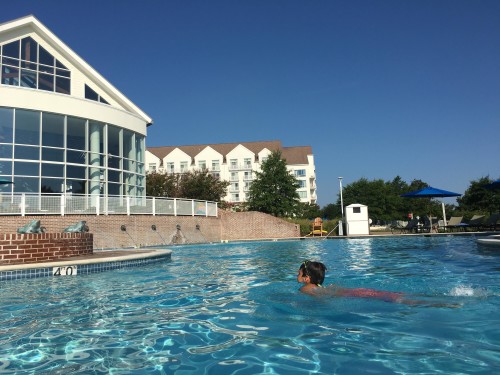 The second outdoor pool is the infinity pool which is a more relaxed space that overlooks the Choptank River. Since I was on kid patrol, I didn't dip in this pool but I think it's that this space is focused on tranquility and not intended for activities. The first and last hour of the pools are set aside for adult swim which again offers quiet time from kids for those that need it. Both outdoor pools close at 7pm; however, the indoor pool is open later.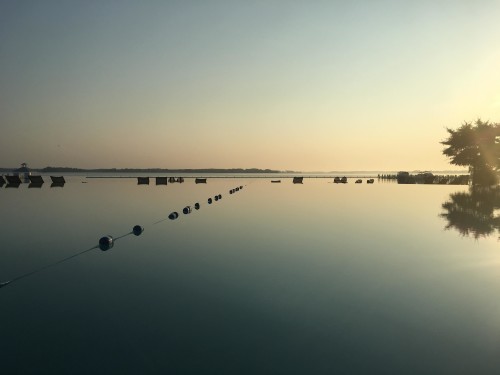 The indoor pool offers a swimming retreat from the sun or the opportunity to swim even if there is rain. What makes the indoor pool stand out for us was the Dive in Movies! On select nights, the indoor pool hosts family friendly movies. Some children played basketball, others volleyball, but a lot just sat on their inflatable turtles watching Madagascar under the moonlight.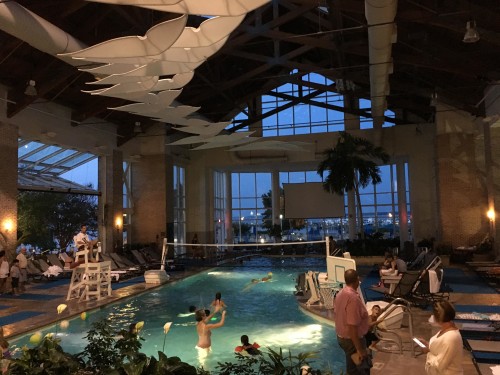 Outdoor Fun
If your family needs a break from splashing in the pool, there are a lot of activities that they can do. In fact, the Hyatt has organized activities almost hourly. When you check in, pick up a copy of the schedule so you can see what is available. While some activities may have a small surcharge, other ones are designed to get everyone moving like the Scavenger Hunt! Don't forget there is also miniature golf, beach volleyball, Frisbee and a playground!
If you are lucky to visit between July 31 and December 14, you can take a small walk past the 18th hole on the golf course and visit The Blue Heron Rookery. The Hyatt has its own wildlife refuge which is a preserved area that has native plants and animals to Eastern Maryland.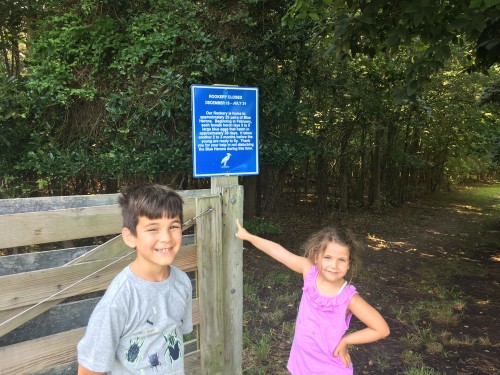 Food Fun
In a short period of time, my children have become fans of seafood and since the Hyatt Regency Chesapeake Bay is right on the water in an area well-known for seafood, it was an absolute MUST that we try some local cuisine! At Michener's Library, named after the author of the novel Chesapeake, we sampled Cream of Crab soup which was divine. This is a relaxed space that contains a 2-story wall of windows overlooking the Choptank River flanked with stone fireplaces. If you are visiting, I recommend grabbing your first dinner here.
While some children may not enjoy seafood, there are still plenty of choices especially those of the sugary variety. My first recommendation is to stop by Bay Country Market! For me, it was part of my morning ritual to pick up a Starbucks Caramel Machiatto but the experience everyone in our family was thrilled about was the Ice Cream Happy Hour. Every day from 2-3pm, you can purchase a "scoop" of ice cream. This "scoop" filled a perfectly sized cup to keep us refreshed in the mid-day sun.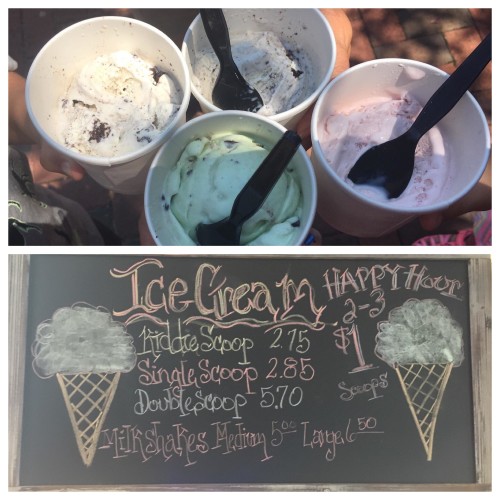 Bay Country Market is also where you can pick up S'mores kits with everything you will need including the stakes. At dusk, (unless it is raining heavily) the fireplace outdoors in front of the infinity pool is lit and families can enjoy roasting marshmallows. It impressed me how some families brought their own stakes for toasting. This was the best dessert after an active day of fun.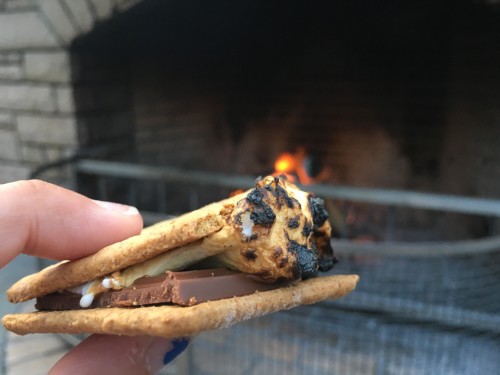 It was difficult to pick which photos to use to highlight this amazing family friendly resort so we made a video including all of our favorite. Check out our tour of the hotel room, pools and activities below.
We had so much fun at Hyatt Regency Chesapeake Bay and cannot wait to visit again!
If you like this post, you might enjoy!