Every time we visit Walt Disney World we look for a fun new adventure. If that adventure is free, it's even better! This past trip we discovered Sorcerers of the Magic Kingdom. Now I have seen the sign over the firehouse on Main Street each visit but this was the first time we decided to check it out and I am so glad we did!
Sorcerers of the Magic Kingdom is an exciting interactive game that can be played all around Magic Kingdom and it's FREE! It is open to all ages and can be played individually or as a group. Admission into Magic Kingdom is required.
How to get started:
Guests can set up their Sorcerers game at the Firehouse on Main Street, U.S.A. Players scan their magic band and are entered into the system. Then they will receive one pack of 5 cards. Once set up to play, guests will receive a quick training on how to play the game. Then they are provided a map to continue their game play throughout the park.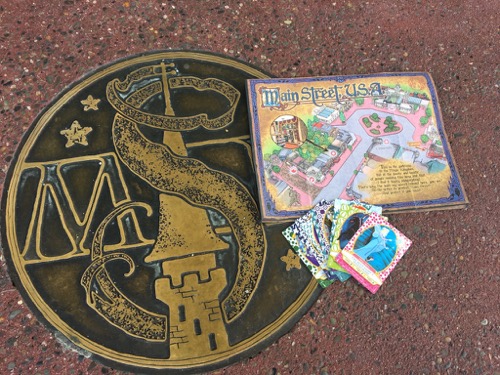 How to play:
Magic Kingdom is broken down into 4 areas: Main Street, Adventureland, Fantasyland and Frontierland. Within each area are magical portals (20 in all) that are activated by your magic band. Players are given a mission that takes them around the portals within that area. You have to follow the picture codes provided so you know what order to go in. When that section of the park is completed, players are sent on another mission in another area of the park.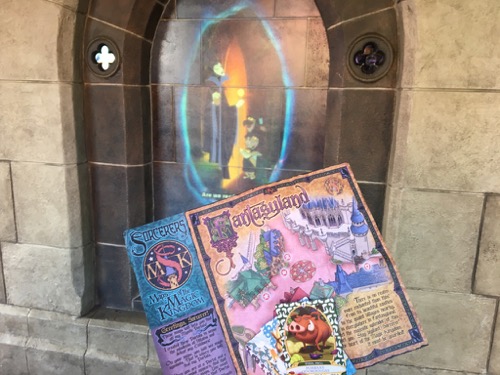 To play, guests must listen carefully to the story. Then, when instructed, they must hold up their cards to fight the villain. This is where players can get creative. You can use any card you want based on the powers the card has. There are 70 cards in all with 22 star cards available. These are said to be the most powerful cards.
Why We LOVE Sorcerers of the Magic Kingdom
Encourages Pretend Play
Players of this game become Merlin's apprentice sorcerers that help defeat villains on their way to the ultimate goal of defeating Hades. My boys become so engrossed in this game which encouraged pretend play. They loved being sorcerers and choosing what cards to use. It helped enhance their imaginations and creativity as they played.
Enhances Problem Solving Skills
After observing others play, I realized that this is a game of strategy and problem solving. Players have to choose which card to use based on the powers that card has. Sometimes that card defeats the villain and sometimes it does not. This helps teach kids to use thinking and reasoning skills to decide which card they want to use.
Promotes Family Time
Although Sorcerers of the Magic Kingdom can be played individually, it can also be played as a family or a group. We loved working together as a team to defeat the villains. It also gave our family a new adventure to experience together at the park.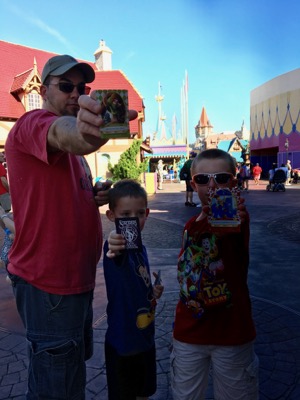 Brings New Life to Your Visit
If you visit Magic Kingdom frequently or if your kids are getting older, you may feel that this park is no longer for you BUT Sorcerers of the Magic Kingdom has brought new life to this park for my family and it will for your family too! My 9-year-old was starting to get "bored" at Magic Kingdom but once we started playing this game, he wanted to visit this park EVERY DAY of our trip. He even requested to go on our last day, his birthday, just to play! Although this is a game that can be played by boys and girls, it is a nice activity for boys because it does not involve princesses.
We cannot wait until our next trip to Walt Disney World so we can play Sorcerers of the Magic Kingdom again! To learn more, visit the Walt Disney World website!
Here is more Walt Disney World Fun: