Creativity for Kids is happy to sparkle with Sequin Pets!

While there are concrete categories of toys that we often times comprehend such as building, arts or technology, Creativity for Kids is noticing another trend. There are a large number of children that struggle with overstimulation and sensory needs due to anxiety, ADHD, overall developmental delays and/or autism. Centering on the belief that we can identify and access balance in the moment, Creativity for Kids has launched a unique toy that we haven't seen emerge readily or easily.
This year, Happy the Hedgehog was released. Due to his success, another Sequin Pet, Sparkles the Unicorn, recently hit the shelves which will no doubt attract many shining eyes. While these toys appear "cute" and "adorable" because they are, they also serve several functions for children who are struggling. Sequin Pets are toys that are designed to meet the needs of these children while encouraging them to develop self-calming activities.
How does this toy help children with sensory needs?
Happy and Sparkles are both designed to meet the sensory needs of the child (or adult) engaging with it. Covering Sparkles are bright rainbow colors which change to silver by pushing the sequin in the opposite direction. This action, touching and moving the sequins, has a calming effect. Even as adults, we have found ourselves in a trance by stroking the fabric. Happy also is covered in reversible sequins but his colors change from a gold to shimmery brown.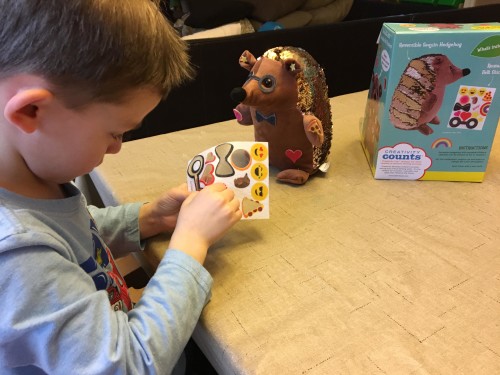 It absolutely thrilled me that Creativity for Kids understands that while Sparkles is fabulous in her appearance, she may not appeal to all children. Happy is a little more low-key in his shining personality but still maintains the phenomenal design to make him accessible to more children. My son loves Happy who usually resides on his bed for hugs at night or when he becomes overwhelmed and needs some quiet time.
Sensory needs don't always center around texture. Happy and Sparkles have been designed to be weighted. Don't underestimate the weight of these calming buddies! When you pick them up, they pull down because of additional weight. For children with sensory issues, this added weight applies pressure which can be soothing. It has the similar effect of a weighted blanket but is much cuter!
While we have never used a weighted blanket in my home, I do understand the importance of pressure for children with sensory issues. If your child responds positively to bear hugs or messages when stressed, this is a similar concept. The pressure provides them with the sensory input their body seeks and needs to help calm them. I have found myself absentmindedly holding the Sequin Pets because it does feel nice.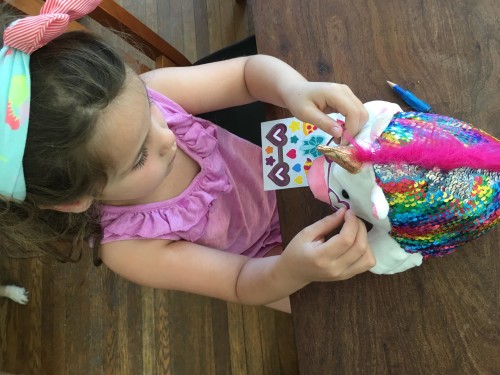 Since this is Creativity for Kids, there is always an artistic component. These calming friends come with reusable stickers that children can apply to decorate them. While my son preferred Happy without accessories, my daughter enjoyed placing accessories on Sparkles' body. For some children, they will not apply the stickers while for others, they will re-arrange repeatedly. The invitation to decorate the Sequin Pets makes this toy perfect for pretend play as well.
While Happy is available on Amazon (affiliate link) and other stores that carry Creativity for Kids toys, Sparkles is only available at Learning Express stores or other small local toys stores. As an educator and the parent to a child with sensory needs, I can see this line expanding to include additional characters. To learn more, please visit the Creativity for Kids website.
NEW for December 2018!
Creativity for Kids has teamed up with Target to launch an exclusive Sequin Pet Sloth named Speedy! He has all the benefits of Sequin Pets but is a new addition to this growing collection of self-soothing toys.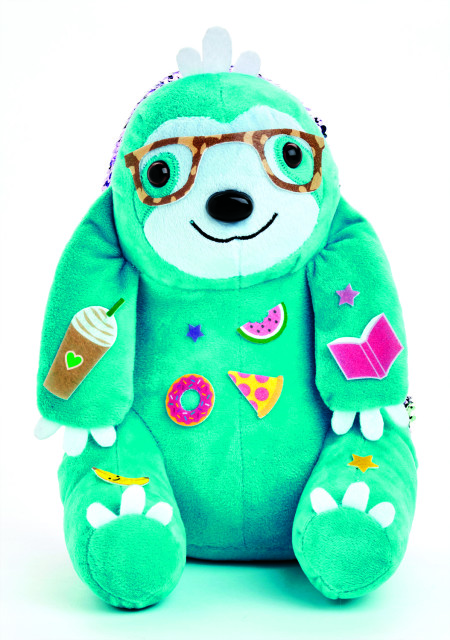 If you are looking for a smaller version of the Sequin Pets, Creativity for Kids has also released the Mini Sequin Pets which come in a dinosaur, elephant, narwhal, and a hippopotamus.
If you like this, you might like: