At Mommy University, we believe children learn so much through play. By encouraging open ended play, kids learn to be more independent and how to problem solve as well as develop an understanding of their likes and dislikes. Open (or unstructured play) also gives kids the opportunity to develop their creativity and imagination. All of these skills are important for academic success and preparing for life.
Open ended play is the perfect way for kids to pass the time in the summer, during school breaks/holidays or just downtime at home. For some kids, however, open ended play can be difficult. For children who are easily over stimulated or struggle with attention and focus, unstructured experiences can be overwhelming and unproductive. That is why we have come up with fun ways to encourage open ended play while still providing some level of structure. This allows kids to have fun in a more comfortable play environment. (I included some Amazon affiliate links to make your shopping experience easier.)
Fun Ways to Encourage Open Ended Play
Tinker Trays (Box or Bin)
Letting kids tinker is one of the best ways to build important academic, cognitive and fine motor skills. Whether it's a tray, bin or box, providing kids with a variety of materials then telling them to just "create" is not only fun but also brain boosting. This activity provides some structure as kids have a focus and set materials; however, it is open ended as kids can use their creativity and imagination to make anything they want. No two creations are the same and each is unique to the child.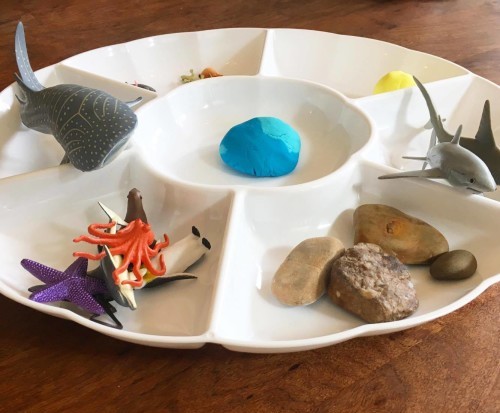 To make your own tinker tray like the one above all you need is a simple tray and some toys and/or art supplies. You can pick up a serving tray at a local store or purchase a set of 6 colorful trays on Amazon. Looking for kits to inspire tinkering? We are big fans of Creativity Cans. They come in a variety of themes and are filled with materials to encourage kids to create, play and learn.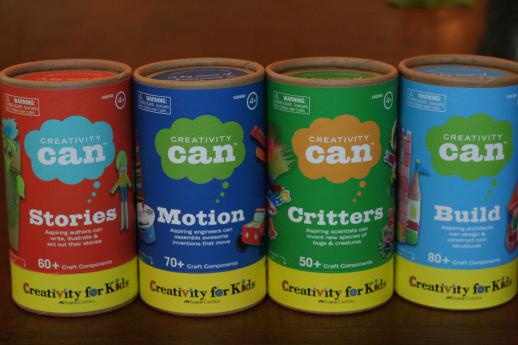 Costume Box
Playing dress up is a fun way to inspire pretend play. When dressed up, kids create their own imaginary worlds full of adventure. This helps enhance language development and social skills. Making a costume box is easy and affordable. Our costume box is full of old Halloween costumes along with hats and masks the kids have collected from birthday party favors. For girls, add some simple costume jewelry, old scarves and dresses they can no longer wear to parties because of that ice cream stain that won't come out. For boys, add old Halloween costumes, some plastic swords and bandanas.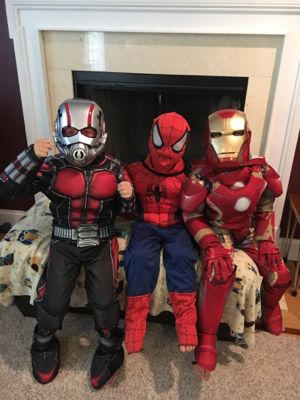 Play Stations
When kids enter a play room full of toys, it can be overwhelming. Some may easily gravitate towards specific toys while others may bounce around dumping everything out without actually engaging in play. To encourage play but avoid a total disaster, set up play stations. They can be organized by areas in the room or by bins that are taken out of a closet. Here are some ideas:
Pretend Kitchen/Food: At my house, the play kitchen and pretend food are the most used toys. My kids come up unique and creative ways to play which expands their creativity, language skills, fine motor skills and life skills. Encourage open ended play by pulling out the kitchen and pretend food and telling the kids to engage in a pretend game of Chopped or to create their own restaurant. The possibilities are endless!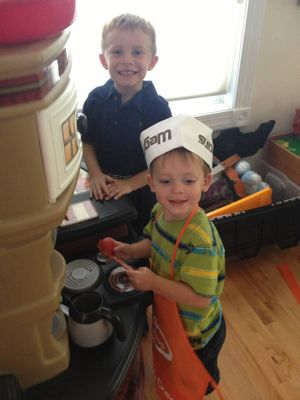 Building Toys: Grab all the Lego bricks, blocks and magnetic form pieces you can find in your house and put them out for the kids to discover, play and learn. You can place them on a table, on the floor or in a bin. Encourage your child to creat their own structures. From a simple tower to an elaborate city, building develops important skills like spatial awareness, problem solving and visual-motor planning.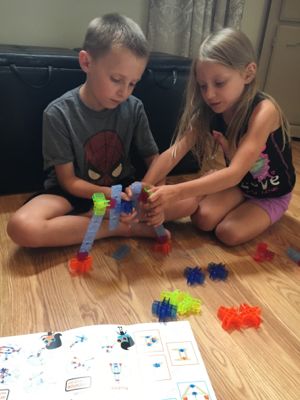 Animals/Dinosaurs: I love watching my kids play with toy animals. Sometimes they create farms while other times it's a zoo. They even made their own Jurassic Park once. Playing with animals helps enhance basic academic knowledge and expands vocabulary. They are also great for talking about an upcoming trip to a zoo or discussing what they learned at the farm.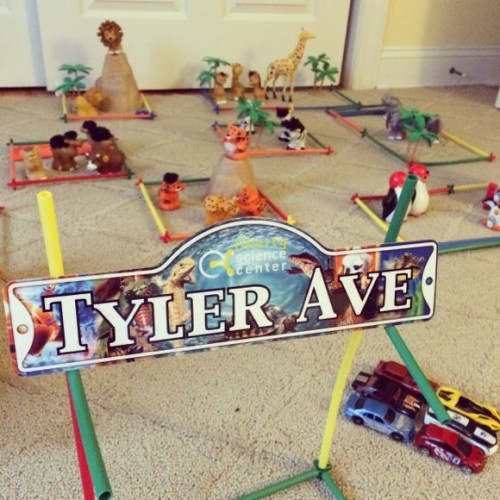 Sensory Bins
Sensory bins come in all shapes and sizes. They can be as big as your sandbox in your backyard or as small as a plastic container you place on the kitchen table. It can even be during bath time. Sensory bins engage all the senses through play. You can put anything you want in a sensory bin like water beads, sunflower seeds or sand then add related toys and objects. Kids can play for hours touching, feeling and exploring what is in their bin. This type of open ended play is wonderful for building fine and visual motor skills as well as expanding language. Check out our sensory bins: Space, Charlie Brown Christmas, Star Wars and Halloween.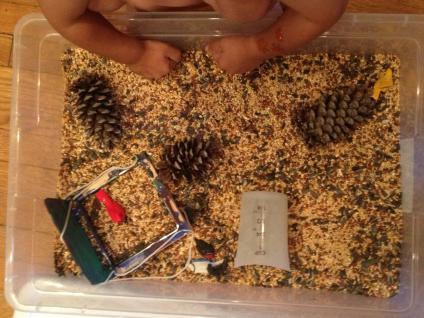 Outdoor Adventures
Just being outside sparks a child's imagination. Let them explore nature and the world around them. Watch as they suddenly turn the backyard into a pirate ship, volcano, or new world. Just offering kids some water balloons can turn into hours of open ended of play. If you don't have space at home, bring them to a local playground or park. You can even go for a long hike!
Remember, we don't have to provide our kids with everything they need to play. We need to allow them to use their imaginations and find fun experiences on their own. This helps the develop important problem solving skills needed for the future. Some kids, however, may need a little nudge so I hope these fun ways to encourage open ended play have helped kick start your next play adventure!
You may also enjoy: