At Mommy University, we love visiting locations that offer a fun learning experience for the entire family. Wild West City is one of those places. Located in Stanhope, NJ, Wild West City takes families on a journey to the past when cowboys and outlaws ruled the land. With live-action shows, museums, a train ride and more, this unique NJ attraction allows families to learn while having fun!One of our favorite activities to enjoy at Wild West City is panning for gold. It is FREE with admission and offers hours of fun. Before going into detail, I thought I would first give you a little history about the importance of panning for gold in the United States.
What was the Gold Rush?
When people think about the Gold Rush, many assume it started in California when in fact, in 1799, a young boy in North Carolina found a 17 pound gold nugget in a creek. North Carolina continued to produce gold for more than 50 years! Then, 30 years later, there was another gold rush in the Appalachian Mountains of Georgia. The most famous gold rush, however, was in 1849 when gold was discovered in California.
After gold was discovered, many people moved west of the Mississippi River in hopes of striking it rich. Travelers went by land and by sea in hopes of starting a new and prosperous life. Most of the country to the west of Ohio was unsettled so there were no homes or people for miles during their long and dangerous journey. People that traveled to find gold were called "prospectors."
What is panning?
Mining camps were set up along the river, and prospectors tirelessly searched for gold. Miners searched for small bits of gold called placer gold. To find this gold, miners would go "panning." The miner would scoop gravel and water into a pan then swirl the pan around. The gold would sink to the bottom of the pan. The miner then tilted the pan to remove the water and gravel so only the gold was left. When gold was discovered, it was called, "Hitting pay dirt!"
Panning for Gold at Wild West City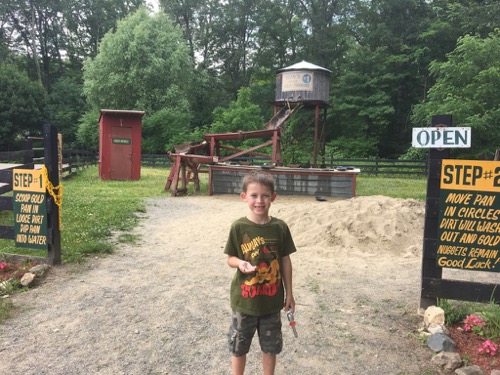 Now that you know a little bit about the history of the Gold Rush and panning for gold, I bet you are even more excited to learn how you can do it right here in NJ! Panning for Gold can be found in the back of Wild West City and is included with admission. It is an easy and fun experience that can be enjoyed by all ages!
How to pan for gold?
Step 1: Guests scoop dirt into a pan. A pile of dirt can be found to the right of the entrance to the gold panning area.
Step 2: Dip the pan into the water and swirl the water around. The dirt will wash away and the gold nuggets will remain in the pan.
Step 3: Take your gold home!
It is that easy! Panning for gold was much harder and took much longer during the Gold Rush, but at Wild West City, kids will get an idea of what life was like in the 1800s. My kids love when they "hit pay dirt," and I LOVE that they are building important fine motor and visual skills while gaining an appreciation and understanding about history!
Wild West City is open daily through Labor Day then on the weekends through Columbus Day. For more information please visit their website.
You may also enjoy: