What do nursery rhymes, fairy tales and wizarding worlds all have in common? They are all stories kids love. Whether it's the Old Woman in the Shoe, Snow White or Harry Potter, these stories take us to far away lands and expand our imaginations. BUT what if those stories could come to life? Well, many of them do at some unique places all over the United States. Here are some places we found that allow guests to step right inside their favorite storybooks!
Amazing Places That Bring Story Books to Life
Storybook Land
Located in Egg Harbor Township, NJ, Storybook Land is a unique experience that kids (and kids at heart) will LOVE! As stated on their website, "For over 60 years, Storybook Land has been keeping the spirit of childhood alive in an entertaining and educational atmosphere." As guests roam the grounds, they will step into some of their favorite stories and nursery rhymes like Snow White, Humpty Dumpty, The Three Little Pigs and Moby Dick. Guests will feel like characters in a book as they walk around the park and experience the themed rides. Storybook Land is open March-December with varying days and hours. Please visit their website for more information.
Magic Kingdom at Walt Disney World
Walt Disney World is a place where dreams come true! It is where anything is possible including having your favorite story come to life. Throughout Magic Kingdom, guests can meet their favorite fairytale characters like Cinderella, Snow White and Tinker Bell. Families can even enjoy story time with Belle where they also get to meet the princess herself. On the Seven Dwarfs Mine Train riders will travel through the mines just like the story as well as get a peek inside Snow White's house. Guests can also dine inside Beast's Castle, take pictures in front of Rapunzel's Tower and so much more!
Wizarding World of Harry Potter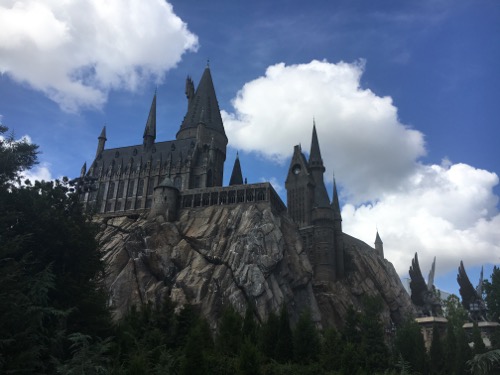 If you are a family full of Potterheads like us, then you HAVE to visit the Wizarding World of Harry Potter at Universal Orlando Resorts. For those who don't know, The Wizarding World of Harry Potter has 2 sections: Hogsmeade at Islands of Adventure and Diagon Alley in Universal Studios. The two are connected by the Hogwarts Express. Tickets for BOTH theme parks are needed to visit each section and ride the train. Each area is unique in its own way and offers a true Harry Potter experience. From drinking butter beer to having a wand choose the wizard to walking through Knockturn Ally, Harry Potter fans will feel as if they truly stepped into their favorite book.
City Park's Storyland
Storyland is an adorable themed playground located within City Park in New Orleans. With 20 storybook sculptures representing their favorite fairytale characters, kids will feel like they stepped inside their favorite book. Children can run up Jack & Jill's Hill, climb aboard Captain Hook's Pirate Ship and even crawl into the mouth of a whale. Storyland is a place to help encourage a love of reading while getting kids active. At only $4/ticket, this park, which is open 7 days a week, is the perfect family destination when visiting New Orleans.
Thomas Land in Edaville Family Theme Park
Although Thomas is often remembered most for his television shows, my kids have always LOVED reading Thomas books as well. At Thomas Land, located within Edaville Family Theme Park in Massachusetts, the island of Sodor is brought to life. Kids can climb aboard and ride their favorite engines like Bertie, Diesel, Cranky, Harold and Toby as well as meet Sir Topham Hat, watch live shows and visit Percy, Emily, James and Gordon at Tidmouth Sheds. A scenic 20-minute ride on a life-sized Thomas the Tank Engine is MUST DO experience when you visit Thomas Land. Access to Thomas Land is included with your admission to Edaville Family Theme Park.
Brookgreen Gardens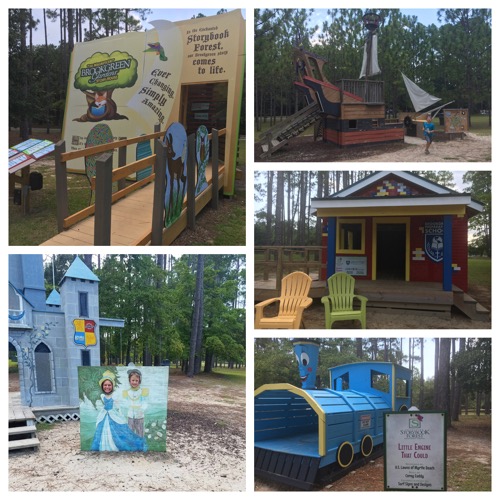 Within the gorgeous Brookgreen Gardens, guests will find Enchanted Storybook Forest where their favorite stories come to life. It is a whimsical, playful and magical place where kids can imagine, play and learn. With playhouses made to represent a classic story or nursery rhyme, kids will have a blast creating their own imaginary worlds while playing. Children can climb aboard a ship from Treasure Island or to the top of Rapunzel's tower or even walk through a Dr. Seuss book. Enchanted Storybook Forest is included with admission to Brookgreen Gardens.
Story Land
Take the family on a trip to New Hampshire to Story Land where "fairy tales come to life!" For over 60 years, this family amusement park has entertained individuals of all ages and encouraged a love of stories. Story Land offers over 30 fairy tale themed attractions like Alice's Tea Cups, Cinderella's Pumpkin Coach and Storybook Animals. Guests can also visit Mother Goose's Manor for story times, have tea with Cinderella, enjoy a character dinner and watch an array of shows where fairy tales come to life!
Seuss Landing at Islands of Adventure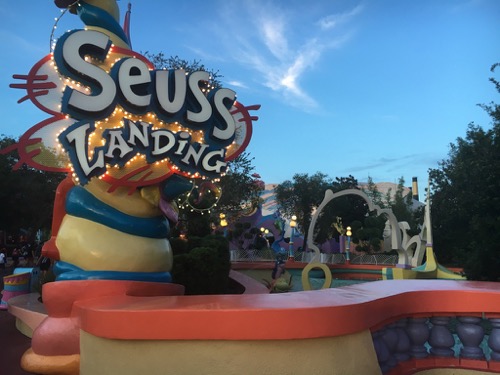 Climb right inside your favorite Dr. Seuss book at Seuss Landing located within Islands of Adventure at Universal Orlando Resort. This designated space inside one of the greatest theme parks will have kids running around in excitement. The Cat in the Hat ride allows guests to ride in and out of their favorite story books while the Car0-Seuss-el lets kids ride on their favorite characters. Guests will also love riding the Seuss Trolly and flying on One Fish, Two Fish, Red Fish, Blue Fish.
Local Library
You don't need to go very far to find a place where stories come to life! Your local library is the perfect place to encourage your child's imagination and creativity. Most libraries offer fun story times with crafts and activities as well as programs and events that involve your favorite storybook characters. Library cards are FREE so this is a fun and affordable way to encourage a love of reading!
As we find more places that bring storybooks to life, we will add them to this list! What is your favorite place that allows you to step inside your favorite storybook?
You may also enjoy: