You are shore to have a good time!

My childhood memories do not include "the shore" even though I was born and raised in New Jersey. After visiting Casino Pier & Breakwater Beach, however, I am determined that my children have experiences surrounding this cherished destination. Breakwater Beach is filled with numerous splash experiences with a focus on family fun. Only one street from the boardwalk, this waterpark not only has rides, but also a wave pool and lazy river. Casino Pier which sits on the boardwalk includes over two dozen roller coasters, attractions and activities for the entire family. Both locations complement the Jersey Shore experience and both offer plenty of opportunities for everyone in your family to scream with excitement!
As a Casino Pier & Breakwater Beach partner for the day, we were provided with vouchers to visit and share the experiences with our readers. Beginning our visit with Breakwater Beach, we were the 5th family on line when the gates opened. After six hours of swimming in the water, it was so difficult to leave since we were having so much fun but we had to test the rides at Casino Pier. It was an incredible family day, and we cannot wait to go back! To help you plan your visit, we put together a list of our MUST DO experiences.
Must Do Experiences at Casino Pier & Breakwater Beach
Sit Back and Relax
At Breakwater Beach, visitors can jump on a tube for a mile long ride around the park in the lazy river called the Revolutionary Wild River. The suspended brightly colored fish invite you to tap them as you float by or you can just sit back and relax. The Harbor Wave Pool is where I found myself on multiple occasions either to cool off in the water as waves passed by or to sit in a chair to watch my kids. Even though we visited on one of the hottest days in June, we never felt the space was overcrowded and it was a spectacular spot to kick off summer.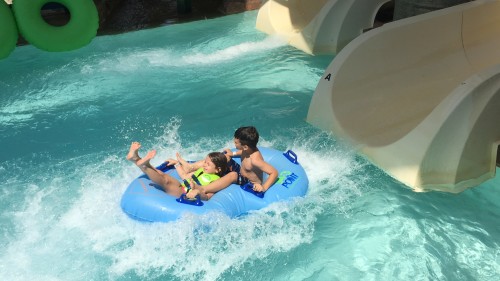 Fly Through Water
Breakwater Beach has rides that make you feel like you are flying through water whether it is Pirate's Plunge that requires you to sit on a mat as you cruise down a slide or Salem's Scream which literally drops you down a tunnel. My children went on every water ride whether it required a tube or not, loving every moment. Their personal favorite was the Minutemen Express which is a two-seater tube ride.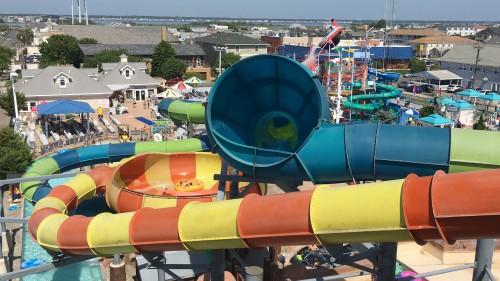 Defy Gravity
Since 1932, Casino Pier has been a Jersey Shore destination that promotes family fun with diverse roller coasters, experiences and games. The world sadly watched in 2012 when Superstorm Sandy destroyed rides that generations of families had enjoyed. Anyone familiar with the Garden State knows that this state is stronger than a storm. Seaside Heights reopened and the Casino Pier is more beautiful than ever with an impressive 131 foot ferris wheel, and in 2017 the epic Hydrus was launched.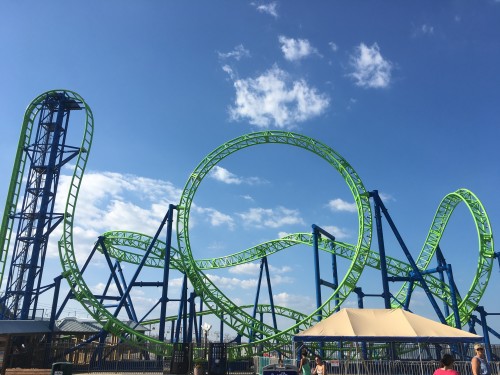 If you are looking for a thrill, then the Hydrus is the perfect adrenaline jump start to the boardwalk. (It does require the rider to be a minimum of 48" in height.) My son loved this ride so much he rode on it three consecutive times. The Air Race is also nothing to dismiss as pilots will fly right-side up and upside down at a height up to 25 feet. There is also the Disc'O that invites its riders to sit facing outward as the disc spins and sways from side to side.
Game On!
We were curious how far $20 can go in an arcade but at Casino Pier it actually lasted a solid length of time. From Space Invaders to the claw machine, my kids were thrilled to win tickets. The most fun, however, is always playing Skee Ball.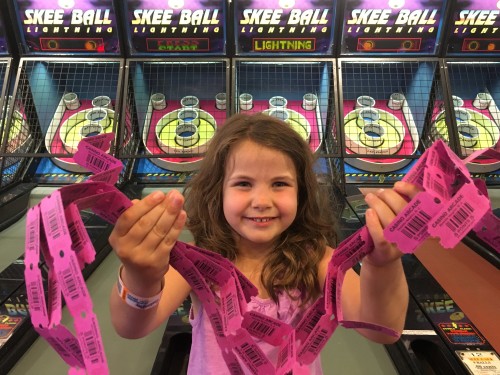 Ride into History
Next to the arcade games is the Dentzel/Loof carousel that was built in 1910 but has resided at Seaside Heights since 1932. This is one of the few remaining original carousels made with hand-carved animals in the style of "Philadelphia"carousel art. Riding on the tiger or horses is experiencing a well-preserved moment in history.
Bonus: Try Local Cuisine
It's New Jersey and the locals will tell you it is imperative you have a slice of pizza with the salty air and they are right! There are lots of different foods to try, however, including ice cream, fruit bowls and even chocolate covered pork roll!
Tickets can be purchased for Casino Pier & Breakwater Beach separately. I recommend checking their website for special events such as well as special prices. After watching our video, we imagine you want to visit Casino Pier & Breakwater Beach which is why we are so excited to give away 4 Ride and Slide passes (same day entrance) to one of our lucky readers!
Here are the rules and conditions for this giveaway:
Participants MUST live in the United States.
The winner will be chosen by Rafflecopter.
The contest will run from July 8 through 12am on July 20.
The winner will be announced on July 20.
The winner will receive the 4-pass Ride and Slide (same day entrance) in the mail directly from Mommy University.
The winner must respond within 1 day or another winner will be chosen.
To enter, participants can earn entries by: visiting the Mommy University Facebook page (likes are appreciated but not required), following Mommy University on Twitter, sharing the contest with friends, leaving a blog post comment, joining our email list, sharing our Casino Pier & Breakwater Beach YouTube video and providing an email address.
No purchase is necessary to win.
Your chances of winning are dependent on the number of entries received.
Enter here: a Rafflecopter giveaway

If you like this post, you might like: