This book list will have your kids bugging out!

While my first instinct is to scream and run when a creepy crawly bug enters the room, I am now the mom of a child who is fascinated with bugs. From ants to lightning bugs to rhinoceros beetles, he watches them and a million questions come to his mind. I see an ant and the only question that comes to my mind involves the cost of an extermination solution; however, I admire his appreciation and want to encourage his curiosity which is why some of our recent story times involve books that focus on insects!
In the past few months, my son is teaching me that bugs do serve a central role in the environment and maintain the balance of ecosystems. It is awesome what we learn from our children and how they challenge us to see the world differently. This summer we will be bugging out about insects, and we now have a list of books to help propel our education forward.
Mommy University Presents
10 Awesome Insect Books
Amazing World: Bugs by L. J. Tracosas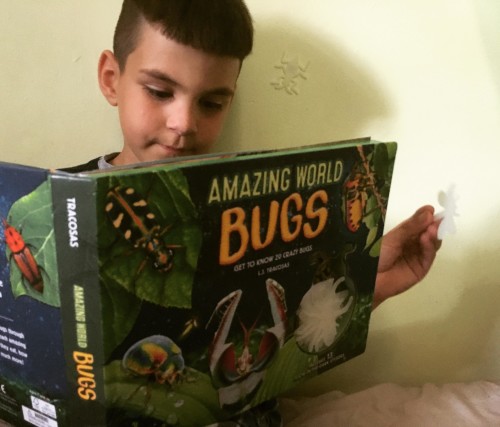 Part book, part learning toy, Amazing World: Bugs has been a delightful addition to my children's library. The book features 20 unusual bugs offering the reader stunning photos of the insects with background on what they eat and where they live. Children will have fun while playing with the 13 plastic bugs that you can use as stickers! This book has sparked a lot of searches on YouTube for insects and in fact we have now created a playlist on some of the insects thanks to this book (click here).
Bugs Galore by Peter Stein
Toddlers will enjoy Bugs Galore as it introduces bugs through a tale complimented by bright and bold colors. It has a rhythm that appeals to the Pre-K crowd, so if your child enjoys looking at worms this might be the starter book for the budding entomologist.
The Very Busy Spider by Eric Carle
While we could have put The Hungry Caterpillar, we wanted to feature another Eric Carle book that features another under-appreciated creature. The repetition of the story will attract toddlers (since they love repetition) as well as introduce different animals. The Very Busy Spider involves the story of a hard-working spider creating her web despite many interruptions until she succeeds in trapping a fly.
Weird But True: 300 Slimy, Sticky and Smelly Facts by National Geographic Kids
Most times children that are fascinated by bugs also tend to be children that enjoy learning interesting facts as well. Weird But True: 300 Slimy, Sticky and Smelly Facts will not only feature weird facts that involve insects but will also cover some other interesting smelly details that will capture their imagination.
Bug Lab for Kids by John W. Guyton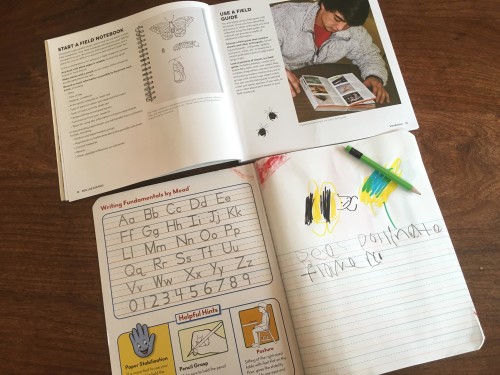 If your child is beyond the curious stage, then the Bug Lab for Kids is the perfect addition for the child who is the budding entomologist and wants to incorporate hands on activities. From the initial basics of putting together the proper outfit to collecting bugs to locating spider webs to understanding the physical make up of insects and how they function, this book is filled with simple and easily achievable projects and none appear to be time consuming.
Ten Little Ladybugs by Melanie Girth
What a fun way to countdown with ladybugs! The graphics are bright and the rhymes are great for little minds, but I think the contrast of a traditional book with a three-dimensional ladybug will keep those busy hands engaged as you read each page. Ten Little Ladybugs is a multi-sensory book that invites children to touch every page.
On Beyond Bugs: A Cat in the Hat Learning Library
We are huge fans of Cat in the Hat Learning Library since they introduce interesting facts about bugs in this story in creative rhymes. These books are wonderful for maintaining the strong vocabulary while appealing to young minds with bright graphics. On Beyond Bugs will teach scientific information and expand children's vocabulary.
Insect Soup by Barry Louis Solisar
Written by Barry Louis Solisar, Insect Soup contains poems about bugs that are commonly overlooked. Coupled with humorous graphics, fans of bugs will appreciate this unique approach to storytelling about insects.
Ultimate Bugopedia: The Most Complete Bug Reference Ever (National Geographic Kids)
The Ultimate Bugopedia: The Most Complete Bug Reference Ever is a compilation of rich photographs that highlights bees, wasps, caterpillars, beetles and lots more! In addition to each featured insect, the author has included its scientific name, size, diet and habitat.
Ladybug Girl Books by Jackie Davis
While the Ladybug Girl series is not focused on learning about bugs, it is a book that encourages young children who prefer storytelling and has a character that is fascinated with ladybugs. The colorful themed red with black polka dots emerges throughout the series but each book has its own morale which is why it consistently is requested by my daughter.
What is your favorite insect book?
If you like this post, you might like: