The New York Botanical Gardens spans over 250 acres yet consists of multiple gardens and historic architecture in the Bronx just a drive over the Washington Bridge. Visitors can enjoy the tram to transport them to the different spaces or if the weather is pleasant take strolls through picturesque scenery. Prompting our visit this summer was to visit the Edible Academy. This state of the art facility has been expanded to include three acres that are designed to invite children, families and the community to become active gardeners.
The Edible Academy consists of a classroom building that has a demonstration kitchen for cooking classes as well as educational rooms to increase how children understand and utilize nature. The green house is designed to promote educational programs. Surrounding these spaces are gardening plots that contain fruits, vegetables, herbs and flowers. It is created with the idea for everyone to get their hands messy and enjoy the outdoors!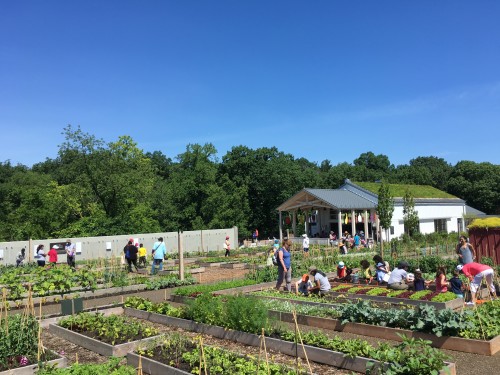 Educational Activities at Edible Academy
Scavenger Hunt in the Dirt
Upon our arrival, my son bee lined for a plot of land filled with dirt. The magnetic pull or just a sixth sense that told him he could dig for worms must have been present. Armed with a shovel and mini magnifying glasses, he grabbed the guide to look for nature's hidden treasures. This multi sensory activity was nature's scavenger hunt.
Serve the Thirsty Plants
Next to several plots were brightly colored watering cans that children quickly grabbed them to water thirsty plants. It is amazing how satisfying children find it to water plants, and when we returned home my children wanted to continue to water our garden. This was a win-win for us!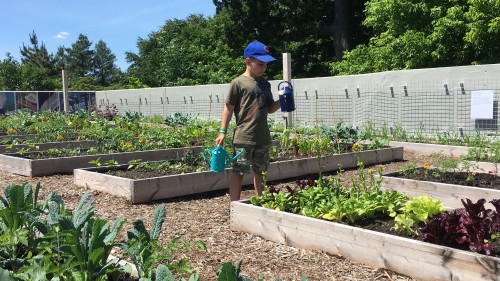 Harvest a Vegetable
My children became so fascinated with watering they almost missed the chance to harvest their own vegetables. Not only are children learning about gardening, they are also developing a deeper appreciation of healthy food. Pulling up a fat back trout lettuce means trying a new vegetable and diversifying their taste buds.
 Let's Get Cooking
If you grow a garden of vegetables, fruits and herbs, you can have fun cooking it! The Edible Academy boasts of a demonstration kitchen which helps visitors to not only try new foods but also new skills.
You can watch our video of our trip to the New York Botanical Garden including a stop at the Edible Academy:

While the Edible Academy was created to support partnerships with schools and families, it is also a perfect complement to the workshops and camps that the New York Botanical Garden provides the community. However, if you are just a regular visitor not enrolled in any of the above, you can still dig your fingers in the dirt at this amazing space. It is truly impressive all the sensory opportunities from texture of the soil to the smells of the herbs and sounds of nature which makes it a stellar addition to New York Botanical Garden.
NYBG is open year-round Tuesday-Sunday, and select Mondays. The hours are usually 10am-6pm. To learn more about Edible Academy and to purchase tickets, please visit their website.
Mommy University is so excited to partner with NYBG to bring you the opportunity to win 4 tickets to the explore, play and learn. We recommend using the tickets for one of the Family Weekend Series (see below) but you can also use them during any normal operating day.
Totally Tomatoes Weekend : 

August 11-12

Harvest Weekend : 

October 6-8
New York Botanical Garden is located at 2900 Southern Boulevard Bronx, NY 10458-5126.
Here are the rules and conditions for this amazing giveaway:
Participants MUST live in the United States.
The winner will be chosen by Rafflecopter.
The contest will run from June 25 through July 10 12am on .
The winner will be announced on July 10.
The winner will receive the prize directly from New York Botanical Garden.
The winners must respond within 1 day or another winner will be chosen.
To enter, participants can earn entries by: visiting the Mommy University Facebook page (likes are appreciated but not required), following Mommy University on Twitter, sharing the contest with friends, subscribing to our newsletter, providing your email address, share our NYBG YouTube video and commenting on this blog post by answering the required question.
No purchase is necessary to win.
Your chances of winning are dependent on the number of entries received.
Enter here: a Rafflecopter giveaway

If you like this post, you might like: