My first experience with the New Jersey State Museum was working as an intern in college sifting through dirt for shark teeth and fossils. Decades later I returned with my family to tour the museum to learn about the hands-on learning opportunities it offers families as well as the natural history it informs visitors about New Jersey.
Our visit took place on Sunday so parking was FREE and readily available right in front of the museum. It is FREE to visit, but you can make a donation to help support the museum. It is several floors that consist of exhibits that hit multiple areas so at times it can feel like several museums under one roof; however, that is the charm of the New Jersey State Museum. You can focus on dinosaurs and dabble in World War history, but the benefits are that your children can have a dose of various studies.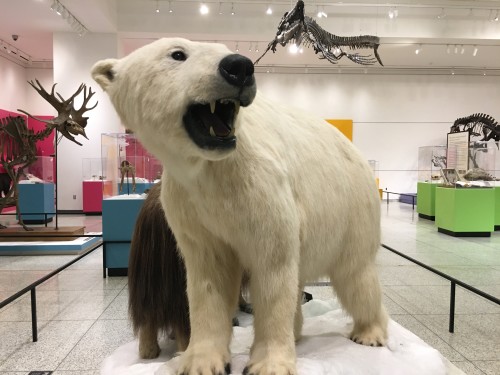 Amazing Spaces at
The New Jersey State Museum
Multiple Exhibits on Native People (Lower Level)
As we strolled through the lower level, we came across several exhibits on the native people of New Jersey as well as colonial history. From traditional attire to artifacts, we found our way to New Jersey's Original People: Interpreting the Archaelogical Collection which featured various stones shaped and utilized as tools. The hands-on activities involved answering questions and tracing different patterns to create your own vases. As my children are young, I can see them returning to this exhibit over the years and absorbing different information each time.
Planetarium (Lower Level)
Also located on the lower level is the planetarium which offers different shows throughout the day. Luckily, we arrived as seating was being done for Wildest Weather in the Solar System. The program begins with a quick five-minute guide to the night sky in New Jersey before the scheduled show starts. With chairs that lay back, it is a calm space to enjoy an educational and entertaining show. Tickets do need to be purchased for the show.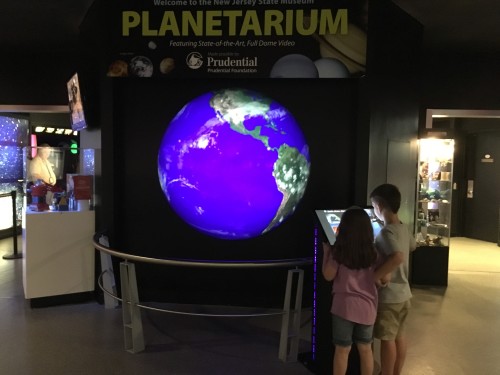 Written in Rocks: Fossil Tales of New Jersey (Natural History Hall)
As soon as you enter this open space your eyes will widen! Whether it is the polar bear that greets you or the wrestling Dryptosaurus casts in the back of the room, there is a lot to see, touch and do.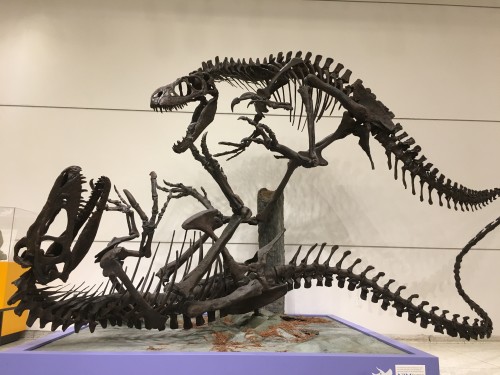 In fact, to the left is the Discovery Den which is a little one's play space. From books you can read them on bugs and space to puzzles to costumes for pretend play, this is a great spot for a parent to pull up a chair and let their kids roam. They may even want to touch the fossils!
Older children will drink in the stuffed animals and prehistoric casts. From giant beavers to a Hadrosaurus, there is a lot for them to read and think about. If they are lucky, during their visit they may be able to watch scientists working on fossils. Actually, what is even cooler is that they can even talk to those scientists!
Explore American History (1st Floor)
There are a few spaces dedicated to American history, but what made Embattled Emblems stand out for me was not just the opportunity to admire historical posters to promote American involvement and support, but rather the corner where children can create their own posters using iconic imagery from that time period. We also recommend looking at the collection of American flags which are rotated on a regular basis.
After visiting the New Jersey State Museum, we are wondering how come it took us so long to visit! They have American history, Native American history, a cool planetarium, fossils and hands-on activities weaved throughout the exhibits. It is definitely a place our family will enjoy returning to experience again!
The New Jersey State Museum is located at 205 West State Street, Trenton, NJ.
Museum Hours:
Tuesday – Sunday 9:00 am to 4:45 pm
Closed Mondays & State Holidays
Mommy University Suggestions:
Pick up one of the Scavenger Hunts or the Small Explorer Guides. The Scavenger Hunts offer children items to look for and questions to answer, while the Explorer Guides offer parents suggested questing during the visit and methods to extend the learning at home.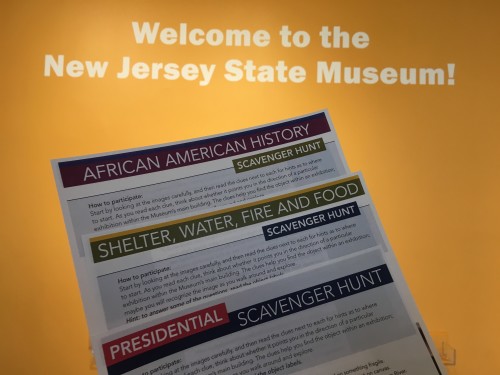 The NJ State Museum website has a $1 coupon for the Planetarium show, so I recommend printing and having available if you do decide to watch a movie.
Check their website for activities offered each day! They have some interesting initiatives that will keep your kids entertained.
Although compact, the gift shop is filled with some interesting and fun objects. From stuffed dinosaurs to excavation kits to a lot of gems and minerals to solar jewelry, this is a fun shop. I definitely recommend stopping in to see what they have!
If you are looking for breakfast or lunch, Café Seventy Two is a ten minute drive into Ewing. They are open until 2:30pm with easy parking.
If you like this post, you might like: