You can fly with Insect Lore!
Ladybugs inspire children to think about nature and use their imagination. From their well hidden wings to polka dots, ladybugs are a well-loved insect. They serve a positive impact on the environment. It is amazing what they can do! Thanks to Insect Lore, one of our learning partners, we are offering this summer giveaway.
Insect Lore has been well-known for butterfly kits that promote an appreciation of these delicate pollinators. Not only have they been used in my children's classes but we also have used the butterfly sets in our home. They added other insect kits to their arsenal of hands on fun including ladybugs! Children can receive a self-contained dome and larvae to observe their life cycle. Our favorite feature is that the cap on top is a magnifier to see the little critters up close. The best part is when children release the ladybugs into nature thus acquiring skills along their journey.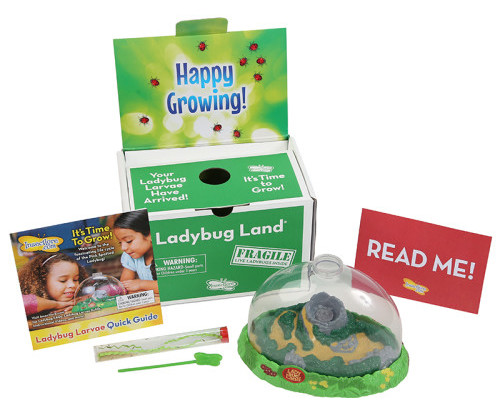 Learning with Ladybugs
Life is About Change
The life cycle of insects emphasizes how much life is about change and growth. Children are thrilled to watch how one creature can transform with large physical changes. With the Insect Lore Ladybug Land, they receive larvae that resemble mini crocodiles and can observe them become pupa and later the adorable lady bugs.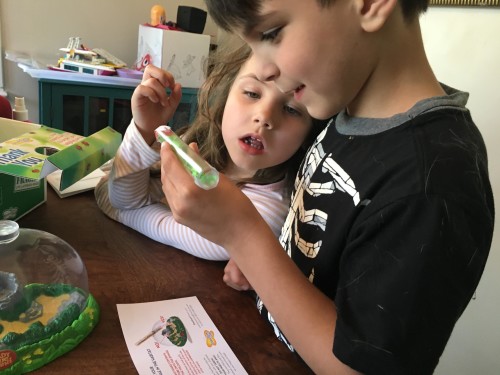 Engaged in Academic Learning
Growing ladybugs for my children is a mysterious and exciting adventure which is ironic because it offers amazing opportunities for educational experiences. My son is enjoying being an entomologist as he learns the different life cycle stages as well as unique facts about insects. He is excited to read about insects which means more trips to the library for us!
Developing an Appreciation of Nature
Ladybugs serve a central role in maintaining a healthy garden. As my son exclaimed, "the eat aphids!" Experiences that empower them to have a better understanding of the environment and its inhabitants leads to him making better decisions that impact the health of our planet.
After two years of raising Painted Lady Butterflies, they are thrilled to raise other types of insects. My children are active observers of our guests and have even named them "Spot" (yes, they all have the same name). At the end of this experience, they will have returned the ladybugs to our garden and helped the environment while growing their scientific skills.
The Insect Lore Ladybug Kit can be found on Amazon for under $25 but we are excited to partner with Insect Lore to give Mommy University readers the opportunity to win this awesome learning activity to engage your children this summer!

Here are the rules and conditions for this amazing giveaway:
Participants MUST live in the United States.
The winner will be chosen by Rafflecopter.
The contest will run from June 18 through 12am on July 2.
The winner will be announced on July 2.
The winner will receive the prize directly from Insect Lore.
The winners must respond within 1 day or another winner will be chosen.
To enter, participants can earn entries by: visiting the Mommy University Facebook page (likes are appreciated but not required), following Mommy University on Twitter, sharing the contest with friends, subscribing to our newsletter, providing your email address and commenting on this blog post by answering the required question.
No purchase is necessary to win.
Your chances of winning are dependent on the number of entries received.
Enter here: a Rafflecopter giveaway

If you like this post you might like: