In Bergen County the dinosaurs roam and roar!

By the age of five, my daughter has had the distinct pleasure of watching dinosaurs guard their eggs, take a sip at the watering hole and hide in the trees. In fact, the amount of dinosaurs she has observed is impressive but more so that through her visits to Field Station: Dinosaurs, where they reside, she has become a budding scientist. Not only does this unique space offer supremely cool animatronic dinosaurs but every day there are shows to promote paleontology and science. Whether it is music, games or cartoons, children are absorbing information while having fun!
If you have visited Field Station: Dinosaurs last year or in previous years, then prepare yourself for some fun changes. Yes, the Triceratops and T. Rex are still present, but the layout, programs and experiences have changed. My children have positive memories of this fascinating destination but they also have identified that each visit has been uniquely different. At Mommy University, we wanted to feature new highlights from the 2018 season at Field Station: Dinosaurs!
Highlights from the
Field Station Dinosaurs 2018 Season
Spinosaurus!
On the drive to Field Station, my children were informing us why Spinosaurus is unique. While my son mentioned that Spinosaurus was a carnivore, my daughter knew that this dinosaur not only hunted on land but also in water. The Spinosaurus is easily identified by the massive pointed hump on its back and the long mouth which reminds us of a crocodile. What makes this new addition stand out to me is that it was created after fans voted on bringing it to life!
Expanded River Trail
The Leonia location is a wide open space, but over the past two years since arriving in Overpeck County Park the shade has increased. A small lookout is one break from the sun, but what really thrilled us was the expanded River Trail which has benches and stations to sit. Covered by trees and sound effects that question if you just walked into a suspenseful movie, the River Trail takes you behind the amphitheater where you will find a few hidden dinosaurs. As you will be walking under trees along plenty of plants, bring some bug spray and don't forget – Don't pet the dinosaurs!
Scavenger Hunt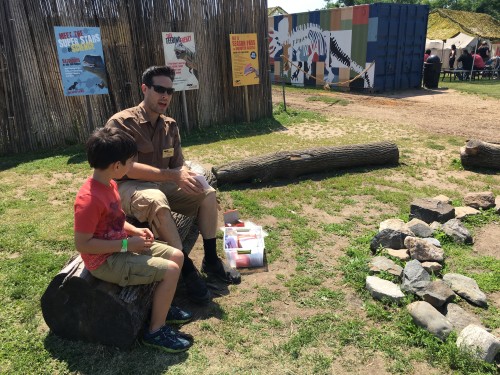 Strolling towards the North Tent, we were invited to participate in a scavenger hunt. This year you will notice new signage by each dinosaur which is always fun to read. The scavenger hunt, however, gives kids that little encouragement to go back and explore the information available one more time. We ran across different children looking up the meanings of the dinosaurs names and information on who discovered them.
Dinosaur Devil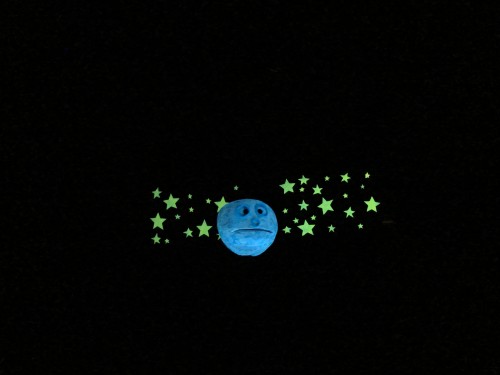 Dinosaur Devil is a black light puppet show that entertains little ones about dinosaurs as well as introduces them to scientific concepts. The show may discuss science but overall it also promotes a message that if you wish it, work hard at it, that what you wish will happen. Upbeat music, creative puppetry and positive messages encourage children to appreciate science. After several years of return visits to this amazing place, we have learned that science will always be intertwined in their presentations.
The park is open rain or shine in the 2018 Season:
May 26-June 24
Saturday & Sunday, 10am-6pm
June 26- Sept. 2
Tuesday-Sunday, 10am-6pm
Open July 4
Open Labor Day
September 22-November 11
Saturday & Sunday, 10am-5pm
Open November 8 & 9
Admission
$15.50 (online) for guests 2 and older. Children under the age of 2 are free. You can upgrade and purchase additional experiences such as the black light puppet show "Dinosaur Daredevil" for  $5 or the Paleontologists Lab for $10.
Field Station: Dinosaurs is located at 40 Fort Lee Rd, Leonia, NJ 07605
*In full disclosure, Mommy University received tickets to Field Station: Dinosaurs in exchange for our review. The opinions expressed are honest and belong to Mommy University.
You may also enjoy: