On May 20, 2018, we had the opportunity to attend the New York Baby Show located at Pier 94 in New York City.  It was an incredible experience that welcomed expecting parents, new parents and families from all over the country. Guests were able to see and test out some of the latest products from brands moms know and love as well as learn about some new companies that are sure to change the business. There were innovative ideas from classic companies like Evenflo, Summer Infant and Skip Hop along with unique creations from new companies like Noobie Box, Lil' Jammerz and Story Time Chess.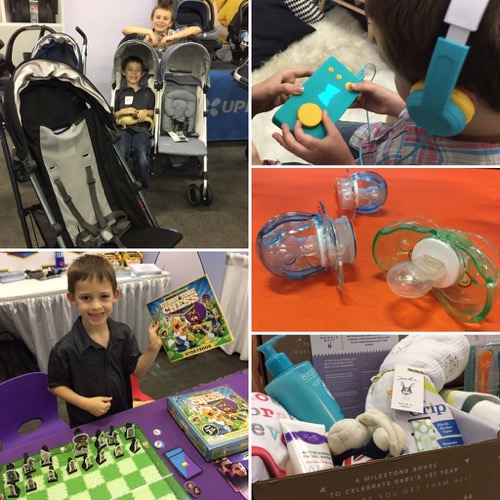 As a mom of 2 boys, I have seen, purchased and used MANY baby and infant products. Some stood the test of time while some did not. At the New York Baby Show, I was introduced to some of the most amazing products that I wish I had when my kids were little. There were also some toys, games, products and experiences that even older kids can use and love. There was a wonderful variety of products from strollers to car seats to travel supplies to organic food. In this post, however, I want to highlight my Top 3 Items from the show.
I have to be honest, narrowing my list down to just 3 items was difficult. There were so many products I really loved (and wanted to purchase). In fact, we were lucky enough to go home with some amazing products that we will share with you in the near future. My boys also purchased some great toys from Safari Ltd. that they played with during the entire show! From testing out strollers to meeting product creators to enjoying a spectacular lunch provided by Boston Market, our time at New York Baby Show was an experience we will not soon forget!
Top 3 Picks from the New York Baby Show
The Travel Tray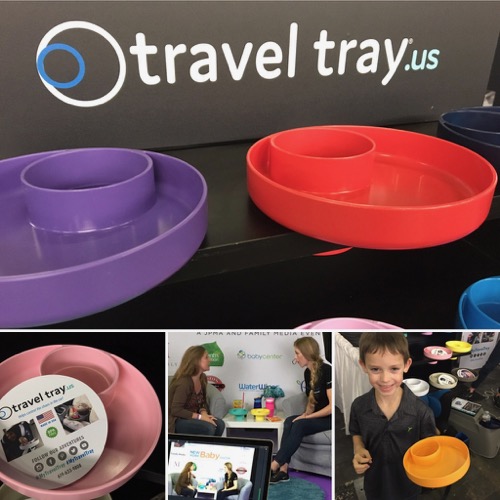 Very few things stop me in my tracks when I am exploring a show but the Travel Tray definitely did. It is a new and innovative product that will make traveling easier and safer for families. The Travel Tray is a compact and sturdy cup holder with an attached tray. It can fit inside the cup holder in your car, car seats, booster seats and even chairs. It can hold a variety of drinks such as water bottles, sippy cups and even your favorite coffee. It is also perfect for storing toys and crayons for long road trips. The Travel Tray is 100% food safe as well as BPA, PHT and PVC FREE! Travel Trays can be purchased for only $15 or in bundles to save money. Check out my interview with one of the creators:
Romp & Roost Play Yard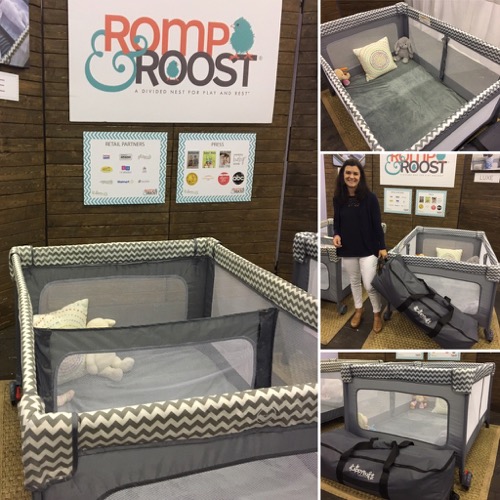 Before heading to the New York Baby Show, I reviewed the websites of all the vendors and one that captured my attention immediately was Romp & Roost. It did not disappoint in person! Romp & Roost is an innovative, stylish and comfortable oversized play area and sleep space that is easy to put together and can be taken anywhere. The play yard is 54″ x 40″ x 30″ and can hold up to 70 pounds. The set has a soft, waterproof fitted sheet as well as a removable divider allowing the Romp & Roost to hold not just one but TWO children! The new Luxe version even comes with a carrying case that has wheels! These incredible features make this the perfect play yard not just for home use but also for traveling.
Doona, the Next Generation Car Seat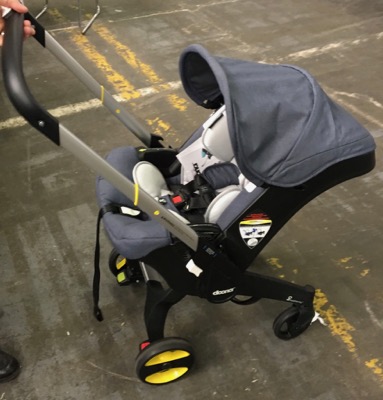 Created by Happy Kidz, Doona is the coolest and most unique car seat I have ever seen! Why? Well, it is not just a car seat, it is also a stroller! That's right, Doona easily and seamlessly transforms from a car seat into a stroller in seconds. This rear facing car seat is for children 4-35 lbs. and up to 32 inches in length. Its safety standards include side-impact protection, double wall shell structure, anti-rebound protection and thick protective padding. It is also made from BPA and PCV FREE materials. Doona comes in 9 colors and additional accessories can be purchased like bags, insect nets, rain covers and more. Doona retails at $499 which is a great value considering it is a car seat AND stroller in one! See it in action here:
I hope you have found my Top 3 Picks from the New York Baby Show as unique and innovative as I did! Let me know which one you liked the most in the comments section below!