It is always a scramble to purchase a gift that is fun, educational and exciting. There is an appeal to watching children gasp as they open their present but quickly interest can diminish. Subscription boxes have become a new trend in meeting not only the interest of the child but also can be parceled out over time. I am falling in love with the Disney Princess Box. The subscription service by Pley will ship a box that focuses on one Disney Princess that encourages not only pretend play but also has developmental benefits.
At Mommy University, our focus on learning through play matches the role of subscription boxes through the Pley company. The boxes arrive in the mail containing a variety of toys and activities that promote fine and gross motor development, building skills, reading ability and problem solving skills. They also encourage pretend and imaginary play which helps build language and social skills.
The Disney Princess box contains items surrounding the theme of one Princess and can include 4-6 Official Disney Princess toys, activities and/or fashion accessories. The Disney fan will appreciate the unique items that are not available in the store. The cost of the Disney Princess Box varies based on the number ordered and boxes are shipped every two months.
1 Box: At $29.99, this is a one time shipment of a Disney Princess Box.
3 Boxes: At $86.97, you will receive three boxes at a slightly lower cost per box.
6 Boxes: At $167.94, this is the best value package.
If your child isn't a fan of royalty, then check out their other options which include Hot Wheels and National Geographic. What appeals to children is that they are receiving mail directly to them, and what appeals to parents is all that play without screen time.
Our recent acquisition of the Cinderella box was hit in our home. Included in this package was a beautiful pillow case with "Dream Big Princess" written on it, a coin bank, a t-shirt, a purse and yo-yo. You can watch the video below of my daughter opening the box.
At first, she was confused by receiving a coin bank with Rapunzel but I later learned that the box will have an overall theme but one item may be different from the others. Nonetheless, she loved the yo-yo which is currently challenging her motor skills and coordination. She has also already begun filling her coin bank with all the coins she finds which is building her math skills. Her third favorite item is the purse which she carries with her when we run errands.
The Disney Princess PleyBox is filled with diverse items that are sure to please the royalty in your family. What is consistently present in all packages is the booklet and the box (of course). The booklet has mazes, stories and activities to challenge your children. From coloring to puzzles, young kids are engaged while having fun. As well, inside the booklet are instructions on how to fold the box which converts into a structure related to the princess. In this instance, my daughter transformed a box into Cinderella's castle. For several days, she has been coloring the box as she tells stories and creates her own fairy tale.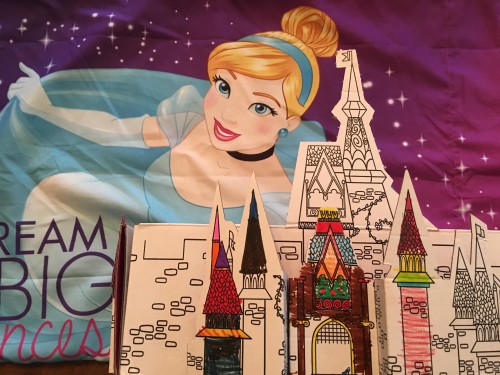 Offering children an experience, the Disney Princess PleyBox makes an excellent gift! The first boxes (Ariel and Belle) can be ordered off the Pley website. Pley changes the featured princesses each month so the recipient will never know who they will get. This makes Disney Princess boxes always fresh and exciting!
You may also enjoy: