My boys love running around and being active. Whether it's in the house or out in the backyard, they are always finding ways to chase each other around. That is why I was so excited to be offered the chance to review Micro Blasters from Laser X. With Micro Blasters, my kids enjoy hours of fun inside and outside!
Laser X Micro Blasters comes in a set of 2 making it perfect for siblings or play date. They take 3 AAA batteries each (not included) and don't require any assembly. The laser arm receiver is attached to the blaster making it impossible to separate the pieces (and lose them). As a mom of 2 boys, this is a definite plus! The laser arm receiver easily straps onto the player's arm, and the blasters are the perfect size for a game of laser tag at home.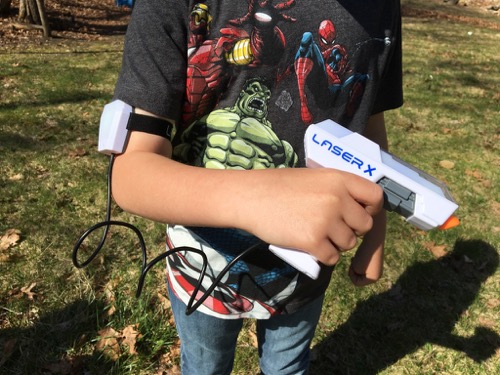 How to Play:
What I love about Laser X Micro Blasters is how easy it is to set up and play. After installing the batteries, each player turns the receiver on and places it on their arm. One player will slide the switch to red while the other will slide the switch to blue. Players have to hold down the blaster trigger for 2 seconds then it is ready to blast. After 10 blasts, the trigger has to be held down again to reload.
The goal is for players to "tag" their opponent using their micro blaster. After 8 hits, you are out. The arm receiver can receive hits from as far as 100 feet away. Since all Laser X sets work together, games can be played with as few as 2 people to up to as many as you want. It is recommended for ages 6 and up.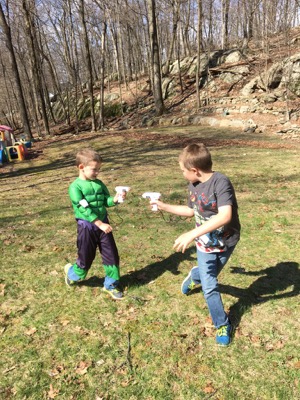 The Laser X Micro Blasters are only 5-inches long so they fit nicely into backpacks and travel bags making them perfect for a day at the park, playground, beach or campsite. They can also be played inside on a day that is too rainy, snowy, hot or cold for outdoor play. The play possibilities are really endless!
3 Reasons We LOVE Laser X Micro Blasters
Gets Kids Active
I love Laser X Micro Blasters because it keeps my kids active and engaged. They can play for hours without getting bored because the outcome is never the same. For kids who gravitate towards video games, Micro Blasters is a great way to them off the couch and outside having fun. The lights and sound effects let kids feel like they are playing a video game in real life!
Builds Cognitive Skills
Tagging your opponent takes skill and planning. Now of course you can just hold down the trigger and just keep shooting, hoping to hit the receiver, but Laser X encourages kids to plan and problem solve instead. My boys needed to use their spatial awareness and visual skills to see the target and know where to aim. They also planned out where to hide, dip and duck so they would not get tagged. Since thinking and reasoning skills are needed to win, kids are building cognitive skills without even knowing it!
Promotes Good Sportsmanship
Whether it is against 1 or 20 people, while playing kids learn what it is like to lose. This helps them develop good sportsmanship. It teaches them to congratulate their opponent and accept losing appropriately which is also a wonderful way to build social skills. When playing on teams, Laser X Micro Blasters also helps kids learn about teamwork and cooperation.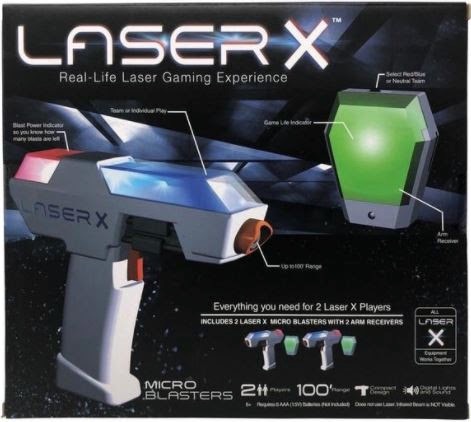 Laser X Micro Blasters are under $30 for a double set and under $15 for a single player option. You can purchase Micro Blasters and other Laser X products on the Laser X website as well as at Walmart, Target, Toys R Us and Costco.