We are HUGE Marvel fans which is why we are so excited for the release of Avengers: Infinity War on April 27, 2018. In this next chapter of the franchise, the Avengers assemble to battle the evil Thanos as he seeks to collect and use all 6 Infinity Stones. In this 3rd movie in the series, we will watch the original Avengers fight alongside other Marvel favorites like Black Panther and the Guardians of the Galaxy. To get ready for the release of this EPIC movie, we have put together a list of some fun activities the entire family will love.
Fun Ways to Celebrate the Release of Avengers: Infinity War
Marvel Movie Marathon
If you haven't seen any of the Marvel movies yet, then make sure you watch most of them before seeing Infinity War. You can have a Marvel movie marathon at home. Pop some popcorn, make a blanket fort and enjoy a day of superhero excitement!
Marvel Universe LIVE!
With the release of Avengers: Infinity War on the horizon, Marvel Universe LIVE! is the perfect way to get ready for the next chapter in the Marvel franchise. This incredible show brings together all of our favorite characters including the Avengers, Dr. Strange, Guardians of the Galaxy, Black Panther and Spider-Man. Of course, the show is not short on villains too as you will be entertained by Loki, Nebula and Yondu. The action and excitement are never-ending as the heroes work together to save the Universe.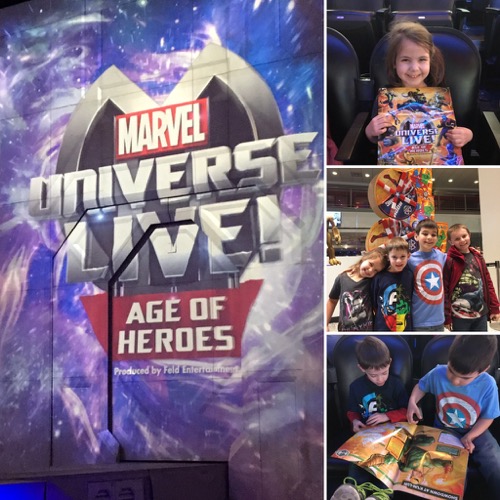 Make Your Own Superhero Gear
Although it is fun to buy your kids capes, shields, hammers and other superhero gear, it can be even more fun to make it yourself. My boys are BIG Avengers fans so e decided to make Captain America's shield and Thor's hammer. Each was easy to make and we used items we already had in the house.
Captain America's Shield: To make the shield, we used the cardboard circle that comes with frozen pizza. You can also cut out a circle from a delivery pizza box. My son then painted it the appropriate colors. It was that easy!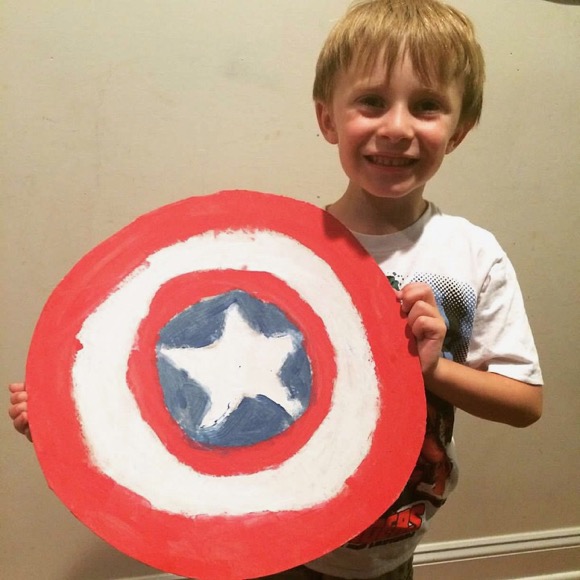 Thor's hammer: This craft was also easy to make. We used a paper towel roll, shoebox and tin foil. My son painted the paper towel roll brown then my husband cut a hole in the shoebox to insert the roll. We then covered the box in tin foil. Easy right?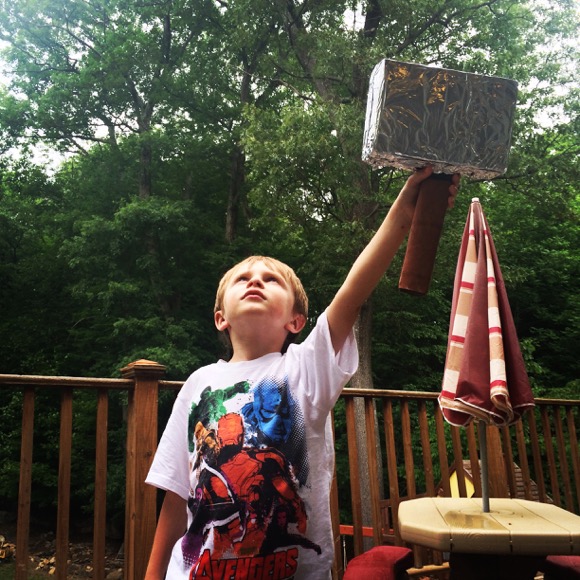 Dress Up
The most fun way to celebrate the release of a superhero movie is to BE a superhero. My boys have so many costumes that they had a blast changing in and out of them and being different characters. From Iron Man to Spiderman to Captain America to the Hulk, my kids loved dressing up and engaging in pretend play which is a great way to enhance language and creative thinking skills. Make it even more exciting by inviting friends over to play too! You can also do a superhero mash-up by combining different costumes to make the ultimate superhero!
These are just a few ways to celebrate the release of Avengers: Infinity War! How will you be celebrating?
You may also enjoy: