Get outside and get active this summer with some exciting brain boosting toys!
Kids learn so much by exploring the outdoors and having fun in nature. They engage all their senses and learn life lessons they can't get from staying inside all day. Sure, a good book is great for learning, but being actively engaged in the learning experience helps kids truly grasp concepts in all subject areas.
At Mommy University, we love toys that offer opportunities for learning through play. This spring and summer, we are really excited about all the toys that offer learning experiences OUTDOORS! After reviewing toys we have played with ourselves, learning about toys at Toy Fair NY 2018 and researching brain boosting toys available at your local stores (and Amazon), we have come up with a list we are sure you and your children will love! (Amazon affiliate links are included to make your shopping experience easier.)
Play & Learn Outdoor Toy Guide 2018
 Bunch O Balloons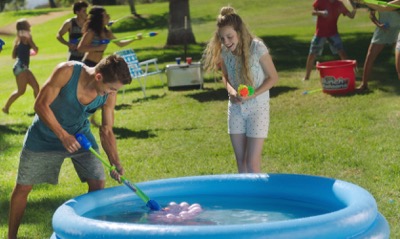 Did you know that Bunch O Balloons was chosen as the 2017 Active/Outdoor Toy of the Year by the Toy Industry Association? They have expanded this amazing product to include the Avengers line. Allowing for endless water play outside, Bunch O Balloons allows you to fill and tie 100 balloons in less than one minute! The innovative and patented water-fill technology allows families and friends to have water balloon fun without the wait. Bunch O Balloon sets can be found on Amazon.
Wicked Big Sports
Looking for a unique outdoor experience? Then you have to check out what's new with Wicked Big Sports. They are offering super sized fun this summer with 3 wicked awesome toys the entire family will love!
Pong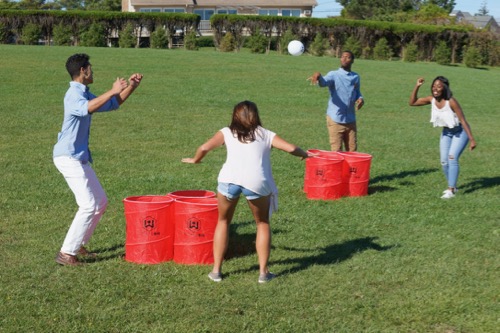 Wicked Big Sports Pong super sizes your fun at the beach, campsite, sporting event or even your own backyard. Pong comes with 6 giant cups, 6 weighted bags, 1 ball, 1 pump and a storage bag. You can play one on one or in teams. It is a fun game to help enhance gross motor, motor planning and visual spatial skills. Pong can be found on Amazon for $50.
Flip Cup
Enhance your fine motor, problem solving and visual-motor integration skills while having fun with Flip Cup form Wicked Big Sports. The set comes with 8 cups, 4 red and 4 white. You can play in teams or one on one. Flip Cup is perfect for a day at the park, picnics and family BBQs. It an be purchased on Amazon for under $25.
Supersized KickBall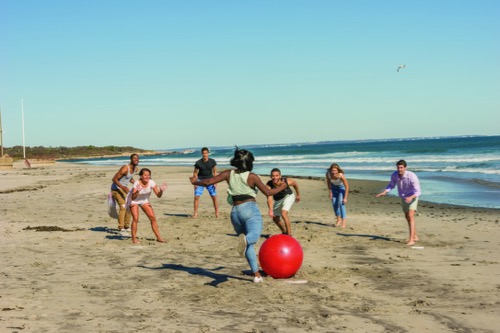 Take the game of kickball to the next level with the new Supersized Kickball. This set comes with 1 oversized kickball, a pump, home plate, 3 bases, 3 ball plugs and 1 plug remover. What a fun game for family reunions, scout events, a day at the beach or camping trips. Supersized Kickball helps build gross motor skills as well as teamwork, endurance and coordination. Supersized Kickball can be found on Amazon for under $25.
Funrise Gazillion Bubble Pong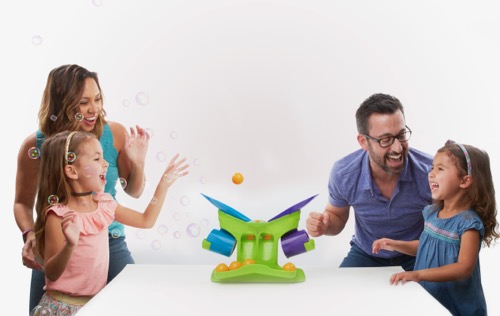 Funrise has taken the world of bubbles to a new level with the new Gazillion Bubble Pong game. Family game night just got more exciting as families and friends can enjoy hours of bubble fun. Players have to toss ping pong balls into their opponent's side in order to score points and blast them with Gazillion bubbles. When done playing, the console can be used a bubble machine for nonstop bubble fun. Gazillion Bubble Pong is under $20 on Amazon.
Mindware Inflatable Tumbler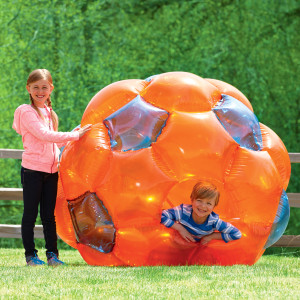 The Inflatable Tumble inspires kids to burn some energy and develop gross motor skills as they play outside! Mindware always creates unique and exciting toys that promote healthy development with kids, and the Inflatable Tumble will have everyone laughing and moving. Currently priced under $90 on the Mindware website, this is a great addition to the family BBQ.
Para'Kito

PARA'KITO are refillable bands and clips that use natural essential oils to keep mosquitoes from ruining a fun day or night outdoors. Just insert the pellet into the band or clip for 15 consecutive days of mosquito free adventure. The pellet releases a pleasant smell which helps mask human odors that normally attract mosquitoes. The DEET-free repellent works in all climate zones and is waterproof making it perfect to bring on tropical vacations. The band is also comfortable to wear and stays on well making it great for outdoor adventures like hiking, fishing and camping. The clip easily attaches to a backpack, belt loop, diaper bag and stroller making it very versatile and perfect for all family activities. PARA'KITO can be purchased on Amazon.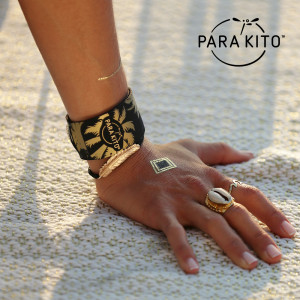 Creativity for Kids Hide & Seek Rock Painting Kit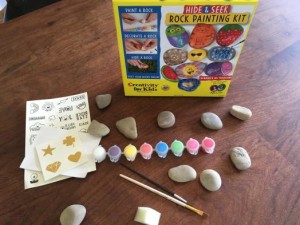 Last summer, we had so much fun painting rocks that promoted positive messages and hiding the throughout our summer travels. The Hide & Seek Rock Painting Kit is available on Amazon for less than $20 and includes all the supplies needed to participate in this project.
Mojo Figurines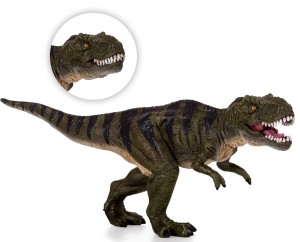 Durable and well made figurines are perfect for young children to promote imaginative play. With Mojo figurines, children are able to play outside with different animals. If you have a child in love with dinosaurs, they can take this portable character on adventures to the museum, park or even the sandbox. Priced for less than $8 on Amazon, you will be surprised how one of these animals can be the mascot for your summer adventures.
Faber Castell Coloring with Clay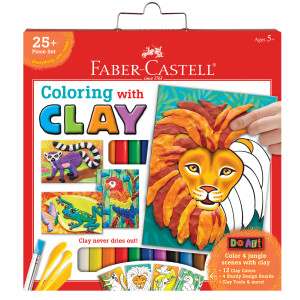 We are in love with the concept behind Coloring with Clay which invites children, ages 5 and older, to create artwork using clay as opposed to crayons, markers or paint. Playing with clay helps with children develop hand strength but at the same time is about creativity. This is a great art kit to incorporate in the summer art projects! On Amazon we have found Coloring with Clay for $15 or less.
Little Kids Fubbles Bubbles Bucket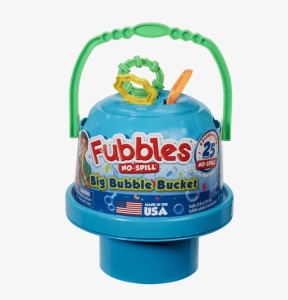 I have been a very big fan of Little Kids Inc. bubble buckets for a long time. Not only are they the perfect size for kids to carry, they also DON'T SPILL! You heard me correctly! If your little one drops it, throws it or dumps it over, none of the bubble solution comes out. The set comes with 3 wands perfect for playing with siblings and friends. This bucket can also be purchased with other designs such as PAW Patrol, Dora, Sponge Bob and Ninja Turtles. All Fubbles Bubbles products can be found on Amazon.
Creativity for Kids Camp Crafts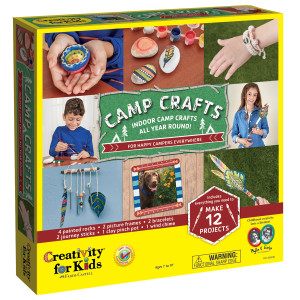 If your kids are at home this summer and you want to bring in some fun from camp activities, then check out Creativity for Kids Camp Crafts. Within this one box are twelve projects that includes all the materials needed to make painted rocks, picture frames and more! Designed for children ages 7 and older, it is priced on Amazon for $20.
Insect Lore Butterfly Garden Gift Set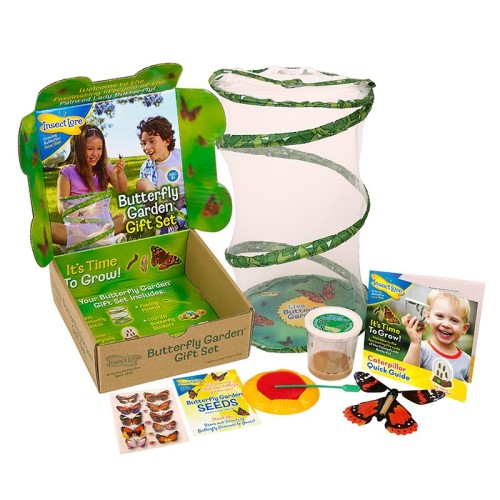 If you have a child curious about nature or science (or just butterflies), then Insect Lore has sets to watch the transformation of caterpillars to butterflies. The sets include the mesh habitat, chrysalis station, pipette and feeding station, and manual. After using the voucher to have the caterpillars sent to your home, your children can watch these little caterpillars. As they consume the food they will go through metamorphosis and emerge from the chrysalis as Painted Lady Butterflies. Also in the set is a rubber band butterfly and stickers. Priced on Amazon for under $30, it is one of our favorite activities.
Insect Lore Ladybug Garden Gift Set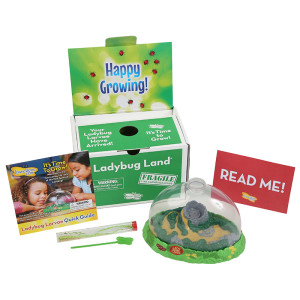 We have mentioned how much we enjoy the Insect Lore Butterfly Kits so this year we are expanding our Outdoor Guide to include the Ladybug Land kit. For less than $30, your children can watch the metamorphosis of ladybugs under a domed cover. Ladybugs are wonderful additions to your garden so after your children have observed them for 3-4 days they can be released into the garden. You can order on the Insect Lore website or though Amazon!
Crayola Ultimate Sidewalk Chalk Collection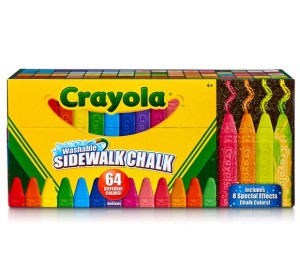 Every year I include sidewalk chalk in my kids' Easter Baskets. They are the perfect way to get the kids excited about going outside in the spring. I love this new 64 count Ultimate Washable Sidewalk Chalk set because it allows for hours of creative play. Kids can share the pack with their friends and siblings while encouraging a love of art and creativity. It comes with 56 regular colors along with special effects sticks (neon, tie dye, glitter and neon glitter). This set can be purchased on Amazon and the Crayola website.
Mindware Paint Your Own Stepping Stone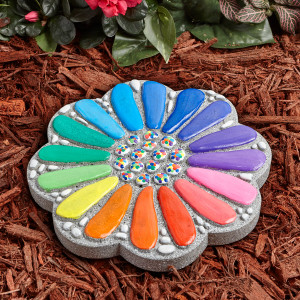 Last year, the Paint Your Own Stepping Stone was so popular in my house that we had to not only get the turtle but also the butterfly. This year, Mindware expanded this popular collection to include a flower, mandala, bumble bee and more! This is an art project that encourages children to get excited about gardening and being outdoors. It can also can be a lovely gift for a grandparent who gardens when painted by their grandchildren. This set can be found for less than $20 on Amazon.
Goliath Games Rocket Fishing Rod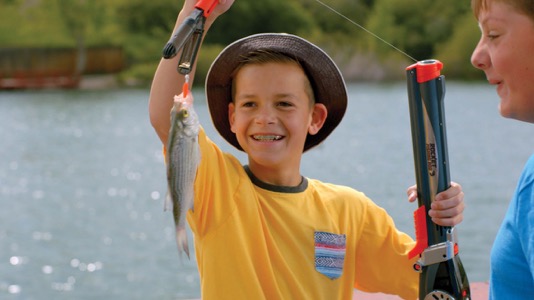 Take fishing to another level of fun with the new Rocket Fishing Rod from Goliath Games. When launched the fishing rod will cast the line up to 30 feet. To use, kids just pump the rocket, launch the line then reel in their fish. A safety bobber keeps the hook enclosed until it reaches the water. Once in the water, the lure compartment drops the bait into the water. It's an easy way to get kids excited about fishing and being outdoors. This unique fishing rod is under $30 on Amazon.
Goliath Games Zoom Hydro Ball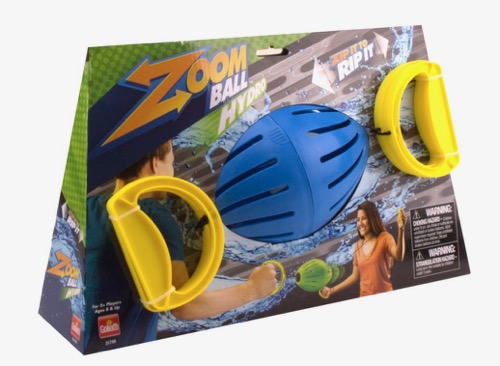 Cool off while having fun this summer with the Zoom Hydro Ball from Goliath Games! To play, fill the hydro ball with water balloons. One player holds one set of handles while the other player holds the other set of handles. Players make the ball zoom back and forth on the line never knowing when the balloons will pop! Zoom Hydro Ball is a fun way to get kids active while keeping them cool. It also helps build gross motor and visual skills! Zoom Hydro Ball is under $20 on Amazon, and it comes with 25 balloons.
If you like this post, you might like: