We are so excited to partner with the following brain boosting toy companies to bring you this year's Easter Basket Gift Guide: Crayola, Faber-Castell, ZURU, Little Kids Inc., Goliath Games, Educational Insights, Maximum Games, Build & Imagine, Moose Toys and Relevant Play.
At Mommy University, we believe that everything our children play with should enhance development and aid in positive academic growth. This Easter why not fill their baskets with fun and educational goodies the kids will not only love but learn from?
For this guide, we will provide 5 themed Easter basket ideas. Each theme will promote growth and development in certain areas. Under each theme we will provide several suggestions of what to put in your child's basket. Amazon affiliate links are included to help make your shopping experience easier. We believe there is something for everyone on this list. So have fun making a themed basket or mix and match different ideas! Either way you will be happy knowing you provided Easter goodies that will have a positive impact on your child's development and academic success.
5 Brain Boosting Themed Easter Baskets
Arts and Crafts
Our first basket will focus on our love of art. Introducing kids to art helps them enhance creativity, boost fine motor skills, increase visual-spatial awareness, and let's face it, it's fun! Here are some brain boosting arts and crafts suggestions for this basket:
Faber-Castell Art Supplies
Faber Castell makes high quality art supplies and tools that fits the growing skills of your budding artist to express themselves. For example, gel Crayons are chubby which is perfect for little hands, and they glide easily on the paper which doesn't require as much force to put color on the pages. Priced less than $11 on Amazon these crayons will be used thoroughly to create stunning art.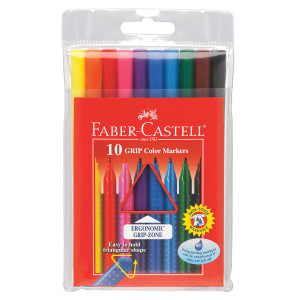 Another option which fits perfectly in the Easter Basket are the GRIP Color Markers that are allow small hands to color effortlessly.  They are designed so they have texture giving children feedback where to hold and they won't roll off the table.   The Faber Castell 10 GRIP Color Markers fit nicely in the basket and will brighten your child's day.  Look out for this new product on the Faber Castell website.
 Creativity for Kids Make Your Own Kits

Encourage children to explore their artistic talents with Creativity for Kids kits! The kits fit perfectly in an Easter Basket and are a small cost which fits most people's budgets. They have so many options that there is a kit that meets your child's interests. Your child might prefer things of beauty so they would enjoy making a Butterfly Wind Chime or create their own jewelry with Make Your Own Shrink Fun bracelet. Priced less than $10 on Amazon, the kits includes all the supplies needed to complete the project while keeping children engaged.
You might have a child that is all about mechanics and transportation. Well, Creativity for Kids also has Make Your Own kits that again meet an affordable budget and sparks their creativity. Whether it is making a Train or a Pirate Ship, children can still channel their imagination with the inclusion of these kits in their basket!
Crayola Palm-Grasp Crayons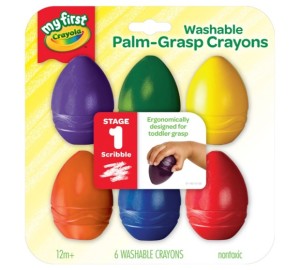 Encouraging children to color starting at a young age helps them build important fine and visual motor skills while encouraging creativity. Small hands need the right tools to make coloring fun and easy. These egg-shaped palm-grasp crayons are perfect for little hands that are just learning to explore their creative side. They are the perfect alternative for candy Easter eggs too! These crayons can be found on the Crayola website and Amazon.
Creativity for Kids Glow-In-The-Dark Paracord Wristbands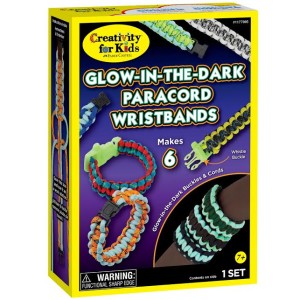 While it can sometimes be difficult to include boys with artistic activities, Creativity for Kids understands how to get them excited about art. Paracords were first used by US soldiers in World War II in suspension lines for parachutes. The Paracord Wristbands kit encourages children to make their own jewelry which is also wonderful to enhance their fine motor skills. Priced less than $15 on Amazon this set allows for eight paracord bracelets.
Crayola Color Wonder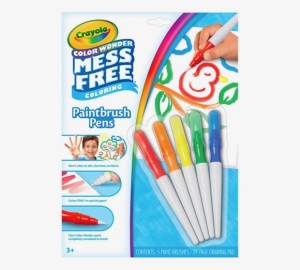 New this year is Crayola Color Wonder Mess Free Paintbrush Pens. Kids can now paint all day without moms worrying about their table, walls, couches and floors getting ruined. This set comes with a 24-page Color Wonder bound book with plain white paper and 5 mess-free paint brush pens (red, orange, green, yellow and blue). This set encourages kids to design and create without the mess! The Paintbrush Pens can be found on Crayola.com and Amazon.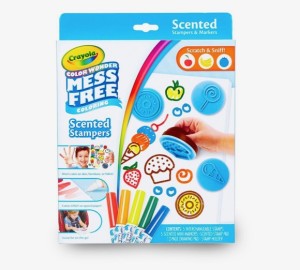 Also new this year is Crayola Color Wonder Mess-Free Scented Stampers. My kids LOVE the Crayola scented markers but they can be messy for little ones. That is why Crayola came up with scented Color Wonder so younger children can engage all their senses while entering into the world of art. This set comes with a 12-page Color Wonder bound book, 5 mess-free scented markers, 1 scented stamp pad and 5 stamps. These stampers are perfect for encouraging creativity while enhancing fine motor strength and control. You can find the Stampers on the Crayola website and Amazon.
Little Kids Inc. Peeps Sidewalk Chalk
In the shape of the iconic PEEPS bunny, this chalk will offer kids hours of outdoor fun and learning. Their size makes them easy to hold for little one's, and the bold colors will spark creativity. PEEPS Bunny Sidewalk Chalk is the perfect addition to your Easter basket this year. It can be found on Amazon.
Faber-Castell Do Art Watercolor Pencil Set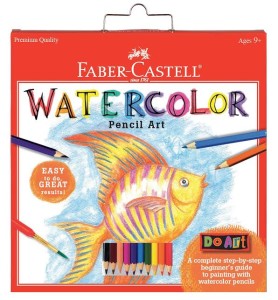 The Faber-Castell sets offer them a small project with endless opportunities to improve their artistic skills like the Do Art Watercolor Pencil Set includes 10 Watercolor Pencils in a plastic pouch, a watercolor paper pad and an instruction booklet. Children will expand their skills one project at a time while using great art products.  Priced less than $15 on Amazon or at your local Michael's store makes it an affordable gift for children ages 9 and older.
Creativity for Kids Hot Air Balloon Lantern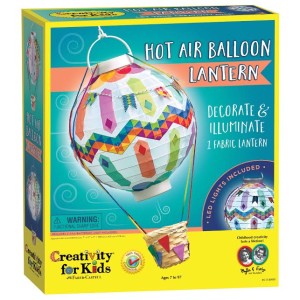 Need something to place in your tween's basket?  The Hot Air Balloon Lantern invites children to not only make art but to also make objects to decorate their rooms.  The kit includes all the necessary supplies except the batteries. Designed for children ages 7-17, this fun set is priced at $20 on Amazon.
Creativity for Kids Duct Tape Water Bottle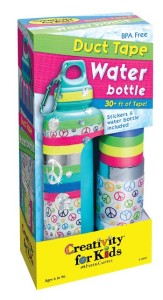 The Duct Water Bottle not only slips perfectly into the Easter Basket but it's perfect timing right before the summer heat begins.  Children can decorate their own water bottle, support the environment, and stay hydrated this season!  Creativity for Kids has this easy and engaging project where kids can express their individual style and taste using duct tape. Priced less than $13 on Amazon this is a unique item to include in your tween's basket.

Sensory Learning
Children learn best by engaging all their senses. This is especially true for little ones. Children with special needs also thrive on sensory based learning and discovery. In this themed basket, we have come up with some brain boosting suggestions to help stimulate all the senses:
Little Kids Inc. Bubbles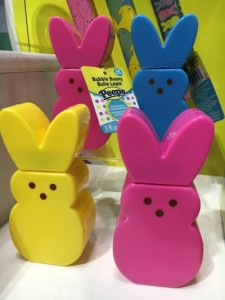 Did you know that bubbles are wonderful sensory-based learning tools that boost language development and visual scanning skills? Fubbles Bubbles are no-spill bubble containers that are perfect for spring and summer.  They come in mini, regular size and the bucket. Little Kids Inc. also offers PEEPS Bubbles products which are perfect for your kids' Easter baskets. What kid wouldn't want a PEEP shaped bubble container that offers hours of fun? Did I mention it is marshmallow scented?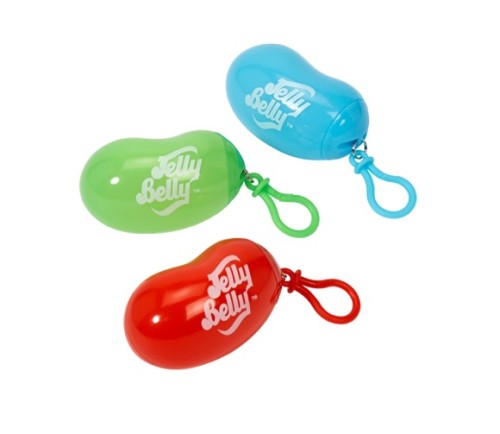 On-the-Go Jelly Belly bubbles are another great Easter gift that lets kids bring the sensory fun everywhere. Shaped like the iconic jelly bean, these scented bubbles engages all the senses while playing. These sweet bubbles can be found on Amazon.
New this year are the adorable Candy Shoppe Bubbles from the Candylicious Bubbles line. You can purchase them individually or in a pack of three: ice cream cone, popsicle and gummy bear. Each bubble container or set comes with a packet of Candylicious bubbles. For those that don't know, Candylicious bubbles are bubbles you can eat. You heard me correctly. You can actually eat the bubbles after you blow them. It is available in a variety of delicious flavors. Candy Shoppe Bubbles can be found on Amazon.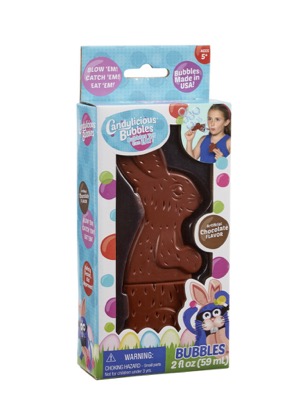 To make Easter even more exciting, Candylicious Bubbles has also released a "Chocolate" Bunny Bubble holder. Use chocolate flavored bubble solution, and you have a new Easter tradition! Candy Shoppe and Chocolate Bunny Bubbles can be purchased at stores such as Target, Toys R Us and Five Below.
Educational Insights PlayFoam Pals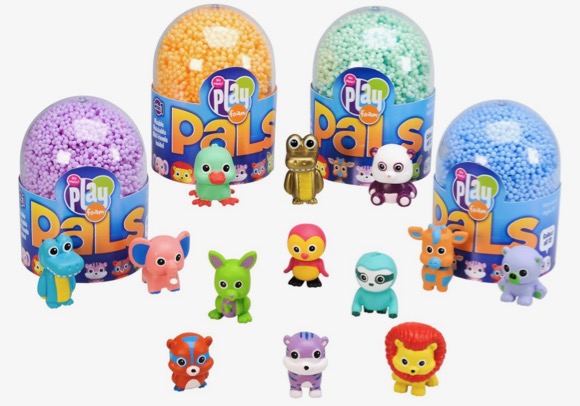 Educational Insights has developed a fun foam perfect for any sensory learning experience. Available in bright colors as well as in kits, PlayFoam will allow for hours of learning through play. You can use it to learn letters and numbers, make fun creations or even stuff inside an Easter egg to make for a more exciting hunt experience. This Easter add to the fun by getting PlayFoam Pals! Each pod contains PlayFoam and small character which encourages even more sensory learning fun through play!
Magformers' Dolce Spring Bunny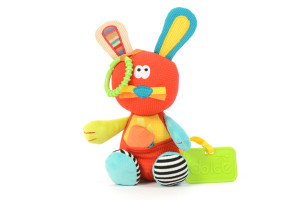 The Dolce Spring Bunny is not only perfectly themed for an Easter Basket but also for promoting a baby's developmental growth by encouraging their curiosity. From the various textures of its body to the rattle bell to the attached Dolce teether, there are plenty of ways to engage your baby's senses. Priced at $14.99, the Dolce collection has expanded to include chicken, dinosaur, cat and even an aardvark.
Little Kids Inc. Grow a PEEP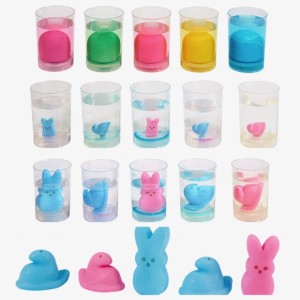 What kid wouldn't want to grow his own PEEP? Just add the egg to water and watch it hatch to reveal a bunny or a chick. Then replace the water with clean water and watch the PEEP grow. Not only is this a fun sensory experience, it also introduces kids to some scientific concepts. Grow a PEEPs can be found for under $20 for a pack of 4 on Amazon.
Relevant Play Mad Mattr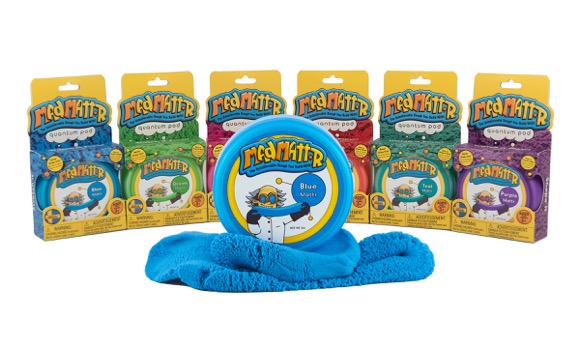 We were so excited to be introduced to Mad Mattr, a sensory toy that offers MESS FREE sensory play and learning. Mad Mattr is really soft, non-toxic, gluten-free, wheat-free and NEVER dries out! It comes in a variety of package sizes and colors. You can also purchase additional tools to make even more designs. Kids can play for hours molding their own creations! To learn more and purchase Mad Mattr, visit the Relevant Play website.
Tangle (ZURU)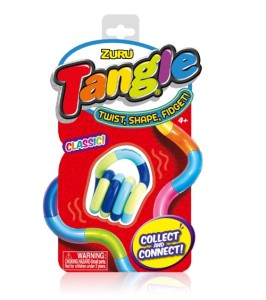 We love sensory toys and fidgets at Mommy University, and we especially love Tangle from ZURU. This fidget allows kids to move their fingers which, in turn, can increase their focus and attention. It can also be used to help calm a child (or adult) when upset or overwhelmed. Tangle comes in a wide variety of colors, patterns and designs making it appealing to all children. It is the perfect stocking stuffer for your sensory seeking or overly active child! You can find a variety of Tangle toys on Amazon.
Moose Toys Pikmi Pops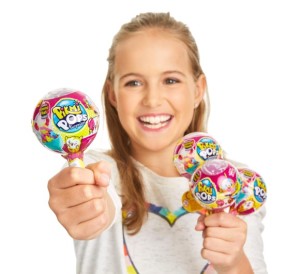 Pikmi Pops fit perfectly in an Easter basket and your child will be delighted when they unwrap their pop to reveal the soft and scented pikmi inside! The Pikmi Pops vary in size but your child will always be surprised. Inside are scented characters with additional surprises which can vary from charms to stickers. With over 50 varieties of Pikmis, they will always be kept guessing as to what they will receive. Prices vary on Amazon based on size.
Faber Castell 3D Sand Art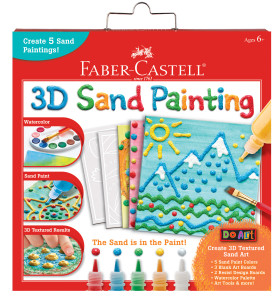 Faber Castell is on the cutting edge of art kits that expand how we think about creativity and the release of the 3D Sand Painting kit is not just inviting young artists to make art but also do so incorporating a new medium. The tactile and sensory project will encourage children to create 5 sand paintings! Keep your eyes open for this new release on the Faber Castell website.

Academic/Cognitive Development
What would a Mommy University list be without academics and cognitive development? Cognitive development is so important and essential for academic success. Here are some brain boosting Easter basket ideas that help build cognitive skills such as spatial awareness, visual-discrimination and problem solving as well as help increase academic skills such as math, writing, reading and more.
Mayka Toy Block Tape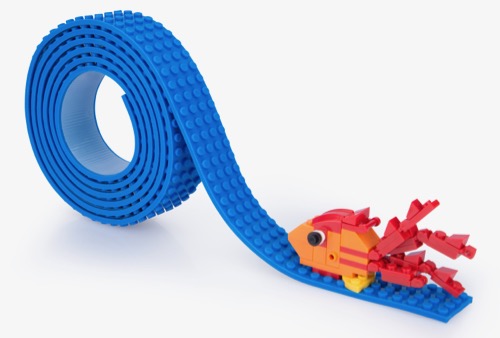 Build, create and play this spring with this innovative design. Mayka Toy Block Tape makes building possibilities endless as kids can adhere the tape to any surface for hours of imaginative play with their favorite building toys. The tape is compatible with LEGO and other construction bricks making it a versatile toy. You can cut the tape to meet your needs and the adhesive backing is reusable meaning it can be used in a variety of settings. Mayka Toy Block Tape comes in 3 sizes and 10 difference colors. You can buy them in packs on Amazon.
Shopkins Kinstructions Wave Mini Packs

If your kids love Shopkins, then they are going to love these mini Shopkins Kinstructions sets. Each set contains 30-60 pieces and accessories that kids use to build and create their own Shopkins world. The sets have mix-and-match figures and are comparable with all major construction brands. While building, kids are enhancing fine motor and visual skills. They imaginations are also sparked as pretend play is encouraged once the sets are built.
MindWare Dig It Up! Dinosaur Eggs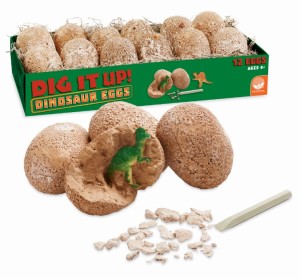 This is a great item to include in your budding paleontologist's Easter Basket! MindWare's Dig It Up! Dinosaur Eggs includes 12 eggs that your child will chisel out and discover a unique dinosaur in each egg. After the dinosaur has been revealed, children can compare the dinosaur against the included guide to learn more about it. Due to the popularity of the Dig It Up! series, MindWare has expanded the collection to also include Wild Animals, Big Bugs, Fossils & Minerals and Fairies. Priced at less than $25 on Amazon, this Easter Basket feature will make your child roar with joy!
Faber-Castell Alphabet Flash Cards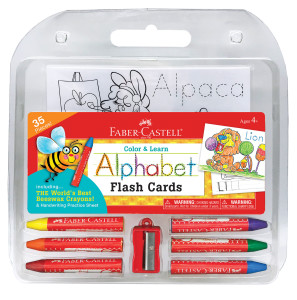 A wonderful combination of art and learning is found in the NEW Color & Learn Alphabet Flash Cards from Faber Castell. The set that comes in a handy travel case allows children learning the alphabet to make their own flashcards using soft crayons. There is also a dry erase tracing mat to practice writing. Learning the alphabet just became a fun art project, and priced at $10 on Amazon, this is a great addition to any Easter Basket.
Spark!Lab Smithsonian Inventor's Studio

In partnership with the Smithsonian, a product line was designed to spark a child's imagination while promoting STEAM skills. The Inventor's Studio follows the philosophy of Think it! Explore it! Sketch it! Create it! Try it! Tweak it! Sell it! Included in the set is a journal and supplies for children to follow the process to invent. Ideal for children ages 8 and up, it will encourage children to think outside the box. It is priced at $20 on Amazon.
VTech Learn and Spin Aquarium
Let your little ones dive into learning with the new Learn and Spin Aquarium. This adorable toy spins, lights up and plays music which engages kids senses allowing for hours of learning through play. While playing, kids will be introduced to concepts such as colors, numbers and animals. Kids will also learn cause and effect as they push the plunger down to hear fun songs and phrases. This toy is recommended for ages 9-36 months. It can be purchased on Amazon for under $20.

Game Time
Let's have some brain building fun this Easter with some amazing games. Games help enhance a variety of skills such as problem solving, cooperative play, spatial awareness, turn taking and more. Here are some games the kids will love this Easter.
Goliath Jumping Jack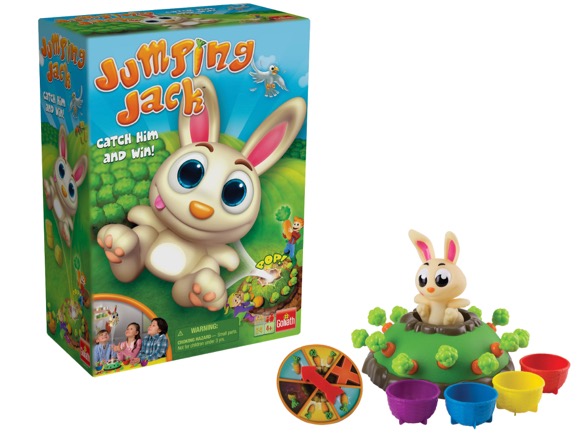 How cute is this game? It is perfect to celebrate Easter too! Jumping Jack is recommended for ages 4+ and can be played with 2-4 people. Each player spins the spinner to see how many carrots they have to pull from Jack's bunny hill. One carrot will make Jack jump but no one knows which carrot that will be making the game new and exciting each time you play! This is a fun game that helps enhance fine and visual motor skills as well as cause and effect. Jumping Jack can be purchased on Amazon for under $20.
North Star Games Funky Chicken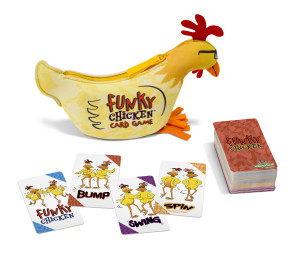 Funky Chicken is a new release part of the Happy Planet series games from North Star Games that encourages the whole family to get involved and move their body while laughing. Cards invite players to perform different dance moves and it's easy to get individuals of different levels involved. Recommended for ages 6 and up, each game lasts about two minutes so this game moves at a pace that keeps everyone's attention. Keep your eyes open for this new release to hit the shelves!
Goliath Giggle Wiggle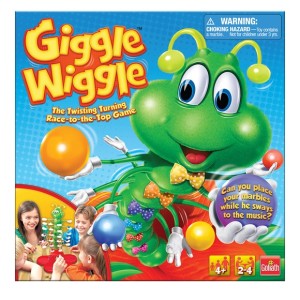 Giggle Wiggle is a fun and engaging game kids will LOVE! Players race to see who can get their marbles to the top of the tower first but be careful because the caterpillar wiggles to the music so your marbles can fall at any moment. This is a great game to enhance color recognition, fine motor skills, visual-motor integration, patience and problem solving skills. Giggle Wiggle is recommended for ages 4 and up. It can be found on Amazon and your local toy store.
MindWare Travel Qwirkle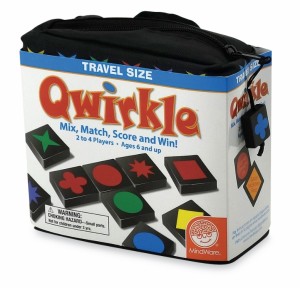 Qwirkle is a strategy game where everyone in the family can participate. Players match the 108 tiles by either color or shape earning points; however, creativity can garner higher points. The game allows for 2-4 players with the youngest recommended age being 6. The Travel Size Qwirkle not only fits in the Easter Basket but is a convenient size for road trips or day trips this summer. Sold for less than $15 on Amazon, it is a classic game that will keep everyone engaged.
 North Star Games Happy Salmon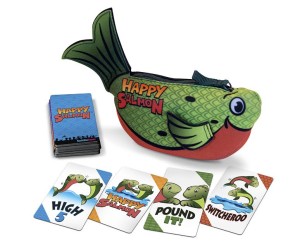 Compact but packed with lots of fun, Happy Salmon had us laughing within minutes! Players have to match their cards with another player and act out the physical celebration. It encourages quick thinking and has built-in celebrations as each match is made. Everyone can participate in this game that we know will have you laughing. It is designed for 3-6 players for ages 6 and up. Priced on Amazon for less than $15 this fits nicely in your child's stocking.
Maximum Games Beast Quest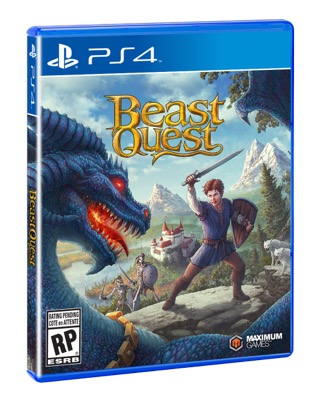 We are so excited to include our first video game in any of our guides! We decided to include Beast Quest because it is based on a best selling book series in the UK so not only does this game encourage pretend play, but it also encourages a love of reading! When playing, children enter into a world of fantasy and adventure that can be carried over into imaginary play when not using the game. Beast Quest will be available March 13 for PS4, Xbox One and Windows PC. You can pre-order it now on Amazon!

Pretend Play
Encouraging kids to use their creativity and imagination has amazing developmental benefits. Not only do they enhance language development and story telling skills, kids also increase self-esteem and self-confidence. Here are some toys that will help encourage imaginary play this Easter.
Crayola Color Alive Funny Faces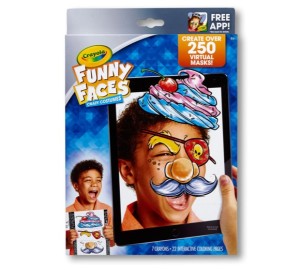 Kids love technology, and at Mommy University, we LOVE products that encourage STEAM play. The new Color Alive Funny Faces from Crayola combines a child's love of art and technology to promote pretend play! Funny Faces comes in 2 designs: Crazy Costumes and Zany Zoo. Each set comes with 11 pages to color and 7 crayons. Kids color their pictures in their own unique way then scan the drawing to the FREE app. They will love watching their drawings come to life as virtual masks. These sets are perfect for your budding artist!
Moose Toys Little Live Pets Baby Chick
This Easter, get your little ones their very own chick! I don't mean a real one (well unless you want that too), but a toy one that actually hatches out of an egg. Your child will wait in excitement and anticipation for their new friend to hatch. The little chicks will also chirp and hop making them perfect for encouraging pretend play. You can even get a Chick House for their new pet! The chicks and their house can be found on Amazon.
Tonka Tinys Blind Box Vehicles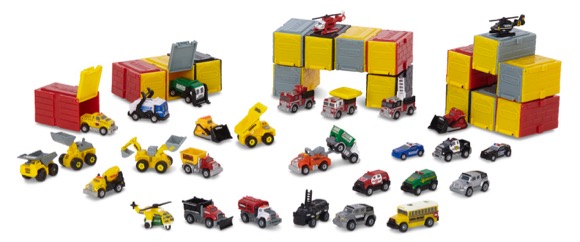 If your kids love trucks and cars, then they will LOVE finding Tonka Tinys Blind Box Vehicles in their Easter Basket. There are over 80 micro-sized replica vehicles to collect each coming with its own garage for storage. They might be tiny but they pack BIG fun! Tonka Tinys can be purchased at Toys R Us, Walmart and Amazon.
Creativity for Kids Stunt Squadron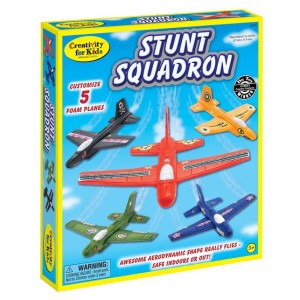 Are you looking for a toy that encourages art or how about one that promotes getting outdoors and playing?Well, Stunt Squadron might be the toy for your children. Kids are provided with the ability to put together five foam planes and decorate them however they would like. The second part of this toy encourages children to run around and play with the planes they created. Throwing the planes helps improve motor planning and hand-eye coordination as well as spatial awareness. Priced less than $20 on Amazon, this is a great toy that achieves different goals in learning.
ZURU Smashers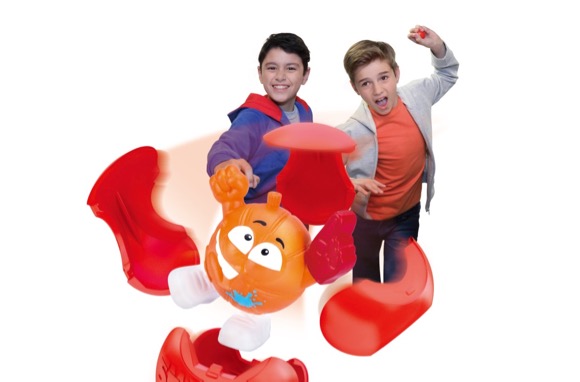 Smashers is a new collectable from ZURU that has over 100 characters to collect. Each character is housed inside a smashball. To get to their new toy, kids must smash the ball for it to open. Add to the learning fun by having the kids try to rebuild the smashball which helps build fine and visual motor skills. Smashers Series 1 is sports themed which leads to endless opportunities for pretend play. Smashers come in packs of 1, 3, 8 and 12. You can also purchase tins and buses for even more fun! These sets can be purchased at local stores such as Toys R Us and Walmart.
Shnooks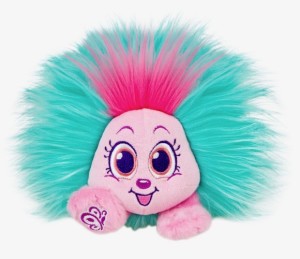 Shnooks offer a unique play experience from the moment you open the package. Kids open the bubble package, shake their Shnook and then watch them grow 8x in size. It is a magical experience! There are 6 characters to collect each with their own style and personality. Each one comes with a comb, friendship hair clip and 4 hair ties. Kids will have so much fun cuddling, styling and playing with their new best friend. Shnooks offer great opportunities for sensory play as well as encourages creativity and imagination. You can pick up Shnooks on Amazon, Walmart and Toys R Us.
Build & Imagine Career Dolls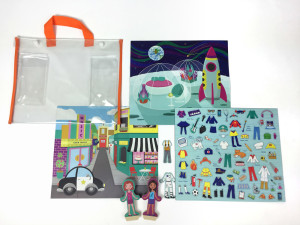 The Career Dolls from Build & Imagine approaches imaginative play with a whole new approach as children can act out different careers. Equipped with two wooden dolls, magnetic scenes, twelve different professions, as well as a carrying case children can explore different fields such as the president, police officer, and fire fighter. Like other Build & Imagine toys, storytelling is an active component. Adding accessories into the scene, they will create their own narratives for this fun toy. Priced less than $15 on Amazon this is ideal for children ages 4-8.
ZURU 5 Surprise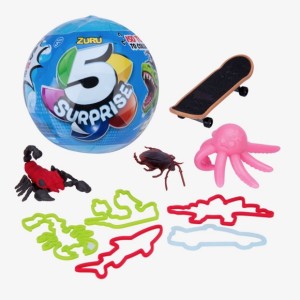 5 Surprise is the ULTIMATE blind bag! Kids don't just get ONE toy inside, they get FIVE! 5 Surprise comes in pink and blue offering options for boys and girls. The ball opens into 5 sections with each section holding a surprise toy. Toys range from little dinosaurs to slime to sticky ninjas to combs to characters. There are 300 toys with 100 new toys released every 6 months so there is something for everyone to enjoy! ZURU 5 Surprise can be found at BJ's.
Creativity for Kids Teeny Tiny Tea Set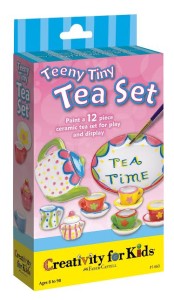 The Teeny Tiny Tea Set is adorable! Children can now decorate a miniature tea set which they can use for their dolls. This stocking stuffer is a wonderful blend of art and pretend play. I can see many children having a wonderful time painting the set expressing their artistic ideas and then using this set in imaginative play. Designed for children ages 7 and older it includes 12 pieces for them to paint. Priced less than $10 on Amazon this is a wonderful addition.
Simplay3 Carry & Go Track Table

If your child is obsessed with trains or cars or even both, then the Carry & Go Track Table may be the perfect Easter Basket for your toddler this year!  On one side is race track where children's imagination can stay on the tracks or go off track. On the other side is an eight track with a lake and quarry.   This uniquely designed toy will encourage plenty of hours of pretend play indoors or out! Priced at $39.99 this NEW toy is available on Simplay3 website.
I hope you have enjoyed our list of educational and exciting toys you can put in your child's Easter Basket!