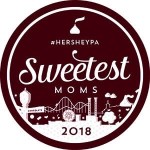 I am so unbelievably excited to be chosen as one of Hershey, PA's Sweetest Moms. Through this program I am able to bring you all the sweet adventures Hershey has to offer this year. I have been provided passes, tickets and/or compensation for my reviews but all opinions are my own as I have always been a big fan of Hershey!
Every year, we take a family vacation to Hershey, PA, and for the past several years, my mom and stepdad have been coming along for the adventure. They LOVE the sweetest place on Earth as much as we do; however, their idea of fun can vary a little from ours. Although Hersheypark is a great travel destination for all ages, everyone can enjoy the park in different ways. I have already provided tips on visiting with kids so now I would like to share some tips to make it a successful experience when grandparents come along for the fun!
Hersheypark is open during EVERY season, and each time of year offers a unique experience. Since it is only a 2.5 hour drive from my parent's house, it is the perfect destination when wanting to travel with the grandparents. We have visited during the winter and summer months with my parents, and they loved each visit. Our many adventures have offered learning experiences for everyone including teaching me ways to make the trip the most enjoyable.
Tips for Visiting Hersheypark with Grandparents
Stay on Property
Hershey, PA offers 3 AMAZING lodging options: The Hotel Hershey, Hershey Lodge and Hersheypark Camping Resort. Although my family loves all 3, my parents are partial to the camping resort. There is just something so fun about staying in a cabin, eating a home cooked meal and roasting marshmallows on an open fire. It is a wonderful bonding experience!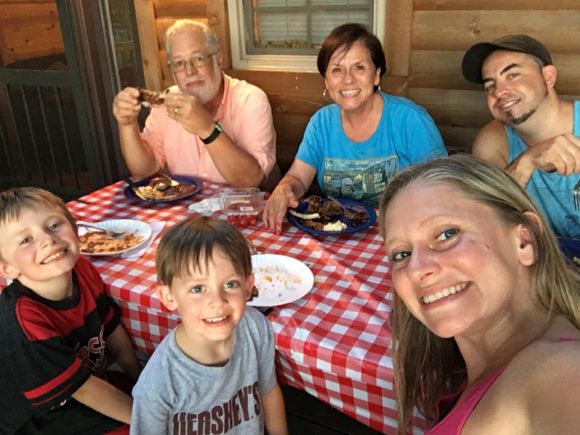 By staying on property, guests are able to enter the park an hour earlier than other park guests. This allows for less crowds when going through the ticket line. There is also less commotion when trying to get to a specific destination.When you stay on property, you are also provided FREE transportation. This means less time is spent finding a parking spot. The bus stops also offer shorter walking distances to the entrance of the park. If the grandparents, however, do you not like to wait for their rides to arrive in order to return to the resort, then I recommend driving and paying for premier parking. This may be more expensive, but the spots are much closer to the entrance.
Rent a Wheelchair or ECV
Before entering the park, guests can rent wheelchairs or ECVs (Electric Convenience Vehicles). When I was a kid, my father had the gout for one of our trips so he rented an ECV. This allowed him to get around the park easily and keep up with the rest of the family. It also allowed him to still be independent as he could control the scooter himself. With the ECV, the entire family was also able to enter rides from the handicap entrance instead of waiting in the regular line. You can learn more in the Park Accessibility Guide.
Rent a Cabana
Let's be honest, grandparents need downtime just like our little ones do. That is why we rent a cabana every summer when we visit Hersheypark. The cabana offers a shaded space to rest and relax on a hot summer day. It offers chairs, towels, sunscreen and water as well. My parents love relaxing at the cabana with the kids while my husband and I enjoy some coasters! Learn more about the cabanas here.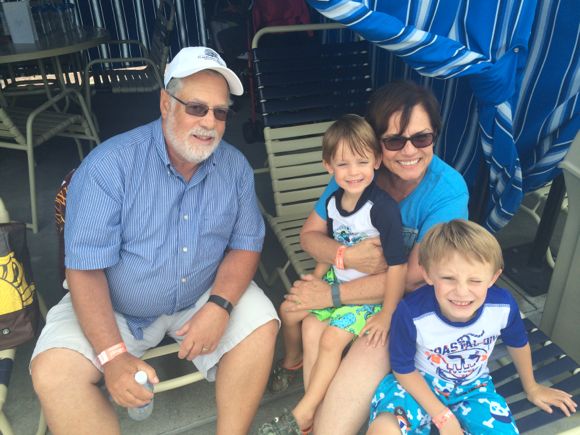 Stay Hydrated
Outside food and beverages are not allowed inside the park so it is important to find a way to stay hydrated. Hersheypark has a lot of hills which can make walking tiresome at times. That also means families will need to drink a lot of fluids. I recommend purchasing the refillable mug as this offers an affordable way to stay hydrated. If you rent a cabana, unlimited soft drinks and lemonade as well as bottled water are included.
Let Them Help
Let's be honest, having the grandparents come on vacation is like having built-in babysitters! Take advantage of this opportunity to enjoy some thrill rides at the park. Each year, my parents watch the boys as my husband and I ride some of the best amusement park coasters around.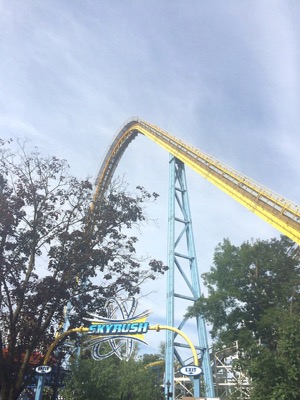 Choose Rides Wisely
There are some rides the grandparents may want to stay away from but there are plenty they will LOVE! My parents have several rides that are on their MUST DO list every time we visit. Here are some they recommend for fellow grandparents:
Lazy River
Monorail
Train
Cocoa Coaster (My mom loves this small family coaster!)
Kissing Tower
Twin Turnpike – Classic Cars
Sweet Swing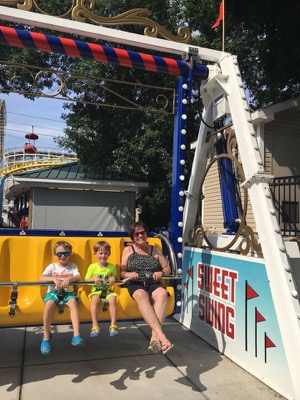 I hope you have found these tips helpful when planning your next sweet adventure at Hersheypark!
Do you have questions about visiting Hershey, PA? Put them in the comments below and I will get you the answers you need!
You may also enjoy: