Looking for fun and unique ways for your kids to celebrate Easter and enjoy spring break? Do your kids love arts and crafts? Then you have to check out this spring's Easter themed crafts and the Spring MAKE Camp at your local Michaels craft store. Since my kids have been old enough to hold a crayon, I have been bringing them to Michaels to create fun and unique crafts. Not only is it a fun way to encourage a love of art, it is also really affordable.
This spring, Michaels is not only offering their usual Saturday Kids Club events and MAKEBreak events, but they are also offering a spring break camp for kids ages 3-8 years old! As usual, the Kids Club events take place every Saturday from 10am-12pm and costs only $2-$5. MAKEBreak are FREE events that take place from 1pm-3pm on Saturdays. Each experience offers a fun way to celebrate the holiday season! Here is the list of Kids Club and MAKEBreak Events: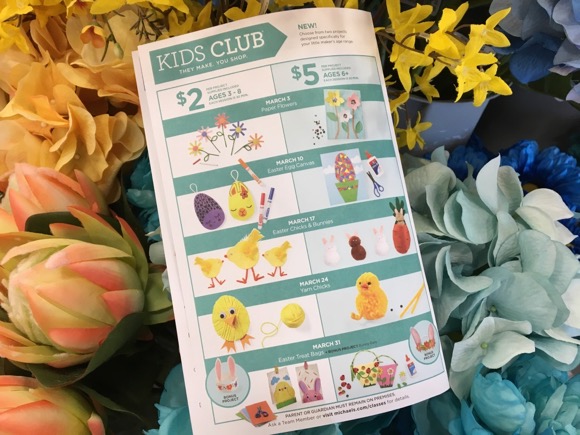 March 3: Kids Club Paper Flowers
March 3: MAKEBreak Clay Pots
March 10: Kids Club Foam Easter Egg
March 10: MAKEBreak Spring Wreath
March 17: Kids Club Easter Chick and Bunnies
March 24: Kids Club Yarn Chick
March 31: Kids Club Easter Treat Bags
April 7: Kids Club Spring Kites or Windsock
April 14: Kids Club Tissue Paper Mache
April 21: Kids Club Earth Day Craft
April 28: Kids Club Spring Showers Craft
The Spring MAKE Camp takes place Monday – Friday, and the dates will depend on your local store. Each day will offer new and unique crafts, and the cost will depend on the project the child chooses. All children ages 3-8 can choose one project that costs only $2 while children ages 6 and up can choose a more challenging project for $5. Each activity not only expands a child's artistic abilities but it is also engages all the senses while enhancing fine and visual motor skills.
Another great event this April is MAKEathon which takes place April 8-13 at your local Michaels. The event takes place in the afternoon/evening and is FREE to participate. Each day features a different craft.
April 8: Photo Frames
April 9: Paper Crafts
April 10: Accessories
April 11: Slime
April 12: Yarn Craft
April 13: Slime
To learn more, visit the Michaels website and your local store!
You may also enjoy: