Mommy University is so incredibly excited to partner with New Jersey Performing Arts Center (NJPAC) to bring you information on some of the best family friendly shows in NJ. We are especially excited to offer you the opportunity to win 4 tickets to see Moon Mouse: A Space Odyssey!
This March, NJPAC brings you an incredible show presented by Lightwire Theater! During this glow-in-the-dark experience, Marvin the mouse will take audience members on a space adventure they will never forget. Marvin, a mouse who longs to be popular, is often bullied by the "cool" rats. He is often called a geek and a loser so he escapes to the comfort he finds in his science books.
Marvin creates a fantasy world where he is the hero. He travels to the moon on his homemade rocket and meets some misfit creatures. He hopes to make all his dreams come true and become accepted by others. Will his dream become his reality? You will have to see the show to find out.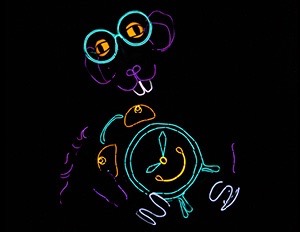 For those that don't know, Lightwire Theater offers a unique theatrical experience that will leave you inspired and awe-struck. They use electroluminescent artistry to bring stories to life on stage. It is a wonderful way to bring together art, theatre and technology!
Moon Mouse: A Space Odyssey will be at NJPAC March 3 at 2pm. Tickets can be purchased in advance on the NJPAC website. BUT WAIT…You can enter to win 4 tickets right now!
Here are the rules and conditions for this giveaway:
Participants MUST live in the United States.
The winner will be chosen by Rafflecopter.
The contest will run from February 17 through 12am on February 26.
The winner will be announced on February 26.
The winner will have the tickets waiting at Will Call at NJPAC.
The winner must respond within 1 day or another winner will be chosen.
To enter, participants can earn entries by: visiting the Mommy University Facebook page (likes are appreciated but not required), following Mommy University on Twitter, sharing the contest with friends, leaving a blog post comment, joining our email list and providing an email address.
No purchase is necessary to win.
Your chances of winning are dependent on the number of entries received.
Enter here: a Rafflecopter giveaway
You may also enjoy: