When people think of the city of New Orleans, they often think of Mardi Gras. No matter what your perception is about this iconic experience, Mardi Gras is an event that fascinates people all over the world. Visiting New Orleans during Mardi Gras season, however, can be very difficult but you don't have to visit in February to get a feel for the magic!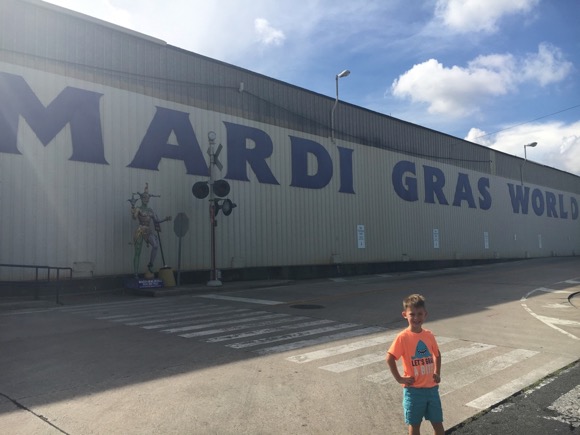 Located on the South end of the Convention Center, Mardi Gras World opens its doors to guests 7 days a week all year-long allowing visitors a firsthand look at all the excitement, intrigue and artistry involved in the creation of Mardi Gras season. Kern Studios started in 1932 when they built their first Mardi Gras float. It was officially founded in 1947, and the museum opened its doors to the public in 1984. The staff at Mardi Gras World build over 500 floats every year, and you can watch them in action as well as take a walk through history when you visit this iconic building.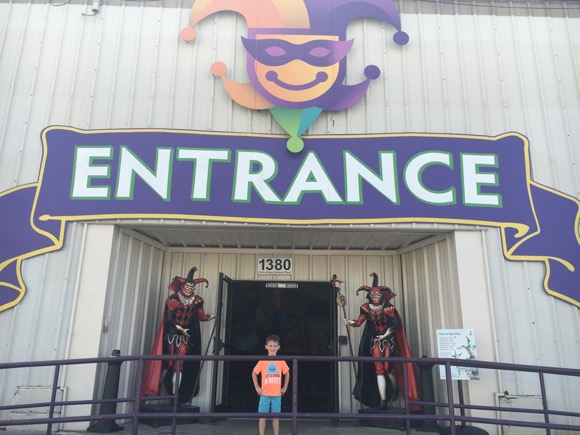 Tours take place every 30 minutes and are guided by knowledgable staff members who will tell you all about Mardi Gras and the floats you see during the tour. The experience starts with a video about Mardi Gras explaining its rich history and importance to the people of New Orleans. At the conclusion of the video, guests are treated to a piece of King Cake, another Mardi Gras tradition.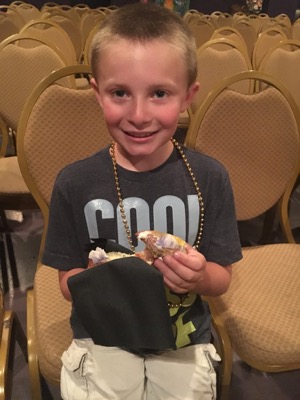 Guests are then brought onto the showroom floor that is inspiring from the moment you enter. A tour of Mardi Gras World is a truly immersive experience that allows guests to feel as if they are really a part of the Mardi Gras experience and history. It is an adventure individuals of all ages will enjoy. Here are some highlights of what you will experience.
Fun Experiences at Mardi Gras World
See Where It All Begins
As you walk through the museum, you will see artists creating floats that will be featured in the upcoming Mardi Gras parades. These incredibly talented artists work year round to create the most spectacular and beautiful floats you will ever see. It is amazing to witness the creation process in person!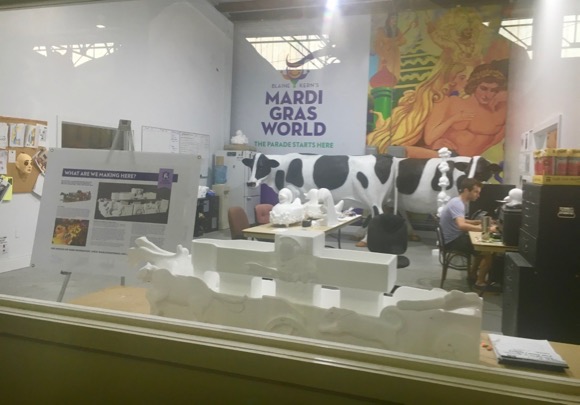 Guests will witness float creation from start to finish. You will first walk by the room where the floats are conceptualized and imagined. You will then see them being meticulously carved out. It is amazing to be able to see what they look like before the paint is added.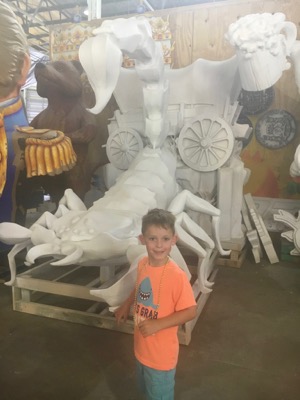 Lastly, you will see them painted with care and precision. Watching this process encourages an appreciation and love of art.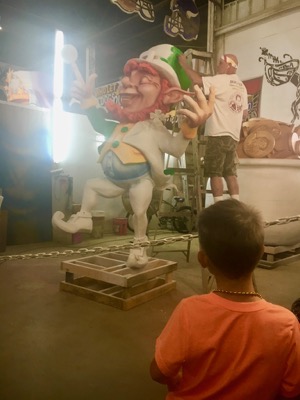 Take a Walk Through History
As you walk through Mardi Gras World, you will see hundreds of artistic creations made just for Mardi Gras. From iconic Disney characters to Jesters to celebrities to flowers, there are so many sculptures that will amaze you. What I found really interesting is that many of the sculptures are used again but altered to be something else.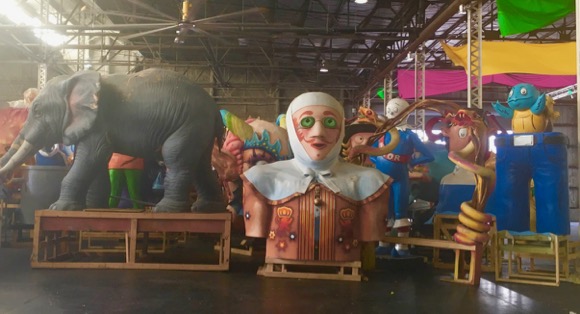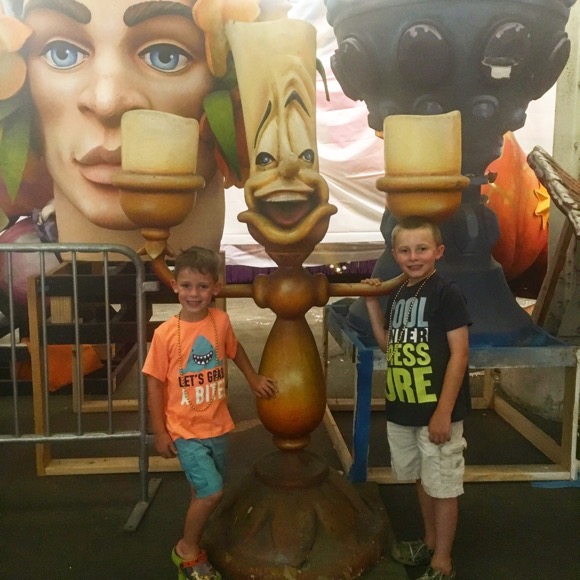 Be a Part of the Fun
At Mardi Gras World, guests have the opportunity to not only see iconic sculptures and floats but to take pictures of them and with them. Since during an actual parade it is hard to get this close to a float, this museum offers a truly unique experience.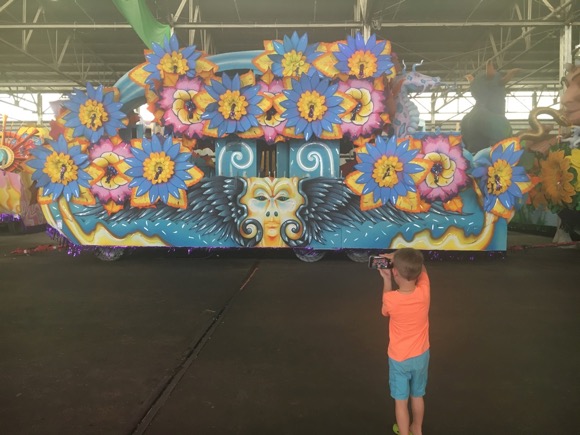 We loved walking around the showroom floor (or the float den as they call it) and studying the details in each piece of art. We also loved finding characters we know and love like Thing 1 and Thing 2, King Kong, Santa Clause and even Abraham Lincoln.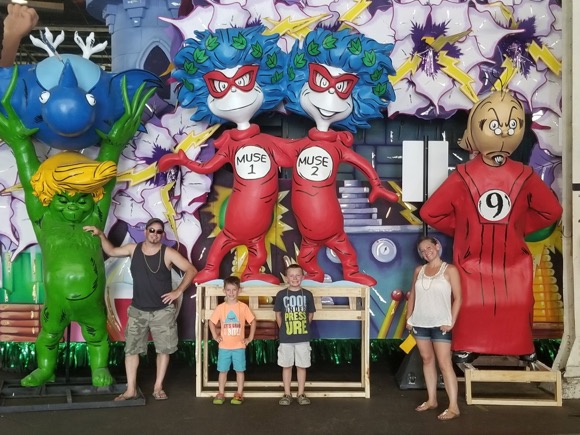 I could have stayed there all day admiring the hard work put into such beautiful works of art!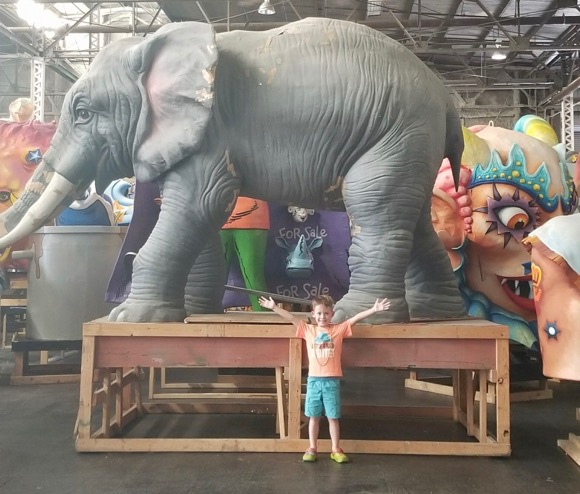 Mardi Gras World can be accessed by car but a FREE shuttle is also offered with pick-up locations downtown and in the French Quarter. Admission is $22/adult, $14/child ages 2-11 and $17/senior age 65+. College students with a valid ID only pay $17. The first tour begins at 9:30am and the last tour is at 4:00pm. Each tour lasts about 1-1.5 hours but you are welcome to explore the showroom floor for as long as you would like at the end of the tour. To learn more and purchase tickets, visit the Mardi Gras World website.
You may also enjoy: