A Mommy University review of Museum of Discovery and Science
Attracting millions of visitors every year, Fort Lauderdale is characterized by sunshine and the beach. Yet, there are so many activities, locations and experiences that empower families to have fun while learning. The Museum of Discovery and Science (MODS) boasts two expansive floors that host hands-on fun where children learn through play.
When visiting my family in the Sunshine State, we strive to visit a new space that enables my kids to run and play while learning. MODS inspires children to engage with science and sparks their curiosity. As we waited outside for this science museum to open its doors, we watched the Great Gravity Clock which is one of the three in the world. Standing at 52 feet tall in the atrium, the clock is the biggest kinetic energy sculpture in Florida. It is a fascinating design that appears like an oversized marble maze that uses gravity to tell time. This introduction to MODS was just a hint of what is inside!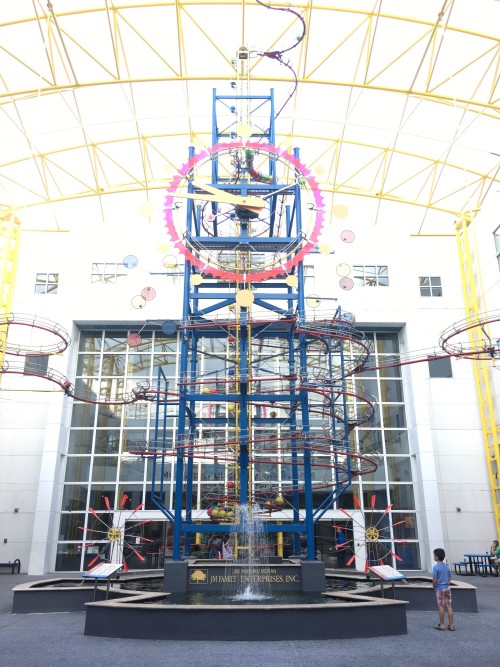 5 Spaces We Love at Museum of Discovery and Science
Otters at Play
My favorite space is an enclosure on the first floor that contains four rescued North American River Otters. Children can learn about these unique creatures with tactile features that highlight information about their habitat to their bodies. With a seating area that faces their swim area, it is a delight to sit and watch these precocious creatures swim!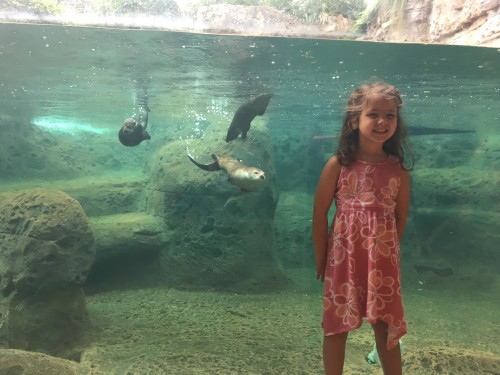 The Discovery Center
Designed for children 6 and under, the Discovery Center offers lots of features that promote little ones to develop their gross motor and problem solving skills. They can make bubbles at a table, pick oranges from the tree and pack to send to the store, climb in a jeep and even climb a treehouse. As well, there are big blue blocks from Imagination Playground to make their own structures!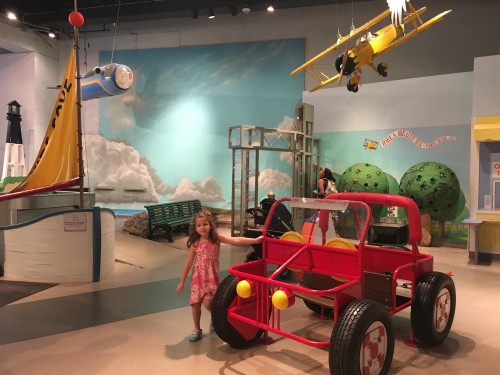 Florida Ecoscapes
As soon as you enter MODS, you will see the Florida Ecoscapes which are several spaces highlighting the creatures found native to the ecosystem. Children can meet alligators or gawk at fish, but definitely stop by to meet a massive lobster that is not camera shy! This permanent exhibit is over two floors with the second one dedicated to more creepy and crawly critters. My son enjoyed looking at lizards and tarantulas (see below)!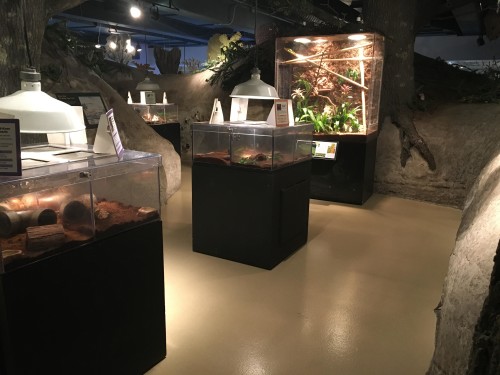 Prehistoric Florida
My son may have loved the Prehistoric Florida exhibit the most because you can safely step into the mouth of a Megalodon Shark! This is not only a phenomenal photo opportunity but an invitation to step back in time. Children can enhance their understanding of the ecosystem of Florida when the Sabre Tooth Tiger and Imperial Mammoth roamed the Earth.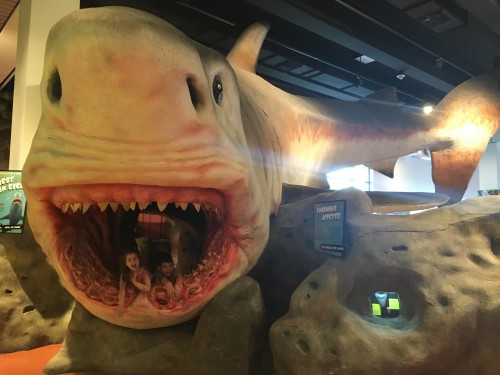 Flight Simulators

While most of the spaces I have mentioned are located on the first floor, there are several flight simulators on the second floor! Some of the simulation experiences are multi-sensory; however, there is an additional cost. We opted for the free flight and car simulations where my children hopped into as they maneuvered the vehicles. We also didn't ride on the Everglades Airboat Adventure on the first floor which exposes to families the unique ecosystem.
Although we had a blast playing with these permanent exhibits, there is also the Storm Center, Dino Boneyard and the Rock Mineral Wall. In addition, the Science Park which is an innovative playground that promotes scientific concepts will be opening March 23, 2018. This expands the fun at MODS to be indoors and outdoors!
Mommy University Tips
Our membership to Liberty Science Center enabled us to get two free tickets to MODS because both are part of the Association of Science Technology Centers. Check to see if your memberships enable you to receive FREE admission!
MODS is also listed as an eligible museum for the Bank of America Museums on Us on select weekends.
If you don't have a membership that has a partnership with MODS or Bank of America card holder, check out Groupon before you visit.
Be prepared on weekends and rainy days, MODS is a popular destination.
There are snacks options next door, but you can also pack a lunch.
A pay and display parking garage is located across the street to MODS.
MODS Hours
Monday-Saturday 10 am- 5 pm
Sunday 12 pm – 6 pm
Museum of Discovery and Science is located at 401 SW Second Street, Fort Lauderdale, FL 33312
If you like this post, you might like: