Go Boldly into Outer Space with Star Trek!
When Star Trek hit television screens in 1966, it empowered viewers to go boldly into outer space exploring the possibility of what might be in other worlds and galaxies. It also demonstrated the ability for us to have characters of diverse backgrounds and complex roles. Decades later, this show has been re-imagined in different series and many movies that have inspired generations.
In Jersey City, you can now study at the Starfleet Academy to obtain a position on the USS Enterprise! Liberty Science Center has opened its largest traveling exhibit which is so massive it absorbs two exhibition spaces. It is an absolute treasure for those who are Trekkies, sci-fi buffs or just a budding science fan. While some of the technology does not exist (I am still rooting for a teleportation device), some of what was first imagined in 1966 is here.
When you arrive at the exhibit you will be given a wristband which, when scanned, gives you access to the activities. Once the activity is completed, you will have to wait 5 minutes before using it to repeat that activity; however, there are a lot of stations to visit.
Before entering you will scan the wristband at a station to enter your name and email address. After completing the different stations, you can find out which position you have been assigned. The exhibit is not included with General Admission so there is an additional cost to visit. It is so detailed that I recommend carving out two hours to spend at this location and here are some reasons why!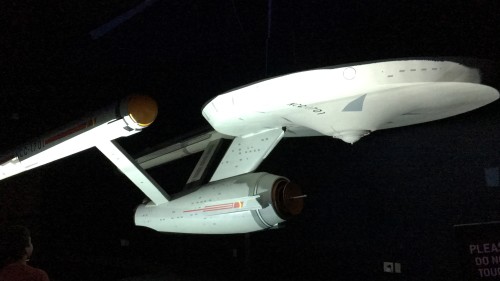 5 Activities Children Will Love At
Star Trek Starfleet Academy Exhibit
Teleport Yourself
For anyone that has had to sit hours before a flight on the airplane or taken a roadtrip across country, you probably secretly wished for a teleportation machine. With the push of button, you move from one location to another which is a signature of Star Trek.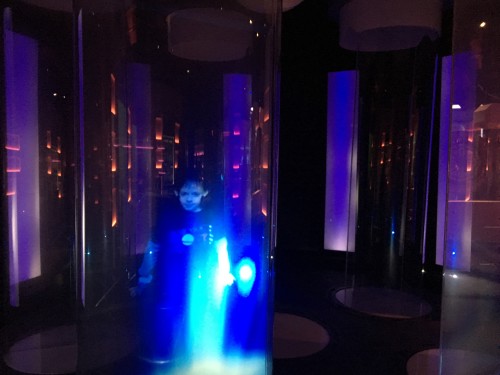 Plot a Path to Safety
One of the first stations available at Starfleet Academy offers visitors the opportunity to plot a path for the USS Enterprise. You can add seven plot points to direct the ship past obstacles that can destroy the ship.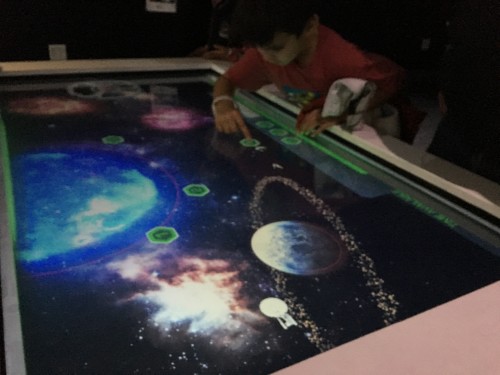 Scan a Klingon
On the USS Enterprise, some of the enlisted personnel and officers work in medical. At the Starfleet Academy, you can scan a Klingon and attempt to identify what is ailing him.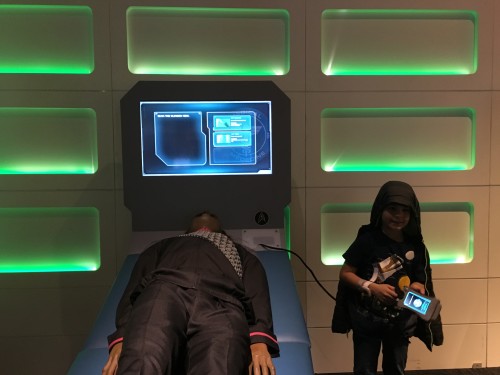 The Kobayashi Maru Exercise
It is well-known in Star Trek history the significance of the Kobayashi Maru. It is an exercise that no one has successfully completed until James T. Kirk did. Now, you can try your hand at tackling this exercise as you make decisions that impact how many lives are saved from this ship under attack.
Visit the Bridge
My personal favorite space is sitting in the Captain's chair since this space is a replica of the USS Enterprise. Some of the chairs have the Kobayashi Maru exercise but it is also an opportunity for our imaginations to soar. Whether you are a child or an adult, it's fun to picture yourself aboard this iconic vessel to boldly go where no one has gone before!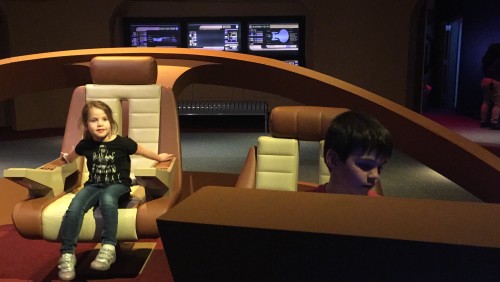 While these are a few highlighted spots to visit at the Star Trek: The Starfleet Academy Experience, there are more to enjoy. Star Trek is open now until May 28, 2018 and is additional cost to general admission. General admission tickets are $21.75 for adults, $18.75 for seniors 62+, and $17.75 for children ages 2-12. Museum members and children under age 2 are FREE. Liberty Science Center is open in the fall and winter Tuesday-Sundays (closed on Mondays) except on holidays. To learn more, please visit the LSC website.

If you like this post, you might like: