American Girl is inspiring children to tour the galaxy!
American Girl has been inviting children to look back at our history as much as look to the future, and the 2018 Girl of the Year Luciana Vega is reinforcing the belief that girls can achieve what they imagine! Despite location or time, generations of people have looked up at the night skies to dream about possibilities. As new technologies emerged in American history, Neil Armstrong walked on the moon proving to millions of people that anything is possible. While this was impressive for me, my personal hero was the first female American astronaut, Sally Ride.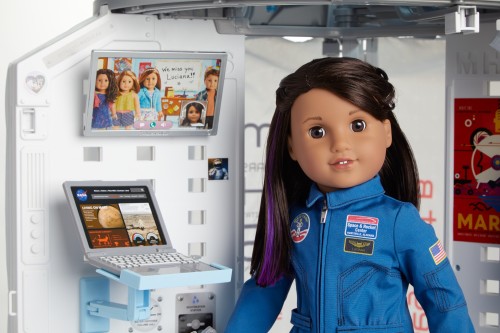 Representation matters which is why the world has been buzzing with excitement about this new doll. Luciana Vega is a budding scientist that dreams of exploring the galaxy. An 11-year-old girl of Chilean descent, Luciana tinkers in her maker lab and has a personal mission to be the first person to visit Mars! Luciana wins a scholarship to Space Camp in Huntsville, Alabama. While she becomes an astronaut trainee she must be brave, maintain unwavering curiosity and channel her spirit to overcome unexpected challenges. She is a doll that inspires young girls to think about STEM careers through imaginative play.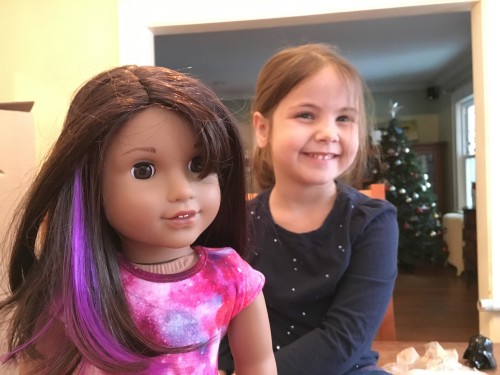 Although, I do not have a scientific background, I have fallen in love with science. However, sharing that interest with my daughter has been difficult. We have brought her to science museums, completed science experiments and read nonfiction books, but she is looking for a story that garners her interest. Immediately she identified that Luciana wants to go to outer space when she saw the box and her clothes. A spark has emerged to think about astronomy and science. She wants to bring Luciana on some of our family adventures so that she can enjoy science!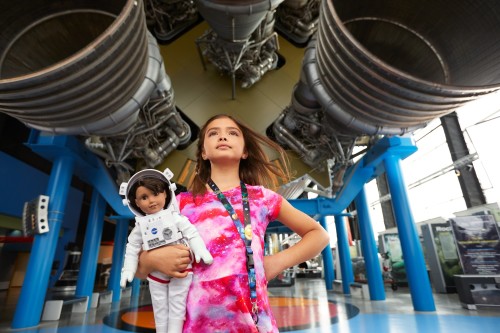 The 18" Luciana has light brown skin, warm brown eyes and straight brown hair with a streak of purple hair. In addition to her pink galactic inspired dress, she also arrives with a silver choker necklace, star necklace and the Luciana paperback book by Erin Teagen. The Luciana book series, published by Scholastic, has three books that were written with feedback from Dr. Ellen Stofan (former NASA Chief Scientist), Dr. Deborah Barnhart (CEO and Executive Director of the U.S. Space & Rocket Center), Dr. Megan McArthur Behnken (NASA Astronaut) and Maureen O'Brien (Manager of Strategic Alliances at NASA). Additional accessories that can be purchased include not only the Flight and Space Suit and a Maker Station, but also a Mars Habitat. The opportunities for young girls to develop a curiosity about STEM careers through pretend play is out of this world!
Established in 1986, American Girl has quickly become the premier location to get the doll for your child. Well-known for their historical dolls from different eras and various backgrounds, American Girl later expanded to include dolls from modern times like Luciana. Accompanying these dolls is their own unique stories expressed over several books. With American Girl, children are encouraged to imagine a world that is different from their own as much as inspiring them to explore a new mission. If you have a child who loves dreaming of the stars, then Luciana Vega would be a great match for your child! The extensive collection is available at americangirl.com and at all American Girl retail locations.
If you like this post, you might like: