Encouraging children to think about nature is always easy when a butterfly flutters past their vision. Whether it is a white cabbage or a monarch, we pause for a second to a minute to observe the magic they bring to any scene. Gardeners plant specific plants to attract them and we decorate our clothes with images of butterflies, but outside Fort Lauderdale in Coconut Creek, Florida, your family can visit the largest butterfly park in the world!
Butterfly World opened in 1988 through the vision of Ronald Boender and born through his hobby of raising local butterflies. It encompasses three acres filled with spaces that offer children opportunities to engage with nature, learn, and relax. After passing admission, you can stop by the Laboratory, before entering the Paradise Adventure Aviary. There is only one entrance to each space; however, you can circle each spot as much as you would like. Butterfly World has several spaces that are indoors and shaded from the Florida sun while others are outdoors. It includes lorikeets, macaws and vine maze; however, what ultimately attracts everyone to this tranquil space is the charm of butterflies.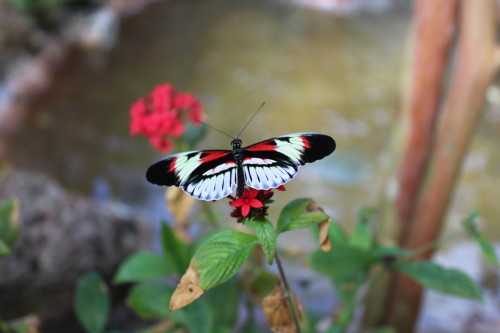 5 Reasons to Visit Butterfly World
Moment of Zen
What immediately strikes me about the Paradise Adventure Aviary is serenity. Running water, plants and butterflies flying past you are an inspiration to sit at a bench and relax. If I lived locally, I would purchase a membership to Butterfly World just to have a quiet space.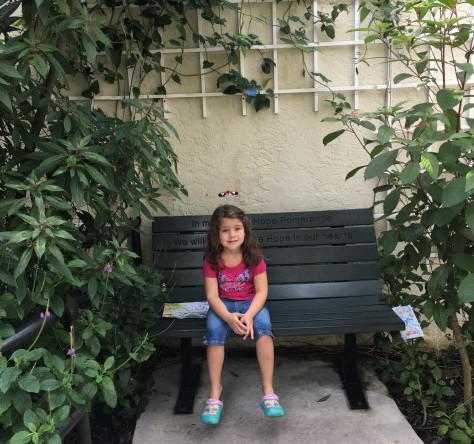 Observe Butterflies
Throughout Butterfly World you will have the opportunity to see butterflies at different stages of their metamorphosis. Yet in the Tropical Rain Forest, butterflies from five continents will surround you in a natural habitat. For $1 you can purchase a guide where your children can match the pictures and names to what they see!
Interact with Birds
Within Butterfly World there are several aviaries where you can interact with birds. Say hello to the macaws who are the loudest residents. Visit the Tropical Bird Aviary where you can watch the antics of its residents and don't be surprised if a bird lands on your head (they like to do that!). However, our favorite spot is the Lorikeet Encounter where for a nominal fee you can feed the charismatic Lorikeets. Be prepared as the feisty Lorikeets know how to grab the cups filled with drinks.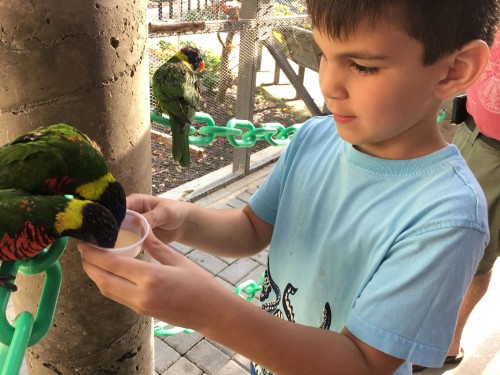 Bug Zoo
Inside the Butterfly Museum are samples of butterflies that are colorful to translucent to massive or tiny in size. It is a wonderful space to walk through and admire how nature evolves before entering the Bug Zoo that has my son's favorite creatures: Scorpions! Millipedes, cockroaches and tarantulas will also keep you intrigued.
Learn at the Laboratory
The first space that greets all visitors is the Laboratory where you can see butterflies in all life stages as a video plays overhead. It is fascinating to watch each of the larva just eat leaves non-stop all day.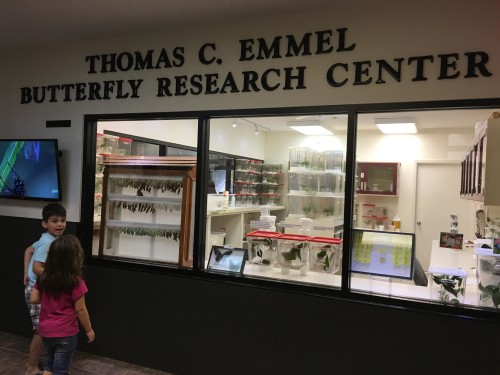 Tips When Visiting Butterfly World
Do not touch the butterflies.
Check their Facebook page, newspaper or their website for coupons.
You can easily walk through Butterfly World in an hour, but there is so much visually to absorb and it is such a relaxing space to sit and enjoy that I recommend giving yourself at least 2 hours to explore.
There is an outdoor playground next door so you may want to bring the kids there first to run and climb.
If it is a hot and sunny day, cool off inside in the Bug Zoo.
Butterfly World is located at 3600 W. Sample Road, Coconut Creek, FL 33073
If you like this post, you might like: