In August 2016, we experienced the most magical vacation of our lives, a Disney Cruise. Although our trip only lasted 5 days, the planning process started well over a year before we embarked on this unforgettable adventure. We are in the process of looking into our 2nd cruise in 2019 so I thought it would be helpful to share some planning tips. Although this will only be our second cruise, our friends have been on 4 Disney Cruises so I have enlisted their help to provide some great advice!
Tips for Planning a Disney Cruise
Research, Research, Research
I cannot stress this enough! Before deciding on a Disney Cruise Vacation, please do your research. This will be a VERY expensive trip so you want to make sure you know exactly what you want. Before booking, we studied the Disney Cruise Line website thoroughly. We also read review articles, watched YouTube videos, spoke to past cruisers and watched cruise specials on the Travel Channel. I also joined Facebook groups to gain more insight on what to expect.
Book Early
Just like any Disney Vacation, there are so many benefits for booking early. First, you can pay over time. A cruise can be quite expensive so booking early allows you to pay over the course of a year instead all at one time. Second, you can pick your room. When you book as soon as the reservations open up, you have a greater chance of choosing the room you want. We were very lucky to get the exact room we wanted (after doing tons of research to pick the perfect room). Third, it allows you to plan for the big trip. That means you can put in for vacation time at work early, take time to decide how you will get to the port, research and book excursions and more.
Choose Your Room Wisely
Just like other cruises, Disney offers a wide variety of room options. From inside staterooms to luxury suites, Disney has something to meet almost every budget, family size and interest. Before choosing your room, review the Disney Cruise Line website to see which room your family would enjoy the most. Although an inside stateroom was more affordable, we decided to go with a room with a verandah (balcony). I felt more comfortable being able to see where we were going. (Advice: If you have anxiety about sailing, pick a room that will make you the most comfortable.)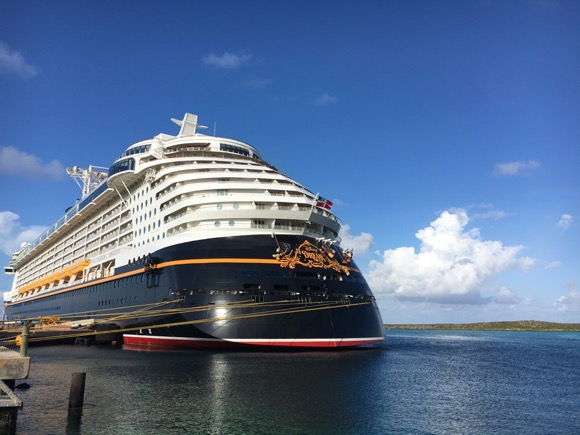 My husband spent hours researching rooms and room locations. As mentioned above, a perk of booking early is being able to pick your room. My husband chose the exact room he wanted, and it was perfect. If you have little ones and are worried about having a balcony, but still want one, I highly recommend a room at the back of the boat. The balconies are HUGE and feel incredibly safe.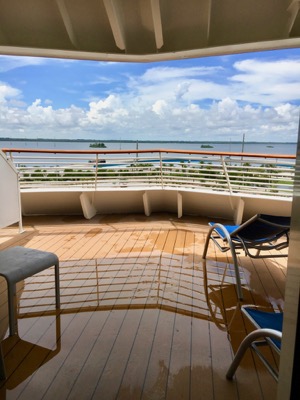 Request to Dine with Family and/or Friends
If traveling with friends and family, make sure you request to dine together. Our travel agent took care of all of this for us so that is a great reason to use a travel agent to book your adventure. If you do not request dining together, you may end up with people you do not know or across the room from your travel mates.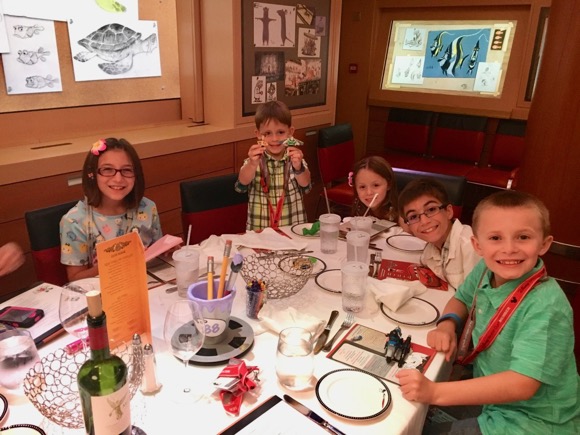 Pick Your Dining Time Wisely
On a Disney Cruise you have the choice of 2 dinner times: early or late. We decided on the late dinner because we did not want to leave the islands early but it did pose to be a small problem as the kids were hungry way before dinner was scheduled for. Luckily, the Disney Dream had 24 hour food options that held the kids over. If you choose an early dinner, you will have the late seating for the nightly onboard shows and vice versa. Keep that in mind as well when booking your time. We decided that the kids would be more awake for the early show which was another factor in choosing the later dinner time.
Add Some Extra Disney Magic
When you plan early, there is time to add some extra Disney magic. That can be anything from adding a day at the parks before the trip to planning a countdown to ordering custom-made shirts. For our cruise, I made adorable custom shirts on Zazzle for the entire family. We wore them on our first day, and although my husband was not overly thrilled, he changed his tune as we received countless compliments from cast members and fellow guests!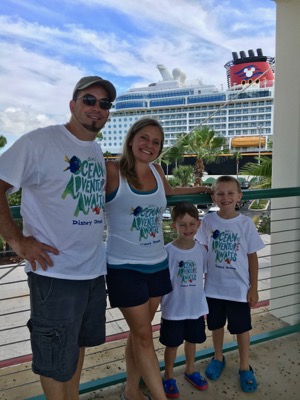 Get the Disney Cruise Line App
Before embarking on your magical vacation, make sure to download the Disney Cruise Line app. It is incredibly helpful in organizing your vacation. The app will show you all the activities taking place during your cruise and you can mark the ones that are your favorites. From character appearances to movie showings to cooking classes to trivia, you can find everything you need for the entire family on the app. You can also find out information about each port along with the hours for the pools and maps of each deck. Plus, you can message fellow cruise passengers right from the app so you can always stay connected!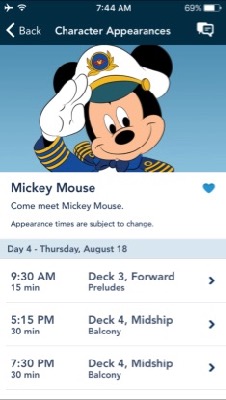 These are some tips that I found to be the most helpful when planning a Disney Cruise. I am sure I will find even more as I plan my next cruise, and I will definitely add them to this list. Please share your best tips in the comments section below! Happy cruising!
You may also enjoy: